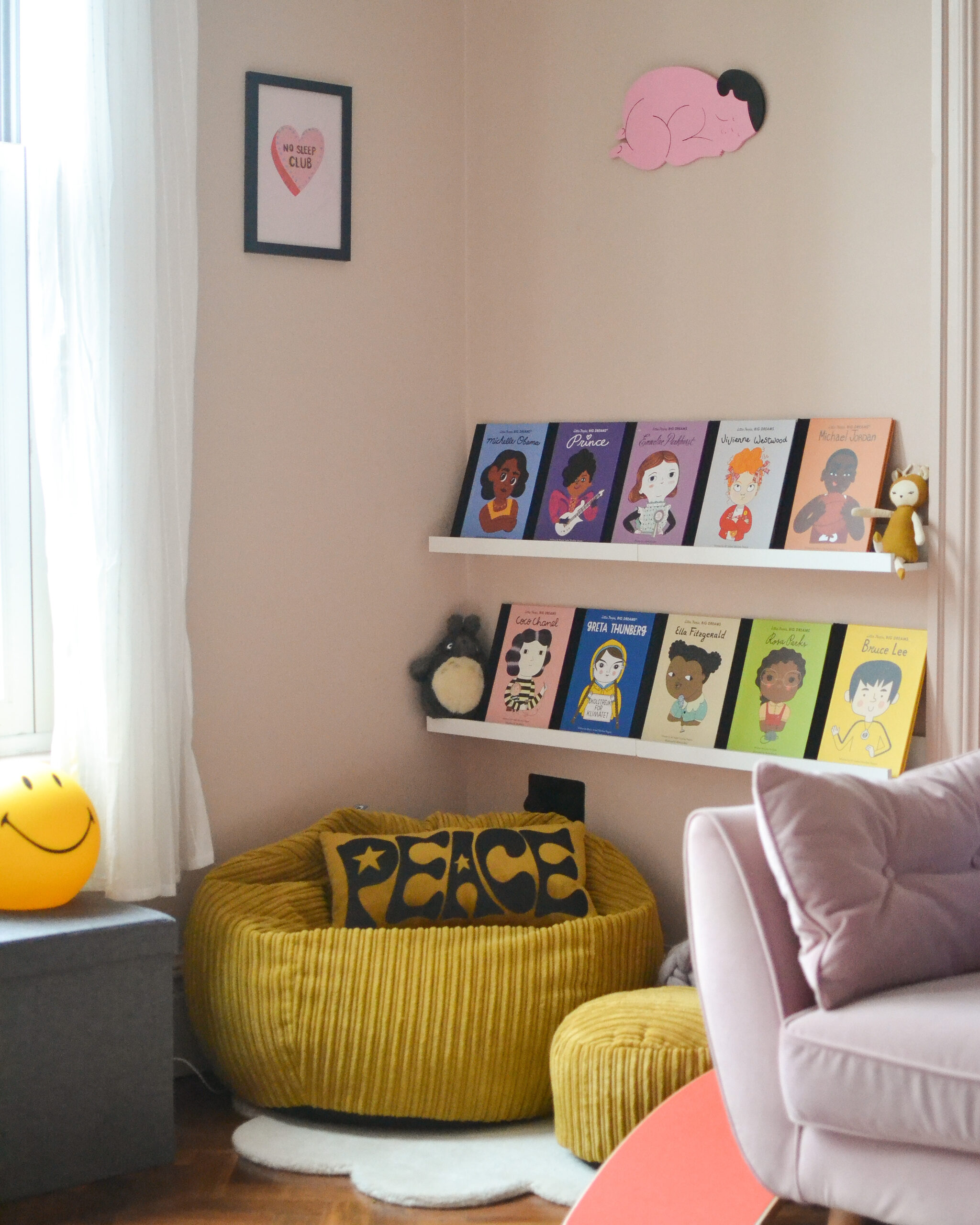 We're really lucky to have enough space in our house for Eva and Ottie to have a playroom. It was definitely not an essential when we were looking to move, but was definitely a nice to have. In our old house the living room was starting to resemble Toys R Us… Full disclaimer, it is not a playroom for organisation tips! The room is a bit of a mess as it's very well used but it works well for us. It may hopefully give you some playroom inspiration though!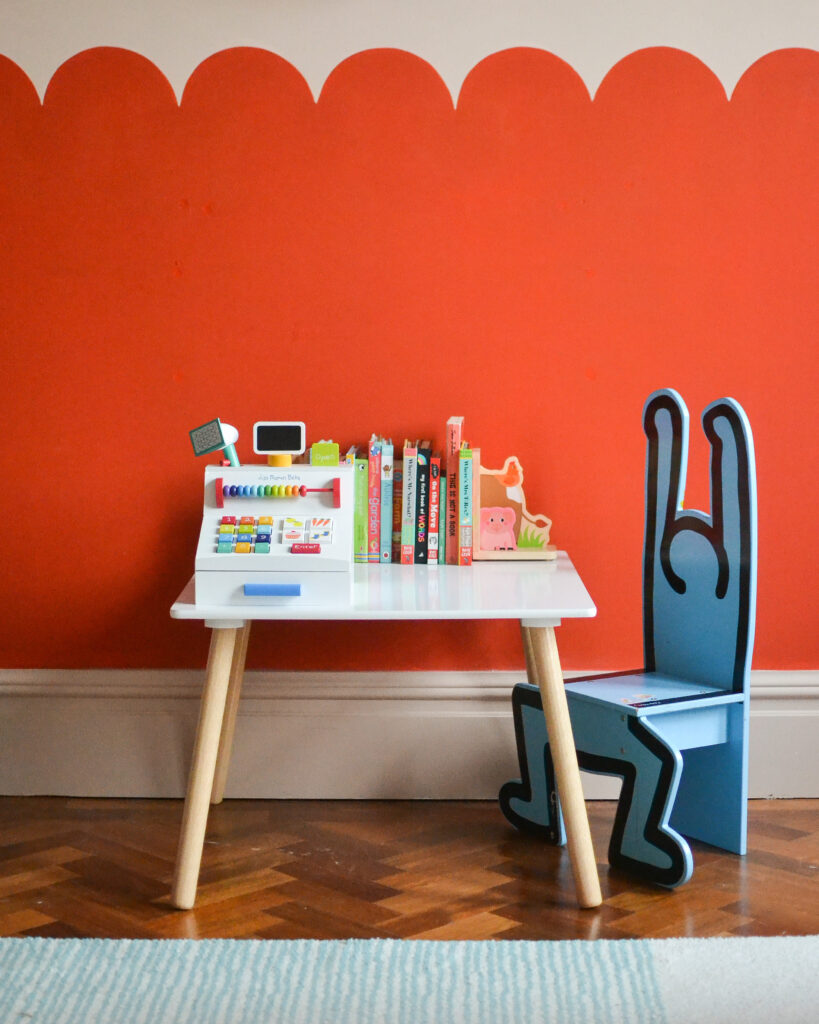 The playroom was beautifully decorated when we moved in, I love the bright red scallop design and the Setting Plaster on the walls match the living room. I've repainted the room as it was very scuffed and damaged so it looks lovely and fresh now.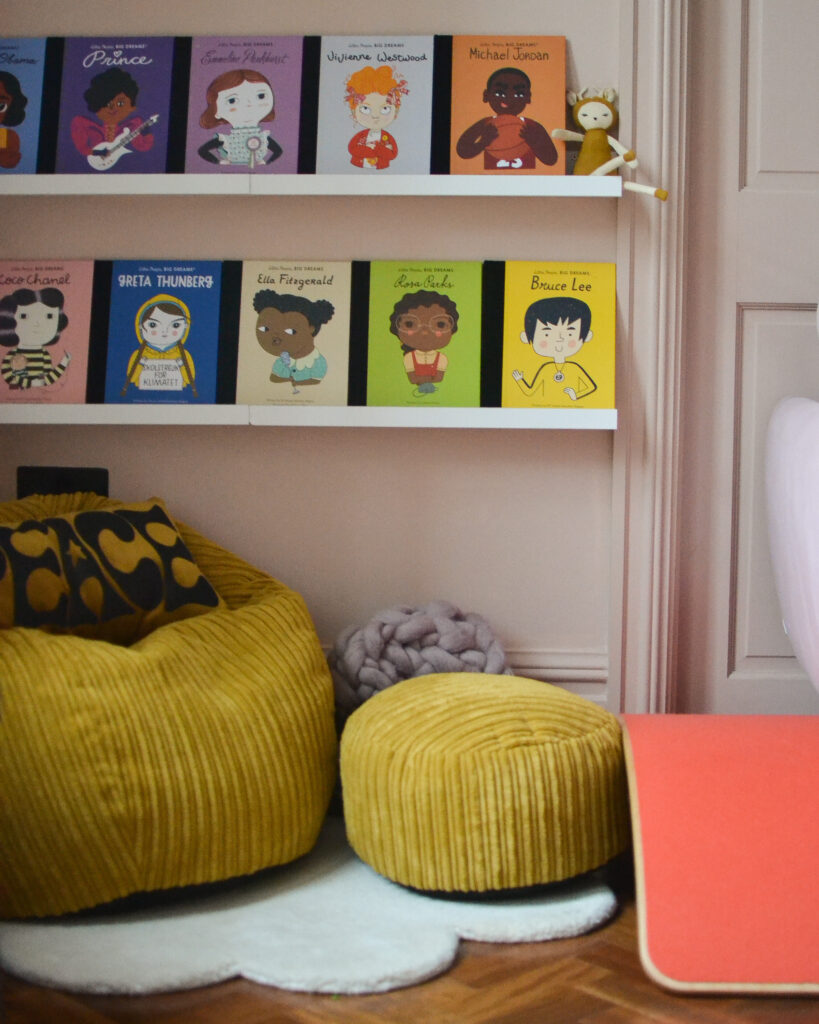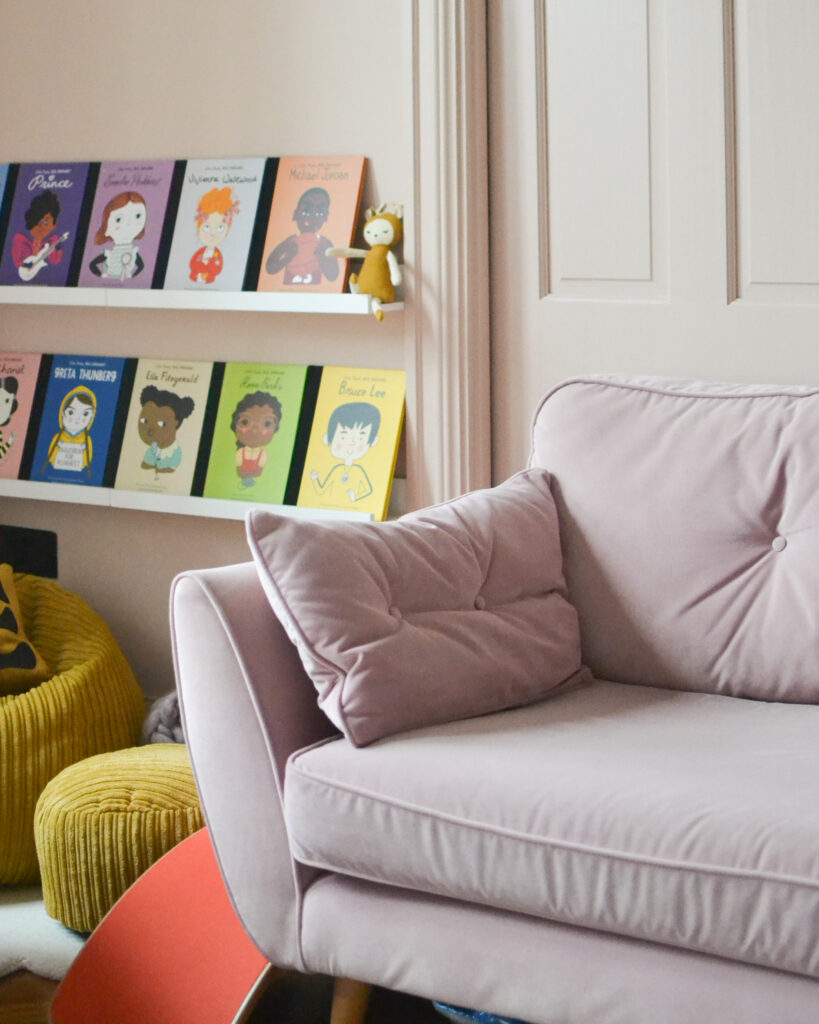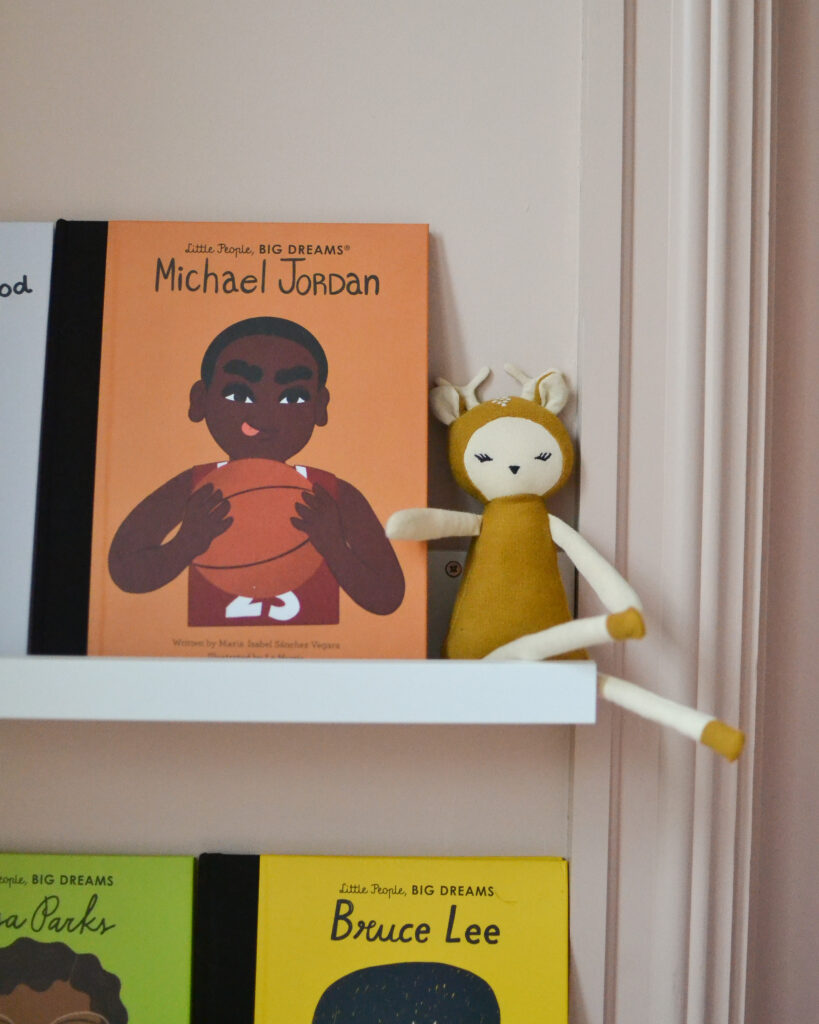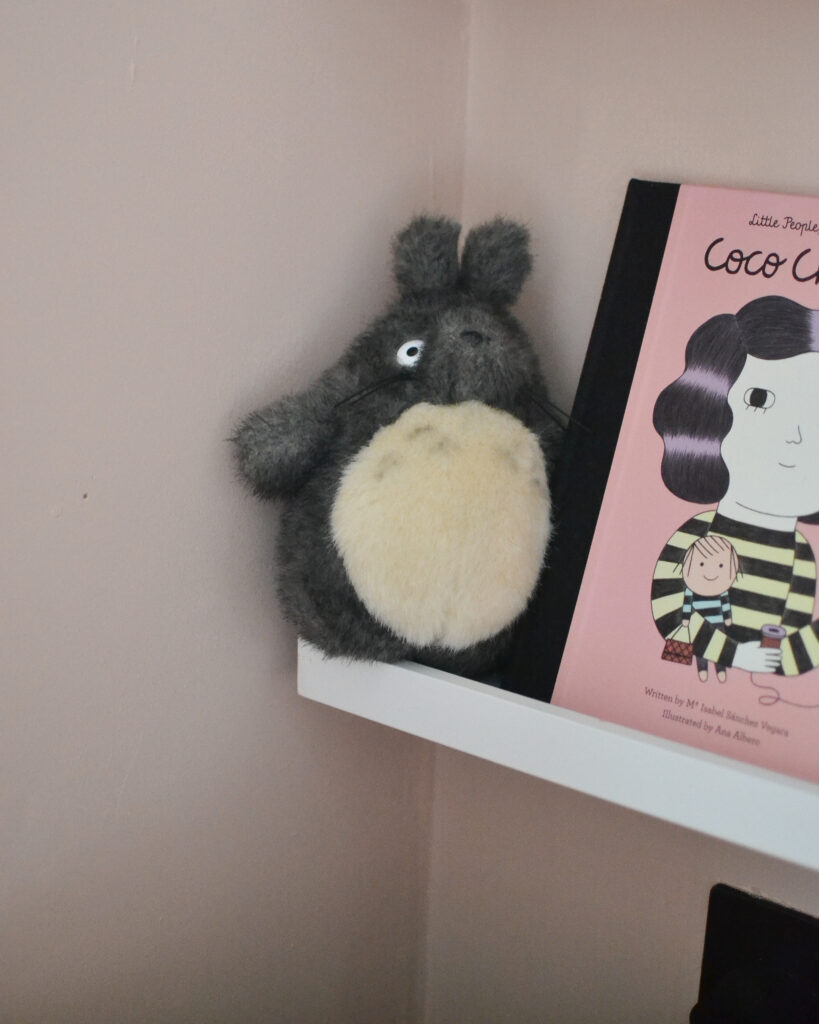 The Reading Corner
We recently turned the corner of the room into a little reading nook. Previously Eva's desk was in this corner with a stack of books, but I wanted to create a cosy area that we could read in downstairs. We've had some IKEA picture shelves ready to put up for months and months, Joe put them up a couple of weeks ago and I'm so pleased with them, they were very inspired by Chloe! We have some of Eva's Little People Big Dreams books up there at the moment, Bruce Lee is hands down her favourite. I'm planning on changing up the books every couple of weeks or so, it will be lovely to have seasonal books too, roll on bunnies galore for Easter.
I added a cloud rug from H&M that was in Eva's room and a Mary Benson cushion. The gorgeous mustard bean bag and foot stool are from rucomfy, the quality is so good. It was under £50 for both!
Another recent addition is the Mr Maria smiley lamp, very heavily influenced by Mat Buckets and Francesca Perks! I went for the little one for the playroom but definitely have my eye on the big one for somewhere else. The little sumo baby I had made by Amy Victoria Marsh when Eva was born and the No Sleep Club print is by Eleanor Bowmer.
I love the pink sofa! I had this sent to me by DFS to review years and years ago, it's still one of my favourites. Eva, Ottie and I can all fit on it perfectly to cuddle up for a story and it's somewhere comfy I can feed Ottie while Eva plays. Hopefully this area gives you a bit of playroom inspiration!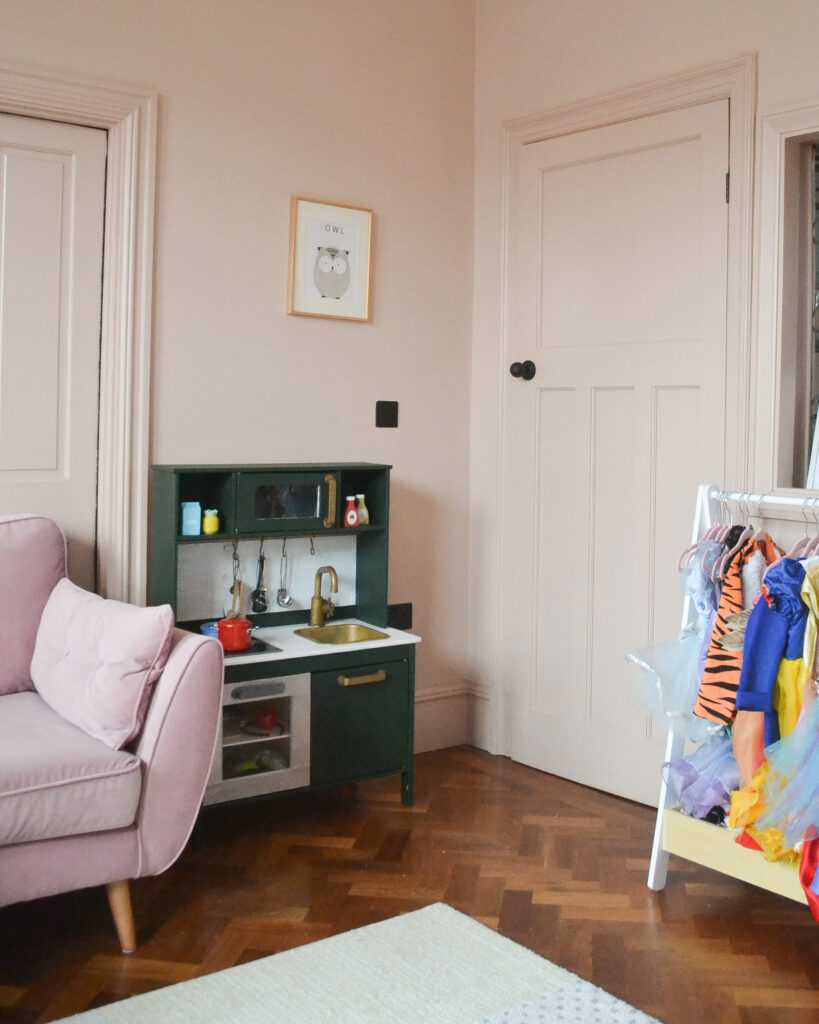 The Play Kitchen
The kitchen is the good old IKA Duktig that I hacked to look like the kitchen in our old house, you can see how I did it here. Eva still gets so much use out of it! We have the Ay-Kasa mini crates in the kitchen to hold all the assorted fruit and veg. The owl print was a gift from my lovely friend Kyle!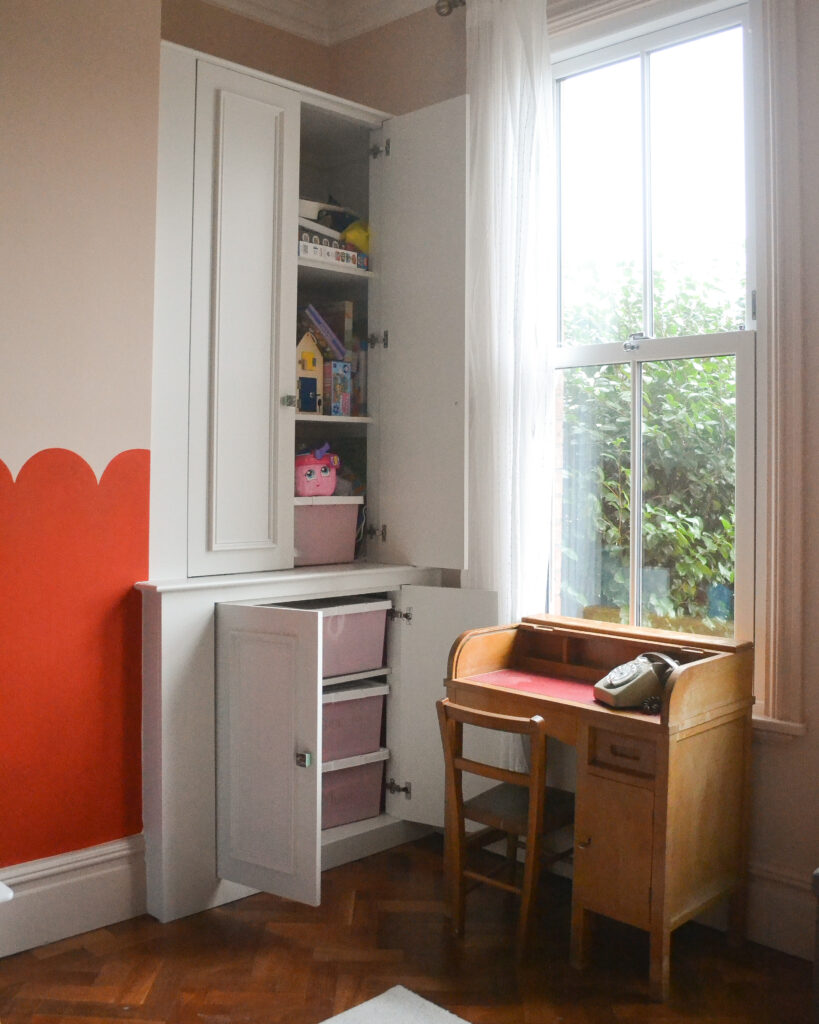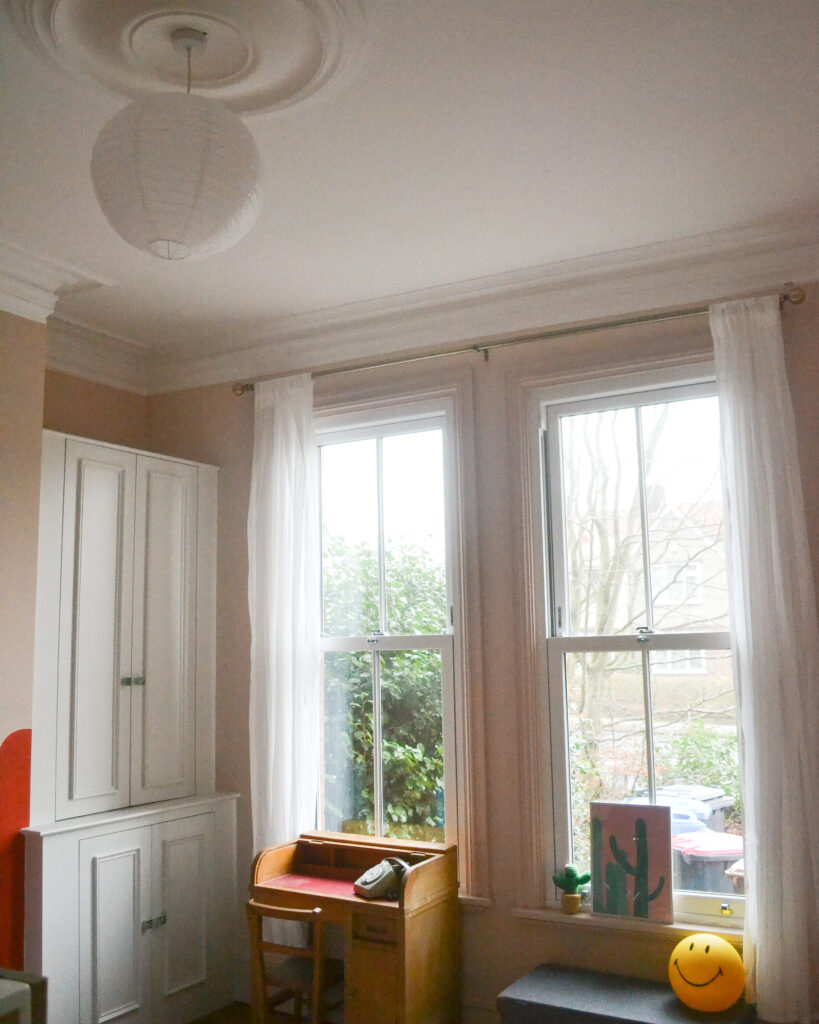 Storage
We have amazing storage in this room, the previous owners had in built floor to ceiling cupboards made and they can hold so much. The organisation system in the playroom needs a lot of work but these pink plastic boxes are doing the job for us at the moment!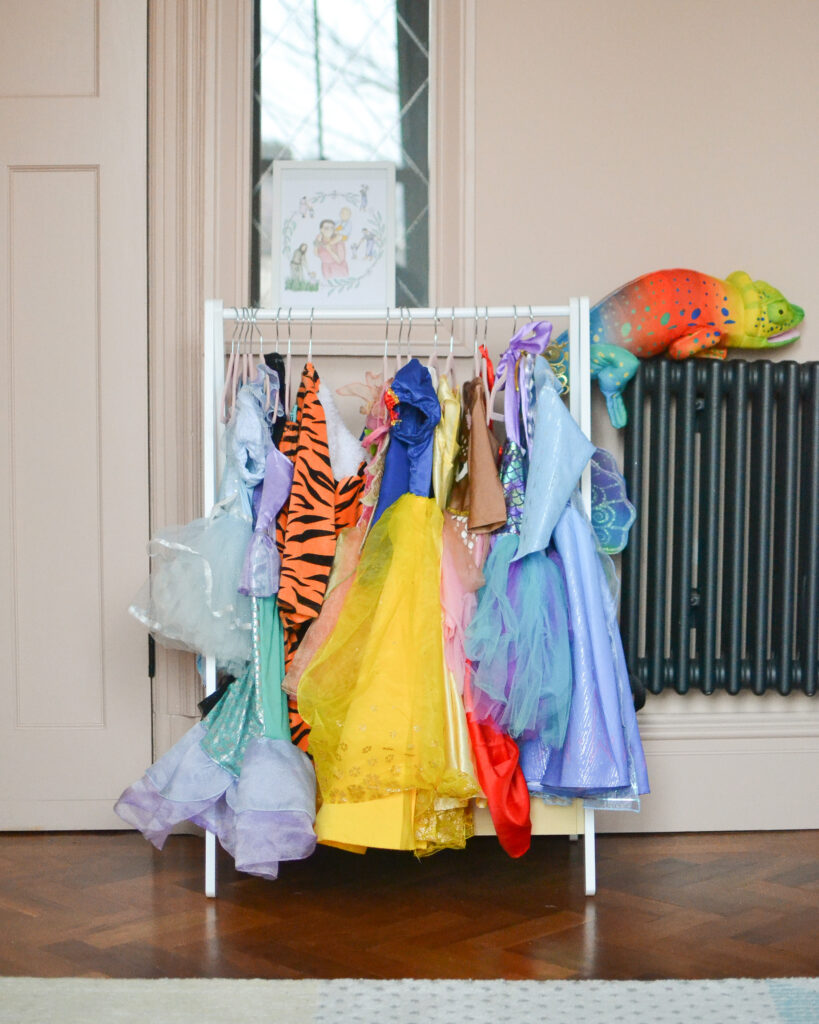 Dressing Up
Eva is a big fan of dressing up. She'll be a ballerina mermaid at the drop of a hat (or tiara) so a dressing up rail was a must for the playroom! The rail is great because it has a storage box under the rail for all the accessories. Our rail is out of stock but this Habitat one is very similar.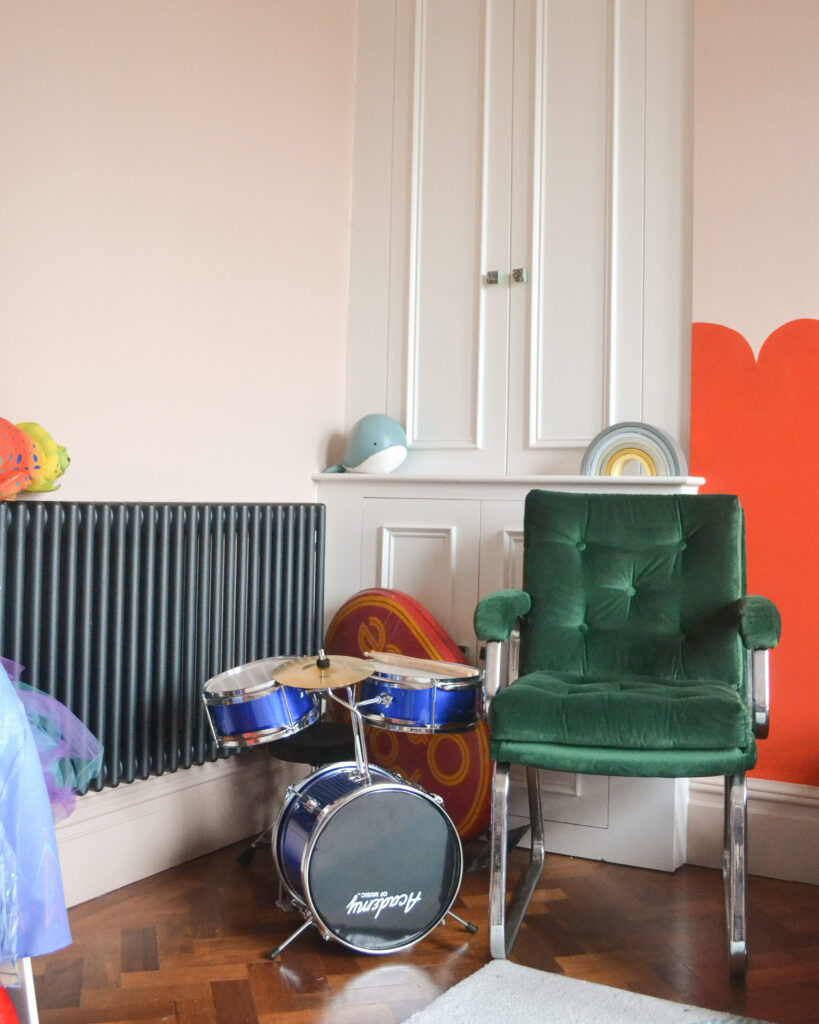 Eva got a drum kit for Christmas so that's nestled away in the corner! We also have an antique chair that we had reupholstered in this room so we have somewhere else to sit while Eva runs around being Elsa. There's also a Post Office sign I bought in an antique shop a couple of years ago which we're planning to put up to make a little role play Post Office area.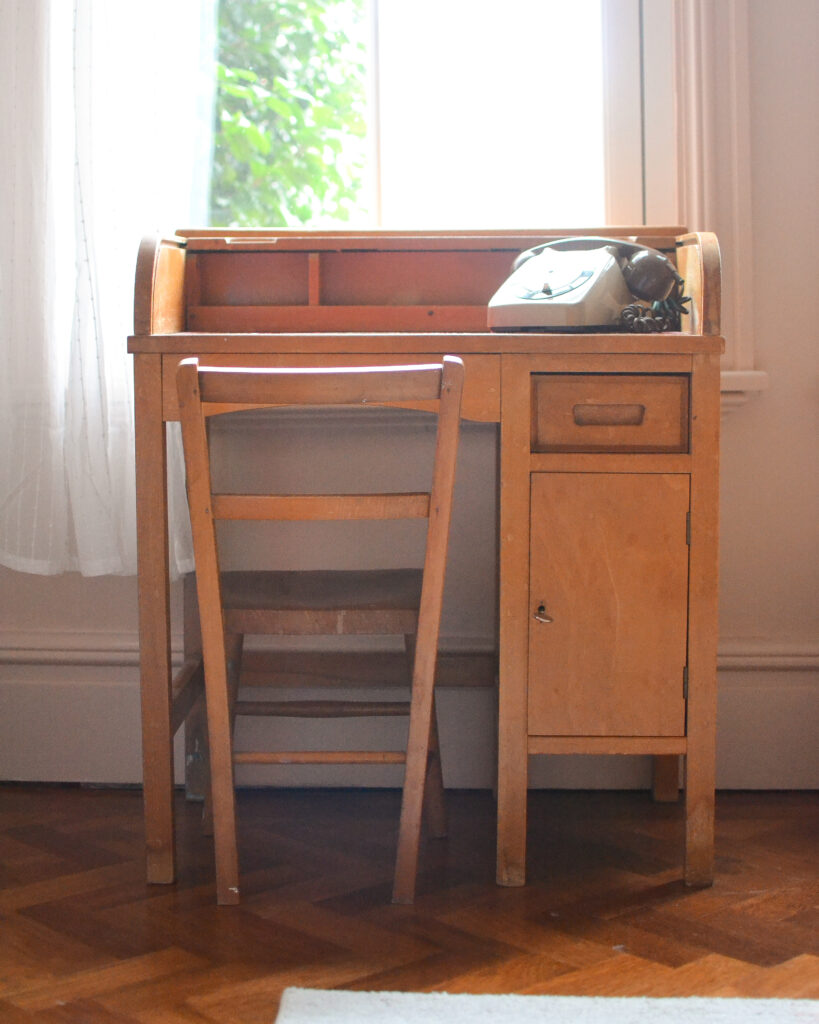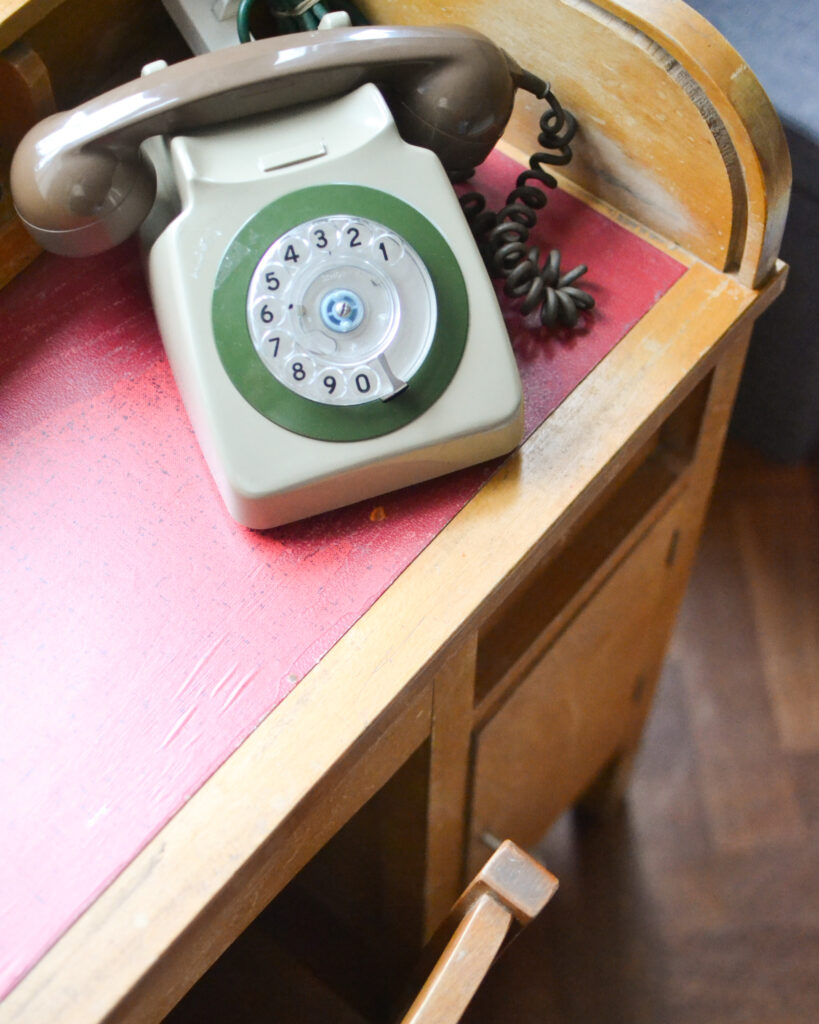 We have a storage chest full of teddies that doubles up as a bit of a window seat, it as from The Range but doesn't seem to be available online anymore. We also have an antique desk under the other window, I found it on Facebook Marketplace for £30 and I love it! Joe found an old phone in storage the other week so it's Eva new favourite thing!
My friend Kyle also bought this gorgeous JoJo Maman Bebe till which Eva adores, we play shops at least twice every weekend! We also have a few books on the table too, these are mostly Ottie's as we go in the play room to read most days.
The rug was in Eva's bedroom in our old house and was from Wayfair, it's a great size and the colours work really well in this room. The curtains are simple IKEA Matilda ones, they're perfect for diffusing the light in the day and for blocking out nosey people at night.
I hope you liked this little tour of the playroom! As I said it's not the best for organisation, but hopefully it gives you some playroom inspiration.
If you want to see more of our house, you can see the Living Room here and the Kitchen here.