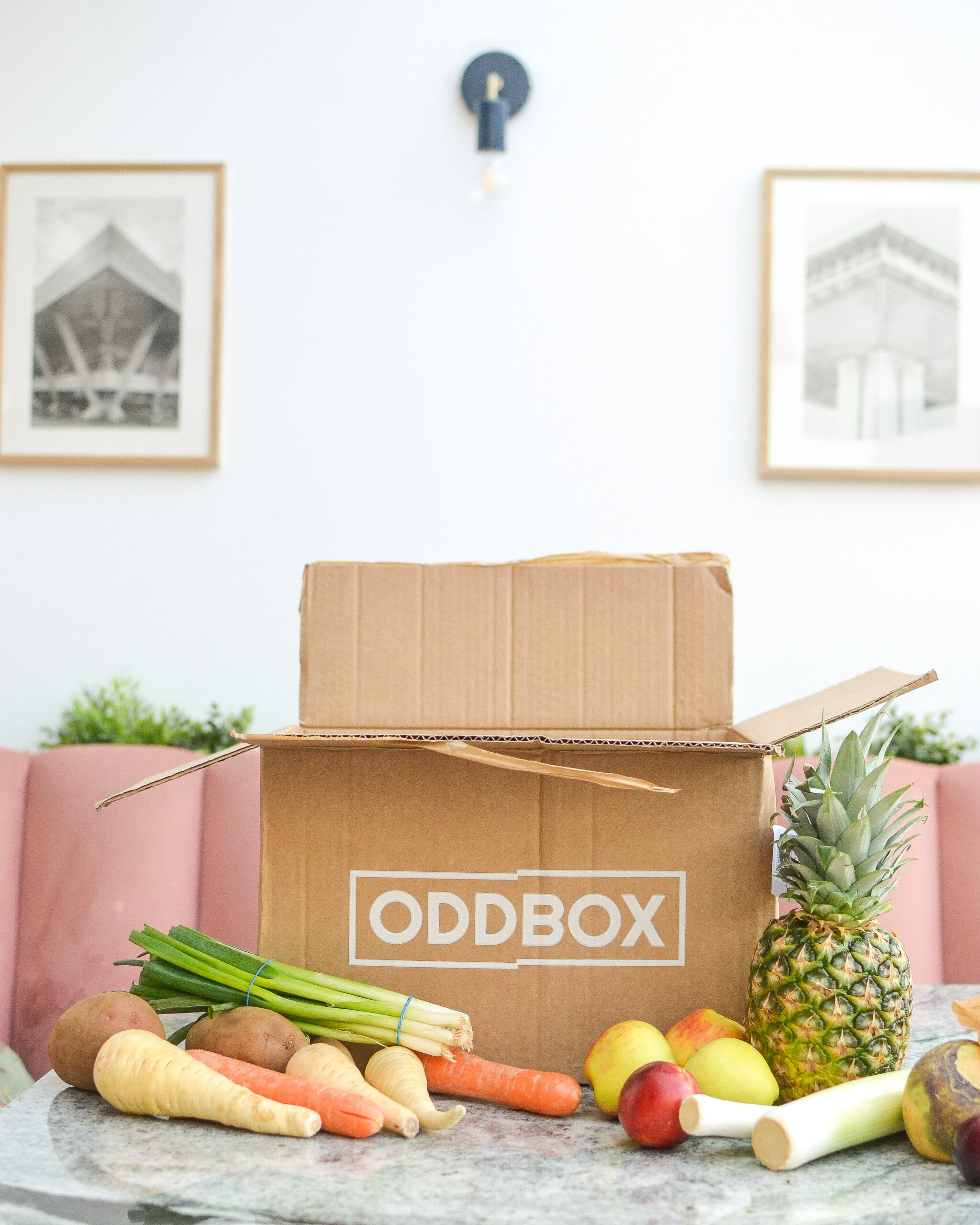 I'd always been jealous when I saw friends in London post about their OddBox fruit and veg box deliveries (can you tell I'm in my thirties?) so I was unnecessarily excited when I realised OddBox is available in Manchester. I signed up immediately and we've been getting weekly OddBox fruit and veg deliveries for around a month now. It's like veggie Christmas when it arrives!
I'd been getting a bit bored with our dinners during the week, I was making the same things over and over again so I thought this would inspire us to make new recipes and try different kinds of veg. Eva loves it when it arrives, she always has to get everything out of the box, ask what it is and count how many there are before she goes to school. This week she was shouting 'CAVOLO NERO!' for ages so it seems to be a great way to introduce her to more veg! Now every time we get a knock on the door she says 'maybe it's the veg box?', so cute.
It will also be really handy when we start weaning with Ottie which is coming up pretty soon!
Having the OddBox delivery has definitely mixed up what we eat and the recipes that we make, I thought I'd keep track of everything we made in a week using our OddBox fruit and veg. I'll pop in any recipes below too, I generally don't stick very closely to recipes though because I am a rebel and cannot be tamed.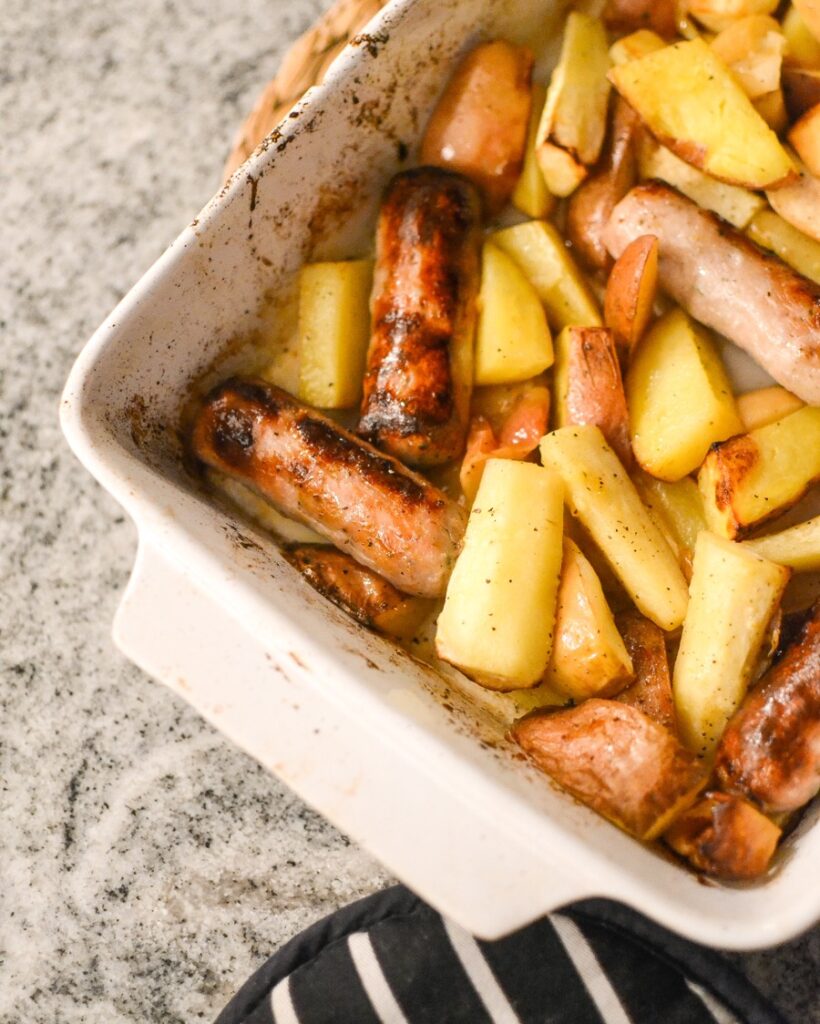 Sausage, Apple, Roast and Parsnip Tray Bake
This is one of my go to easy midweek dinners. I usually like something that takes 30-40 mins in the oven to cook because that's how long it takes to get to nursery and back to pick up Eva!
It's a Roasting Tin recipe but it's super easy. Basically just peel and chop the veg, pop them in a roasting tin with the sausages, cover with olive oil and season. Then cook for 30-40 mins and serve. Easy peasy.
The potatoes, parsnips and apples were all from the OddBox.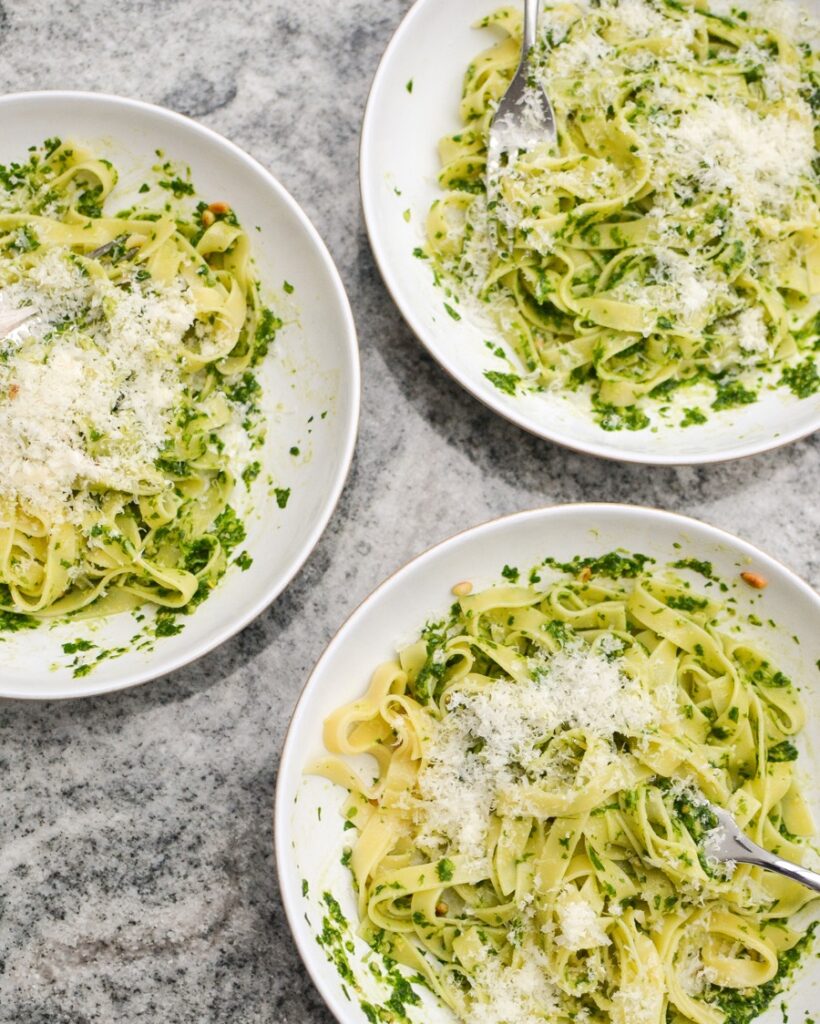 Rocket Pesto
There was a huge bag of rocket in this OddBox delivery's rather than use the odd bit here and there for salads and sandwiches, we used it to make fresh pesto for lunch at the weekend. Joe made us rocket pesto using the BBC Good Food recipe, my mum was here that day so half a bag made plenty for us all. We had it with tagliatelle and parmesan.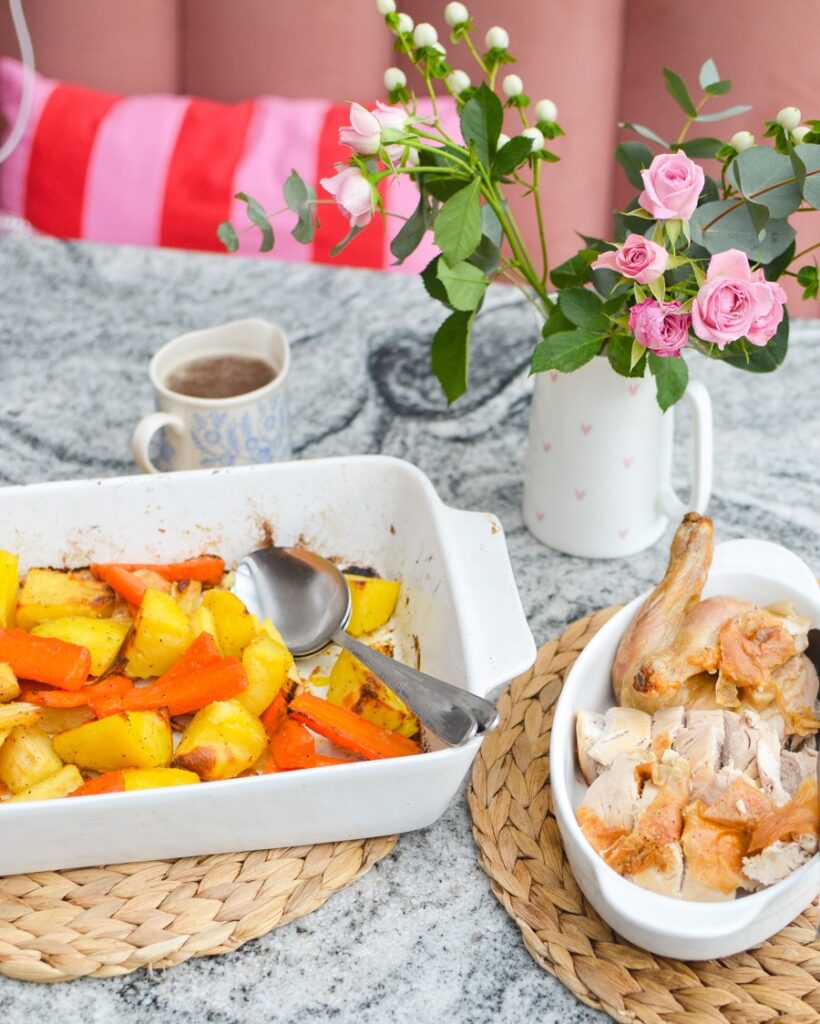 A Quick Sunday roast
On the Sunday we had friends over for lunch so I there together a quick roast. I peeled and chopped the carrots, potatoes and parsnips (all from the OddBox!) and served with a roast chicken and, of course, gravy.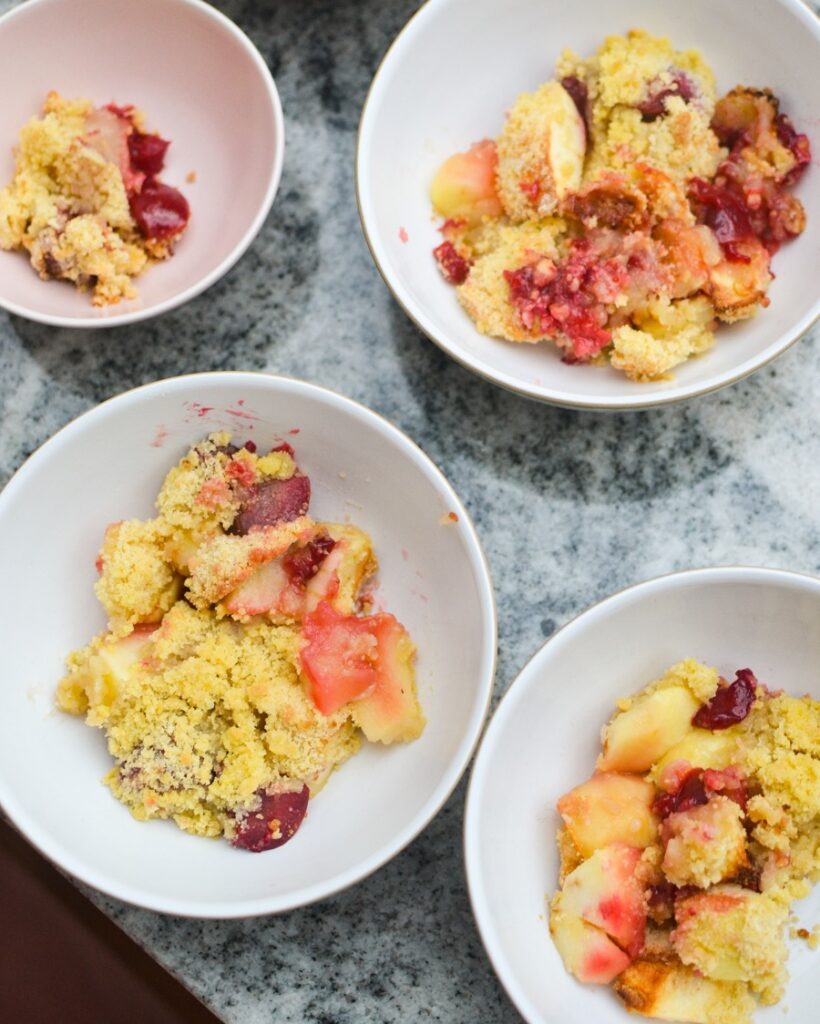 Apple and Plum Crumble
After the roast we had apple and plum crumble, with apples and plums from the OddBox. It's very quick and easy to make, Eva usually likes to help me too!
I peel and chop the apples, then take the stones of the plums and quarter. Add them all to an oven proof dish then make the crumble topping using this recipe. I usually bake it earlier then pop it back in the oven when we start eating lunch or dinner, then it's ready for us when its pudding time. It's great it with ice cream, cream, custard or just on its own.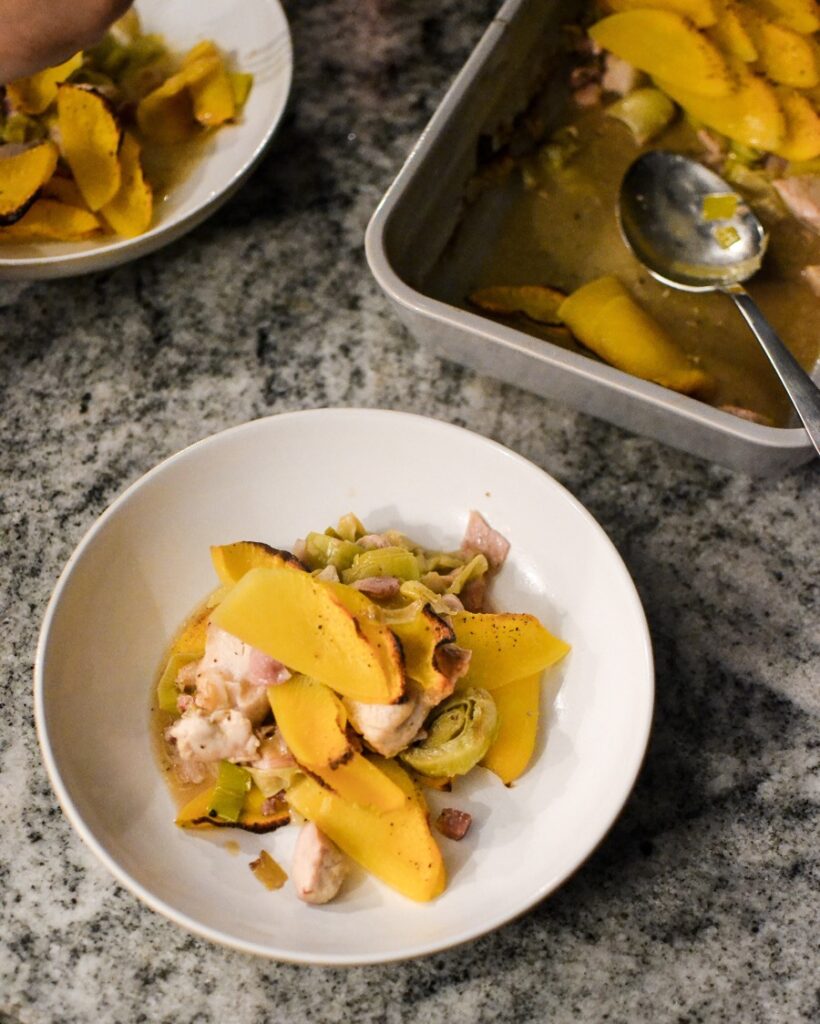 Chicken, Leek and Pancetta Pie with Swede
This is another recipe I make quite regularly in winter, it's a pie but with plenty of veg instead of pastry so it's a little bit healthier. I try to keep our midweek meals healthy-ish and low-is cholesterol because we're getting on a bit! I use this recipe but again don't follow it too closely.
We had a few swedes in the OddBox so I used them as the topping instead of potatoes. The leeks were also from the OddBox.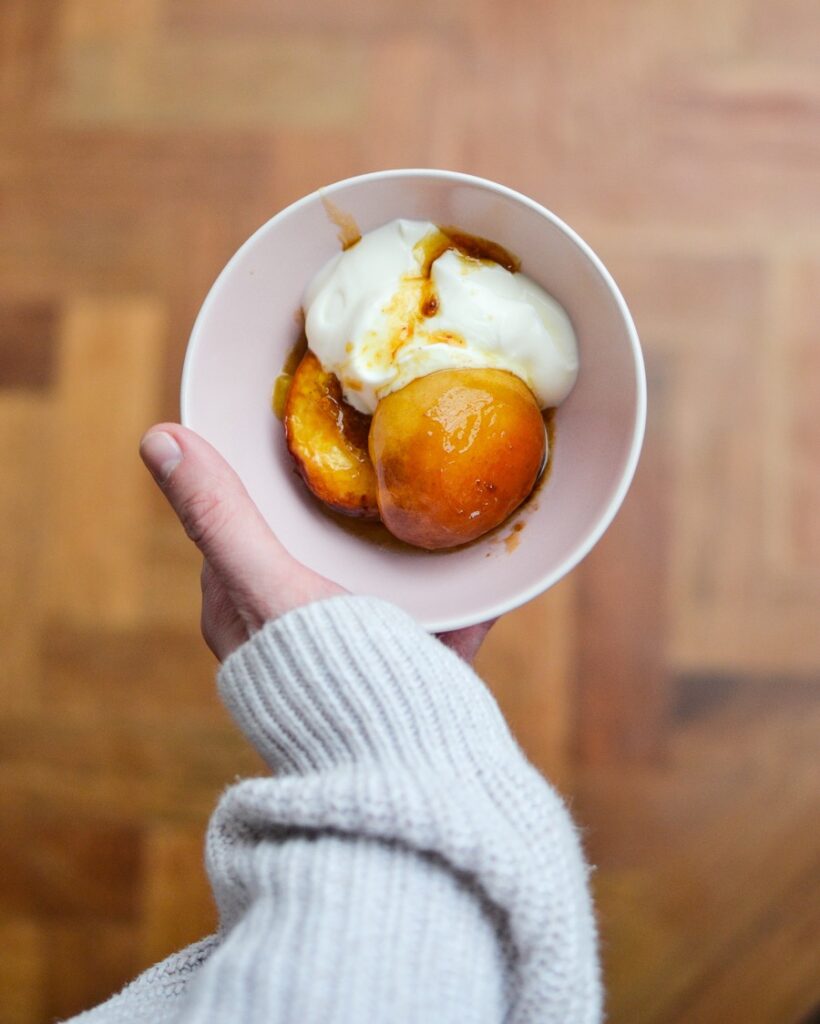 Roasted Nectarines with Greek Yoghurt and Honey
There were a few nectarines in this OddBox and my mum used to make a lot when we were younger. It's so tasty I couldn't resist. No recipe link for this one, I just half and take the stones out of the nectarines, then pop them in an oven proof dish. Add a little bitter, brown sugar and drizzle with honey. Put them in a preheated oven for a few minutes until the butter has melted, then take them out and stir to cover them run the buttery, sugary goodness.
Put them back in and bake for around half an hour or until squishy and golden brown. Serve with yoghurt, creme fraiche or ice cream with a drizzle of honey. Delicious.
Rocket Pesto with Pancetta
I used the rest of the bag of rocket to make pesto later in the week, using the same recipe as before. This time I used rigatoni pasta and topped with pancetta and parmesan.
This is something I'd happily eat every day if I would survive.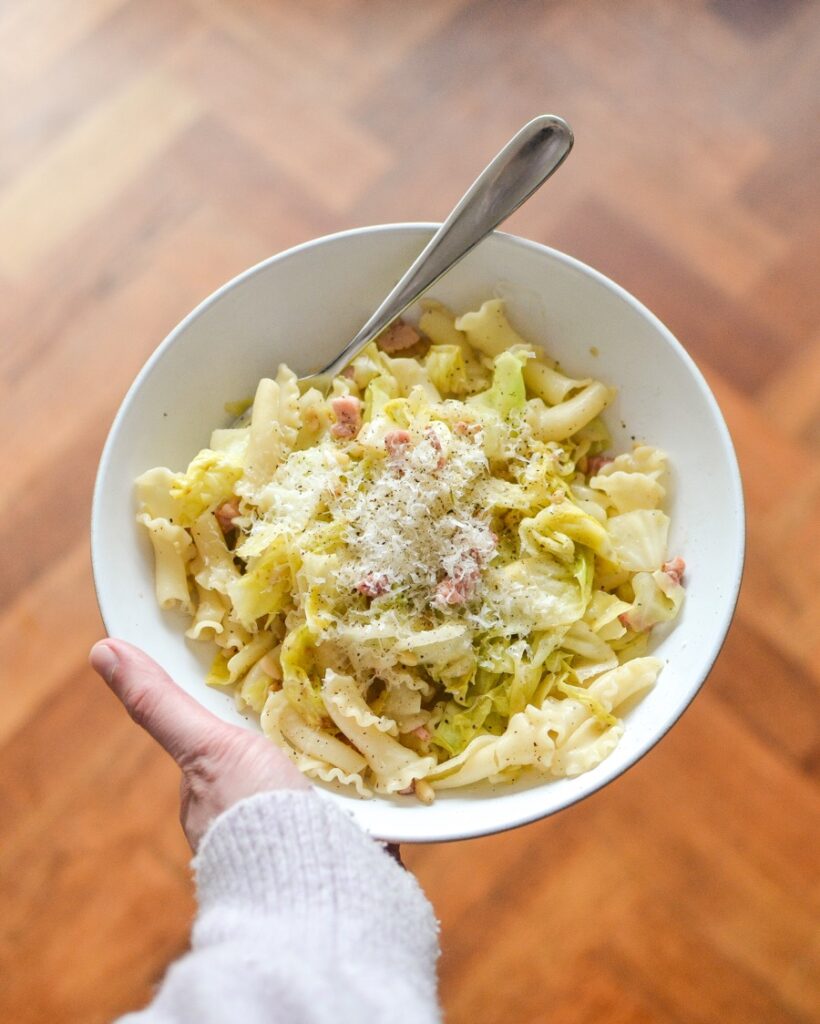 Cabbage and Pancetta Pasta
We had a rogue cabbage in the OddBox and I wasn't really sure what to do with it apart from have it as a side. So I decided to try out this pasta recipe, again I didn't really stick to the recipe, sorry if that's annoying!
It was actually really tasty, I think it would be better with savoy cabbage or cavolo nero but it works really well with your bog standard cabbage too.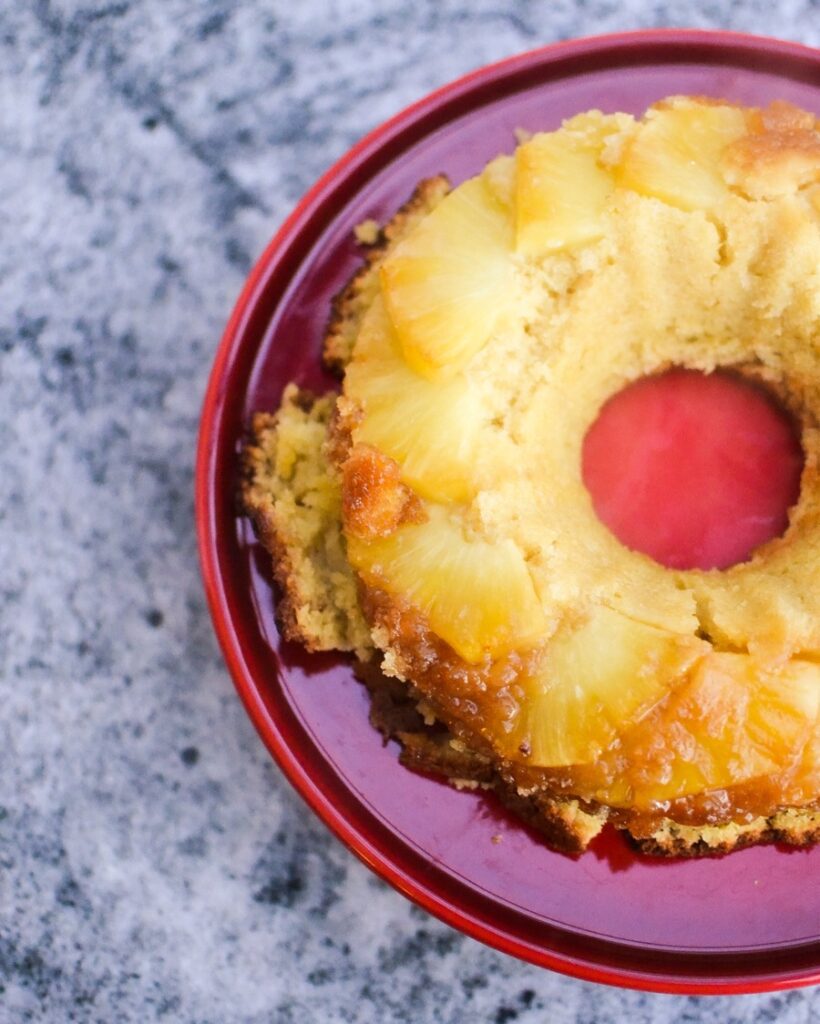 Pineapple Upside Down Cake
At the end of the week Ottie treated me to a two hour nap so I made a pineapple upside down cake with the pineapple that was in the OddBox. It looks a bit messy but it was so delicious, it didn't even last 24 hours in our house!
I used this recipe but again didn't follow it exactly and did more of an all in one method. If nothing else, this blog post has made me realise I'm rubbish at following recipes.
I also made this stir fry using the spring onions from the OddBox but completely forgot to take a photo, it was tasty though!
My thoughts on OddBox
As you can probably tell I'm really happy with our OddBox delivery! It's ticked all the boxes and Eva loves it which is a bonus. We'll definitely keep up with the deliveries as it really reduces our spend on the weekly shop and inspires us to try new things.
If you're interested in getting an OddBox too, I've popped a bit of info below. You can also get £10 off your first box here. I'll also get £10 off my next box and once you've signed up, you'll get a referral link to share with friends too.
What is OddBox?
OddBox is a fruit and veg box delivery service. Their ethos is to reduce the amount of food waste by rescuing all the odd fruit and veg. It might be that they're wonky shapes, there were too many to sell or they're too big or too small.
OddBox have three sizes available – small, medium and large. You can tailor how often your box arrives to whatever suits you, we get ours once a week but your could have it once a fortnight or once a month, whatever suits you.
Can you see what's in your OddBox before it arrives?
Yes! They send you an email the week before with the details of what you'll be getting in your next delivery. If there's something that you don't fancy, you can add it to your list of things you don't want.
Can you choose what you get in your OddBox?
No you can't choose, that's the beauty of it! OddBox aim to reduce the waste of the food industry so the box is full of things that would have been thrown away otherwise. If there's something you don't like, you can choose 3 things that won't appear in your box, so for example if you don't like mushrooms (like us!) you can put them on your list and you'll never see a mushroom in your deliveries.
If you want to, these 3 items can be changed as often as you like, it just needs to be 2 days before the delivery day.
The size and frequency of your box can be changed when you like (as long as it's 2 days before your delivery day) so if you're going away or don't fancy as much fruit or veg that week, you can tailor it to you. It's a really flexible subscription and can be paused or can cancelled easily too.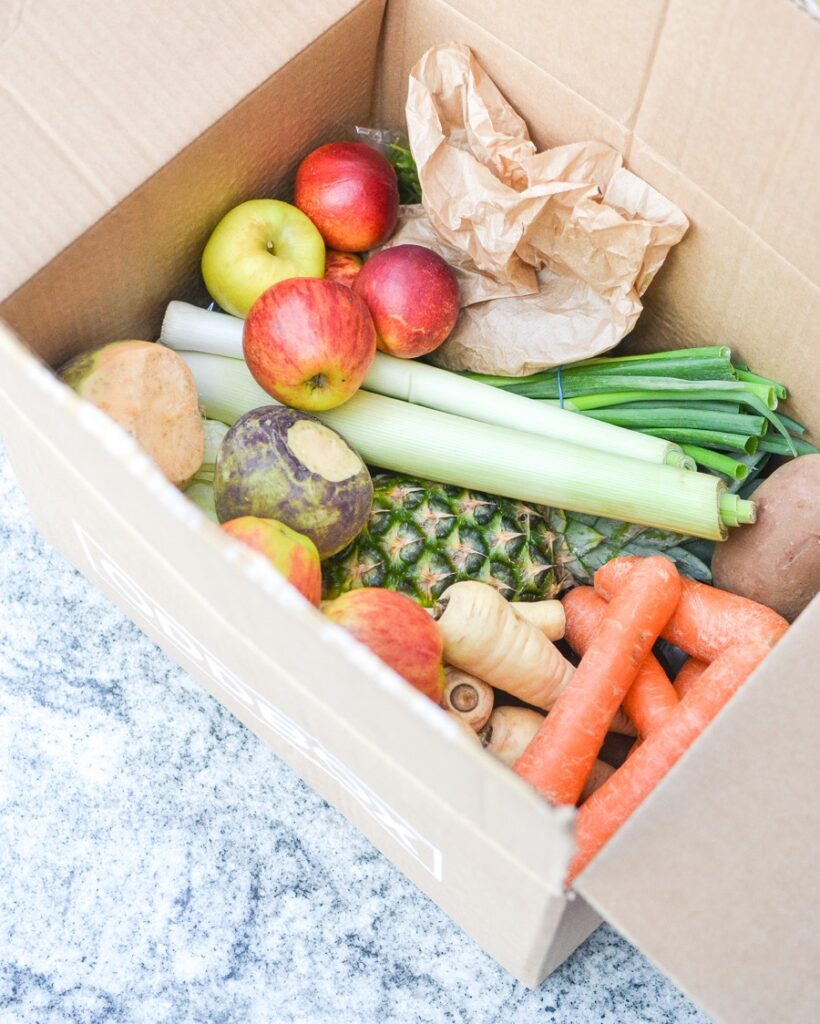 How much does OddBox cost?
OddBox has three kinds of boxes – Veg Box, Fruit and Veg Box and a Fruit Box
Fruit and Veg OddBox
Small – £12.99 (7 varieties of veg and 3 of fruit)
Medium – £15.99 (8 varieties of veg and 4 of fruit)
Large – £19.99 (9 varieties of veg and 4 of fruit)
Veg Only OddBox
Small – £10.99 (7 varieties of veg)
Medium – £12.99 (8 varieties of veg)
Large – £14.99 (9 varieties of veg)
Fruit Only OddBox
One size – £10.99 (6 varieties of fruit)
You can get £10 off your first box by clicking here or popping my name (Clare Potts) at the checkout. Once you've subscribed you can share your referral link too, for every friend you refer who signs up, you get £10 off OddBox too.
Is OddBox good value for money?
For us it definitely has been good value for money. We have a medium fruit and veg box delivery every week (£15.99) and it has meant our weekly food shop is about £20 less. It also means I'm trying more recipes out depending on what's in each box and we're eating more fruit and veg as a family.
Eva also loves the weekly delivery, it's like veggie Christmas for her and it gets her really excited to try everything too!
Do you get recipe ideas with each box?
Yes, each week you receive an email full of recipe inspiration! This is really helpful for veg you might not have heard of before, anyone else never heard of kohlrabi? You can also find recipes on the OddBox site and Instagram.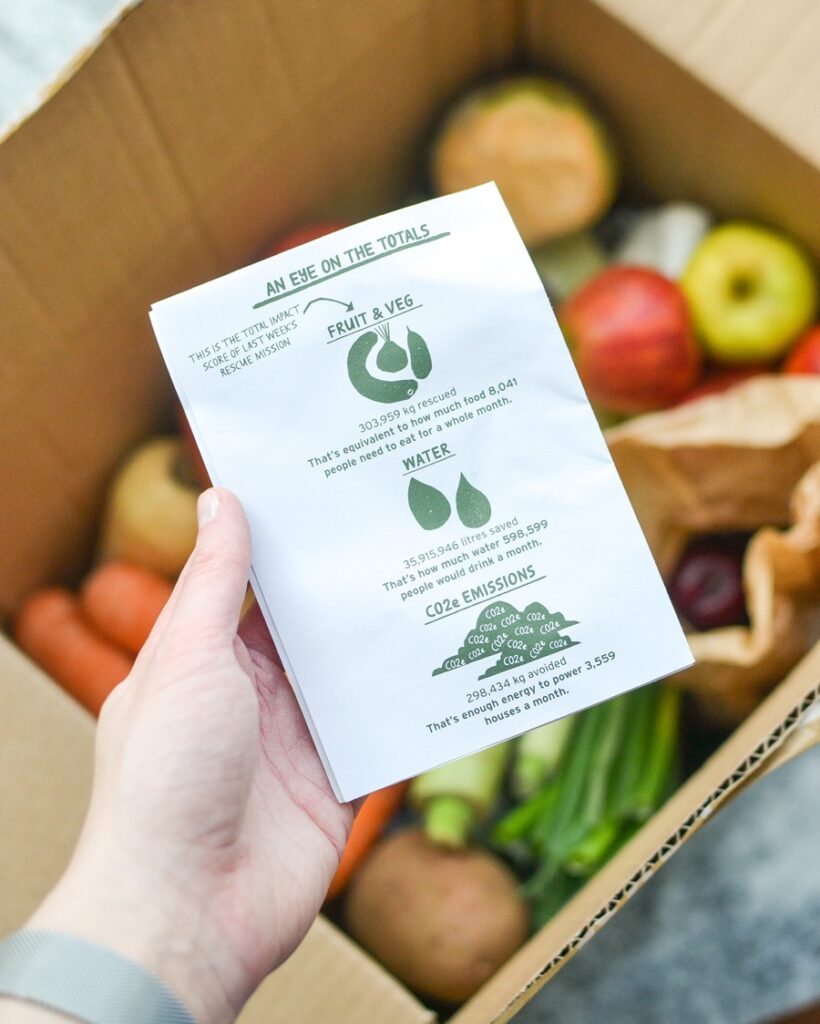 Is OddBox organic?
The fruit and veg in OddBox is not organic. Their ethos is around reducing waste and CO2 emissions, not on organic fruit and veg.
Is OddBox plastic free?
It is mainly plastic free but not completely! Each delivery arrives in a cardboard box with loose fruit and veg, the majority of fruit that needs protection (eg. plums) arrive in small paper bags but there is the occasional veg like pad choi that arrives in plastic.
Can I get an OddBox discount code?
You can get £10 off your first box by clicking here or popping my name (Clare Potts) at the checkout. Once you've subscribed you can share your referral link too, for every friend you refer who signs up, you get £10 off OddBox too.
Where is Oddbox available?
OddBox was only available in London until the end of last year, it's now available across hundreds of postcodes including Manchester and Cheshire. You can check if your postcode is included here.
I hope that was useful! I'm really enjoying our OddBox, let me know if you have any questions about it, I'm always happy to chat fruit and veg. You can find out more info on the OddBox site here.
This is in no way sponsored or in collaboration with OddBox by the way, I just love a bit of fruit and veg.