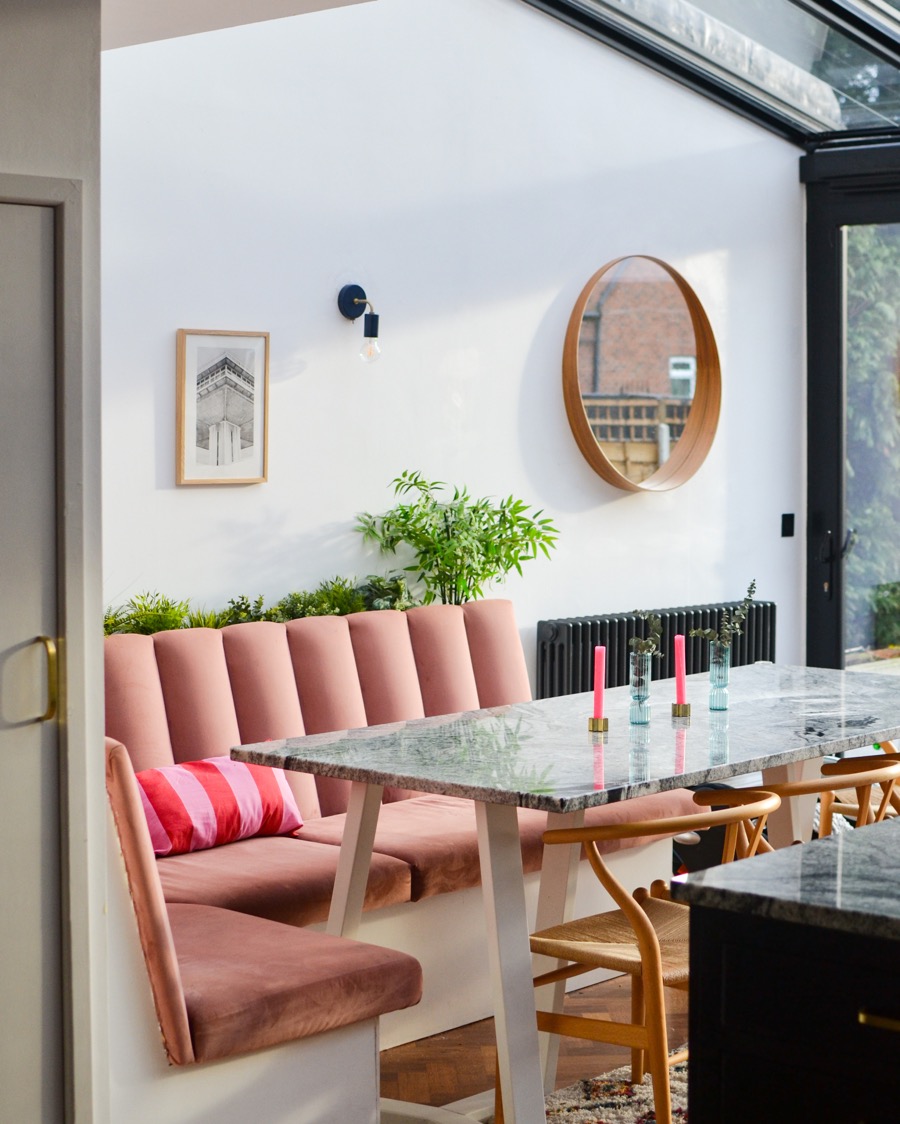 The kitchen diner is where we spend most of our time, it's such a great room. It's a multi functional space with kitchen, dining area and living room area that leads straight onto the patio in the garden so it's perfect for life with two small people. I'm so not keen on the word patio but feel like an idiot calling it a terrace when we live in Salford!
I always wanted a kitchen where we could cook and be together at the same time so when we viewed this house for the first time, I loved it straight away. We can't wait for the weather to get better so we can have the doors wide open and have dinner outside.
The Kitchen
The kitchen is a Harvey Jones Shaker kitchen, it has so much great storage solutions like a built in cutlery drawer, dividers for the plate drawer and a pantry cupboard with plugs where we can hide away the toaster. All Harvey Jones kitchens are hand painted, ours is colour matched to Farrow and Ball Railings. We haven't changed anything in the kitchen area since we moved in, it works really well for us as it is.
We have a boiling water tap which is such a game changer, it's so handy for filling up pans for pasta, making tea in two seconds flat and sterilising tiny baby things. It's a Quooker tap and we bought it from the people who owned the house before we did so it was much cheaper than buying it new. It's some of the best money we've spent on the house in my opinion!
We have a shelf that runs along one wall that matches the counter tops, it's super sturdy so we keep all of our cookbooks and prints up there.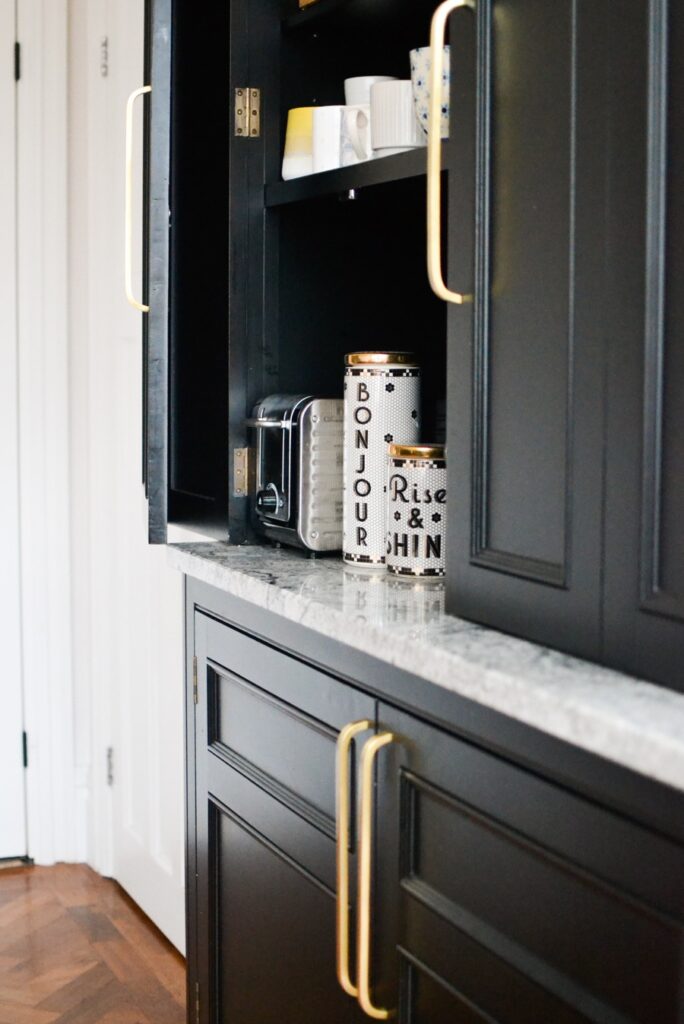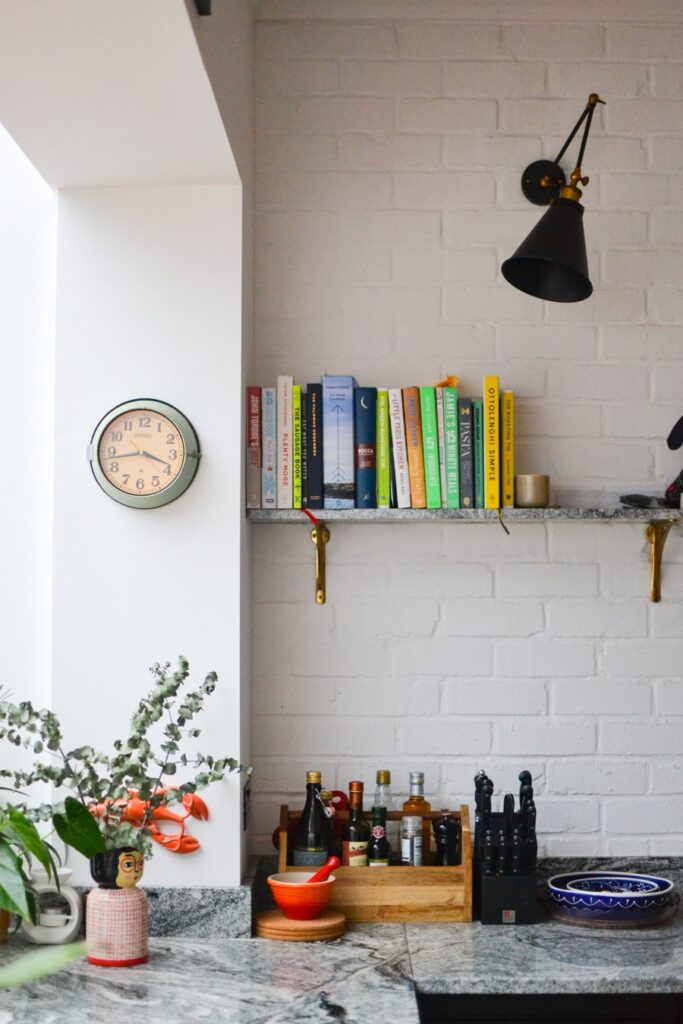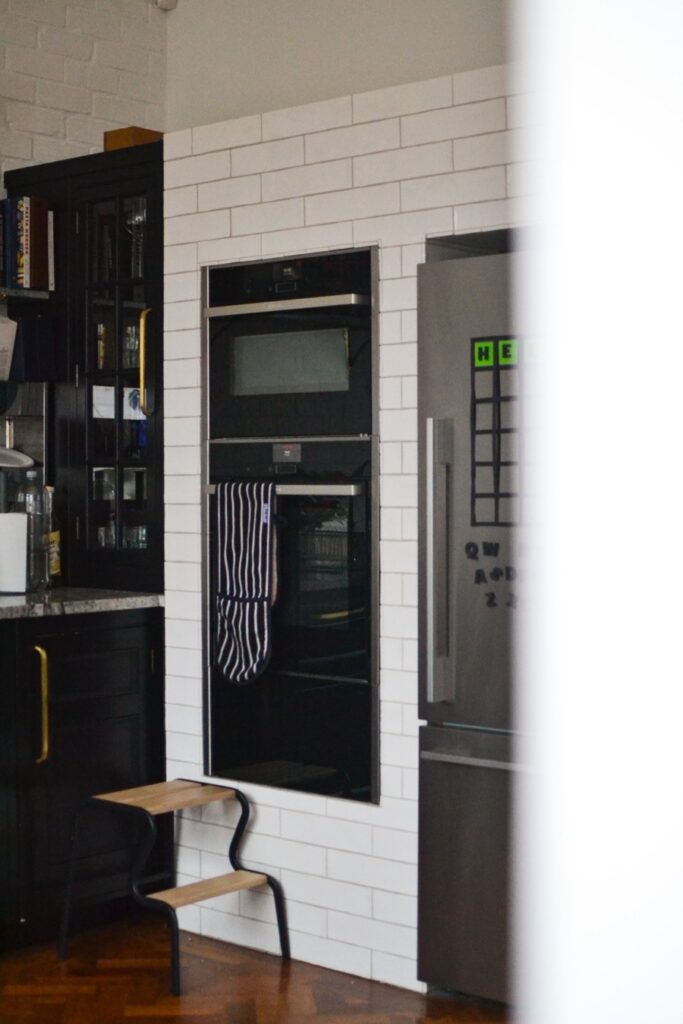 We have an inbuilt oven and grill with a warming drawer, which I was VERY excited about. The oven has a sliding door like on Bake Off, as if I needed another reason to want the house when we looked round! We have steps from Ikea for Eva so she can get involved with cooking and washing up, she absolutely loves washing up for some bizarre reason.
The fridge is from Fisher and Paykel, I use the water filter and ice maker pretty much constantly throughout the day.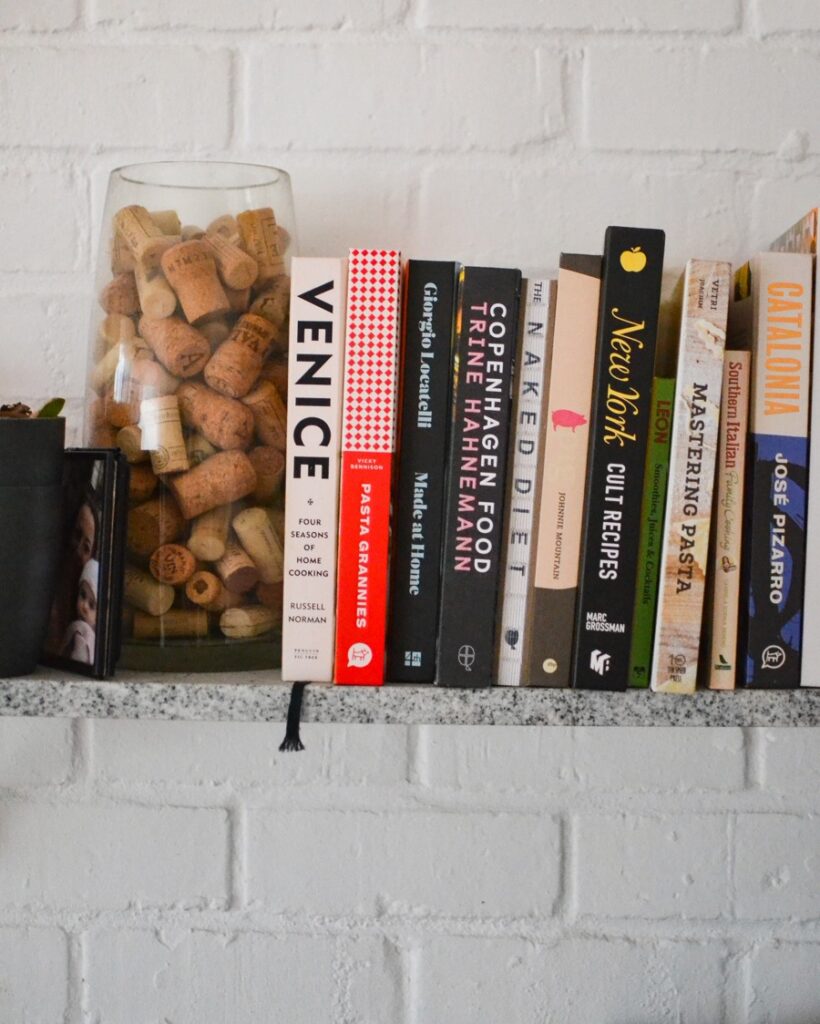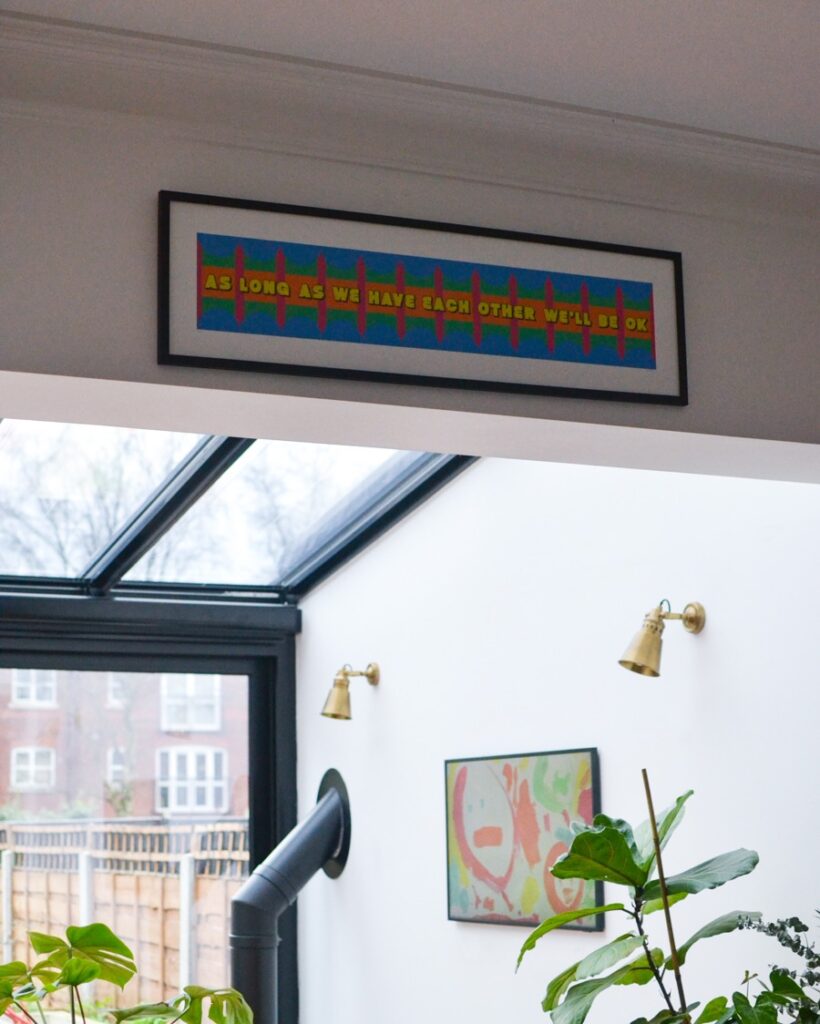 This Yinka Ilori print is a relatively new addition, I bought it last year but only recently had it framed, I absolutely love it and it was created in lockdown so it's a good way to remember such a strange time.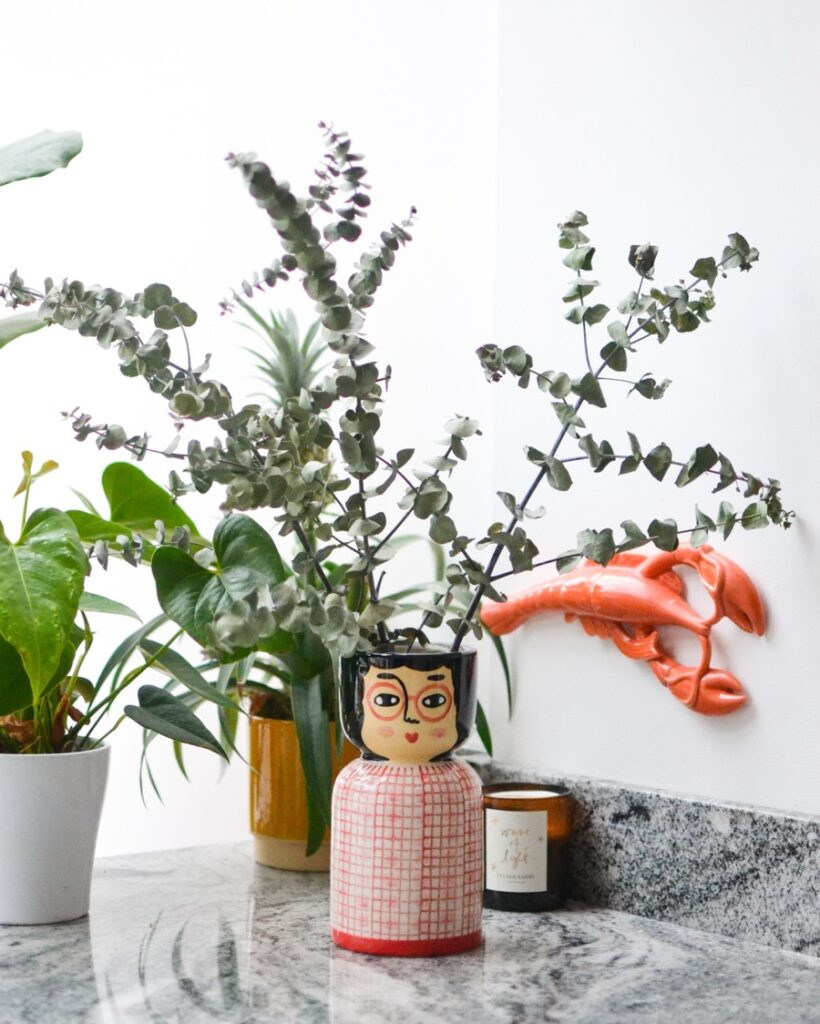 I love this vase my sister got me for Christmas, it's from Habitat and I love changing up her hair! The lobster was from a holiday to Majorca years ago.
The Dining Area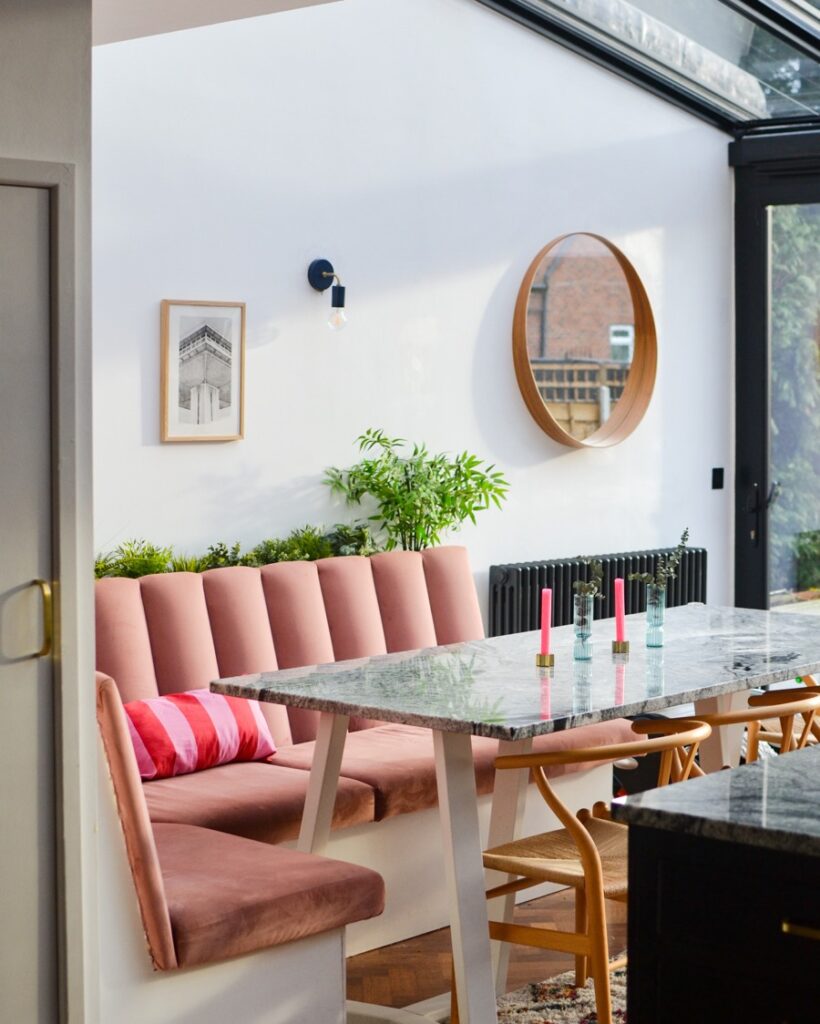 When we viewed the house we loved this area but thought the pink velvet and giant marble table would be impractical with small children, but it's been incredibly useful. We use it for everything from meals to painting to creating Peppa Pig playgrounds. We have Stokke Tripp Trapps for the girls (both from FB marketplace) and they're perfect as the table is really high up, it means Eva can sit at the perfect height at the table. I can't wait for Ottie to be big enough to sit in hers at the table with us for meals!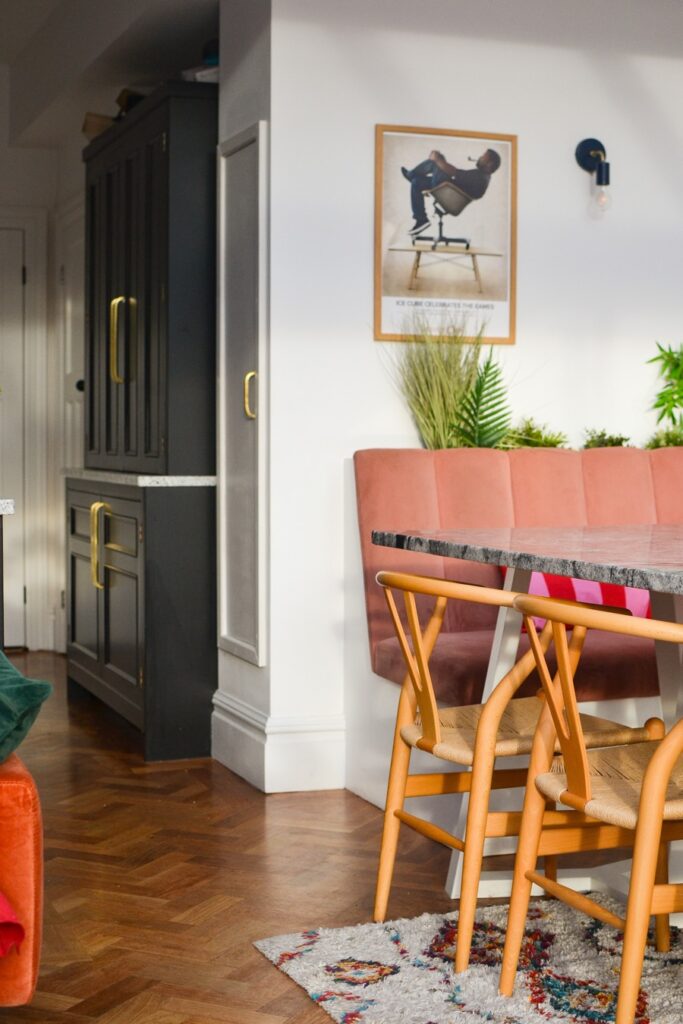 Our chairs are Carl Hansen Wishbone chairs, we love them so much but I always worry about staining them. The rug is from La Redoute and the cushions are from Ikea, they were only £2 each!
Ice Cube has pride of place chilling in his Eames chair. Joe found this image online and loved it so had it printed and framed.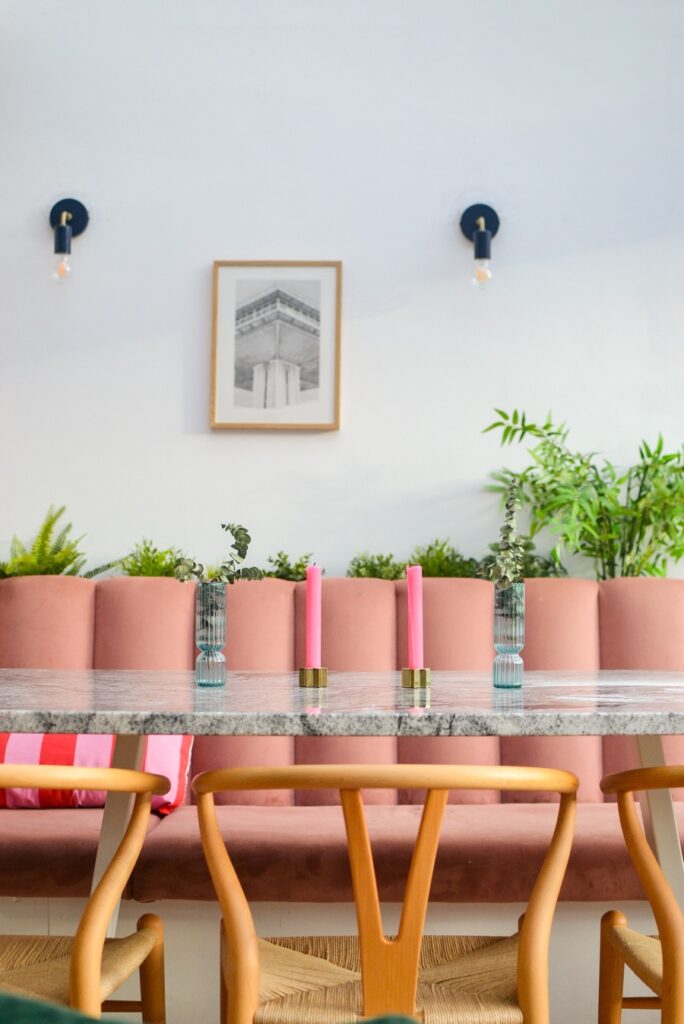 We, and by we I mean Joe, switched out the wall lights to these from John Lewis. I'm obsessed with these bright pink candles, also from John Lewis, and the small blue vases from Sostrene Grene.
We also have a couple of prints up here too, I'll update who the photographer is when Joe lets me know but the one in the image above is of Lancaster Service Station. We've always loved the mad architecture of it when we've stopped there on the way to the Lakes!
The Living Area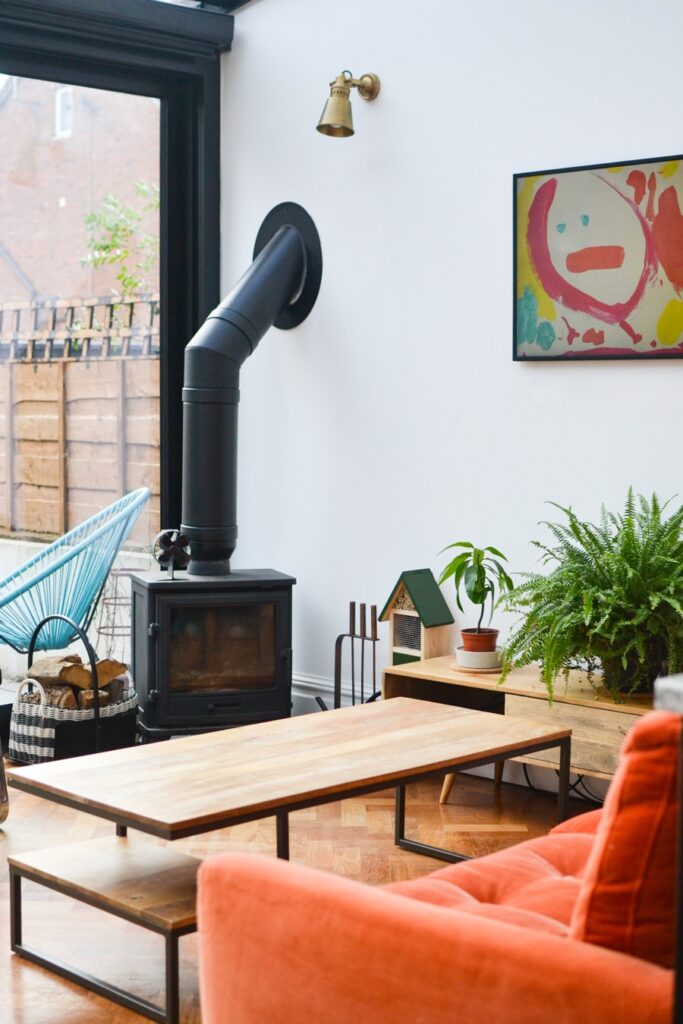 In the living area we have a gorgeous orange velvet sofa from Habitat, it's the Habitat Fenner 2 Seater sofa in Orange. I was going to go for something more practical than velvet with two small children around but I couldn't find anything I liked as much. It's covered in 2 massive cans of Scotchguard and a throw! The coffee table from Swoon and we usually have a couple of little chairs at it so Eva can drawer or paint there. We love the log burner too, it's perfect for when it's chilly outside and Ottie is obsessed with staring at the fire at the moment. Joe is channeling his inner lumberjack and his new hobby is chopping wood.
We have a Samsung Frame TV which is great because all the wires are hidden and it's flat against the wall. We've added our own images to it so we can have a gallery for Eva's artwork! Every time she does a painting or drawing she loves I scan it in and add to to My Photos on the Samsung SmartThings app so I can add them to the TV, she absolutely loves seeing her paintings on the wall. I can't recommend the Samsung Frame TV enough, it's so great not having any cables knocking around. The contrast was a bit crazy when we first set it up but it's easy to change.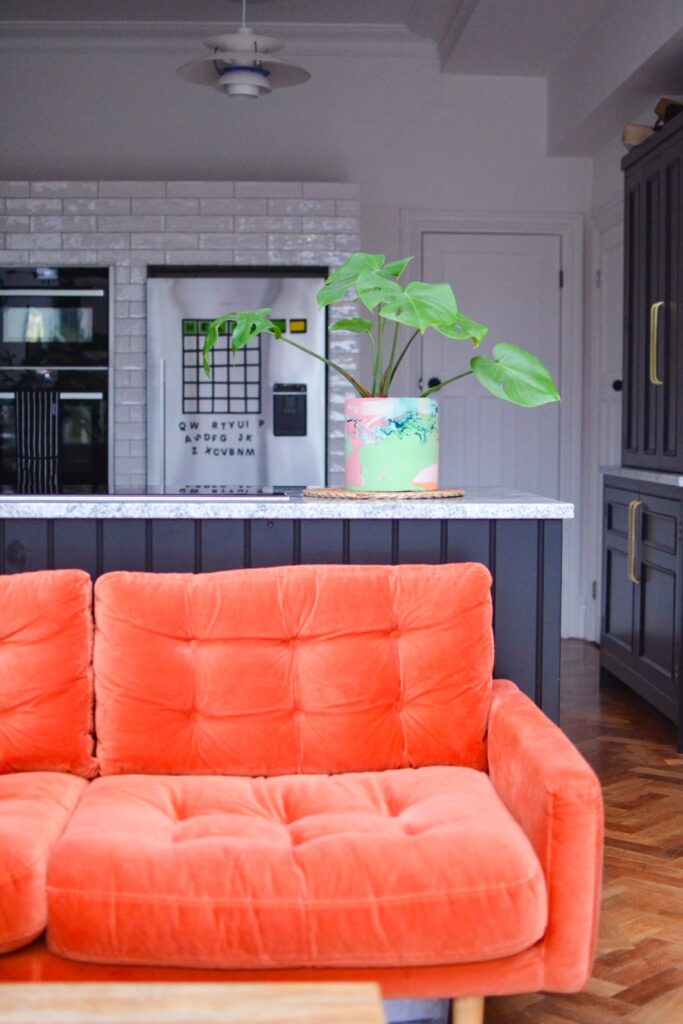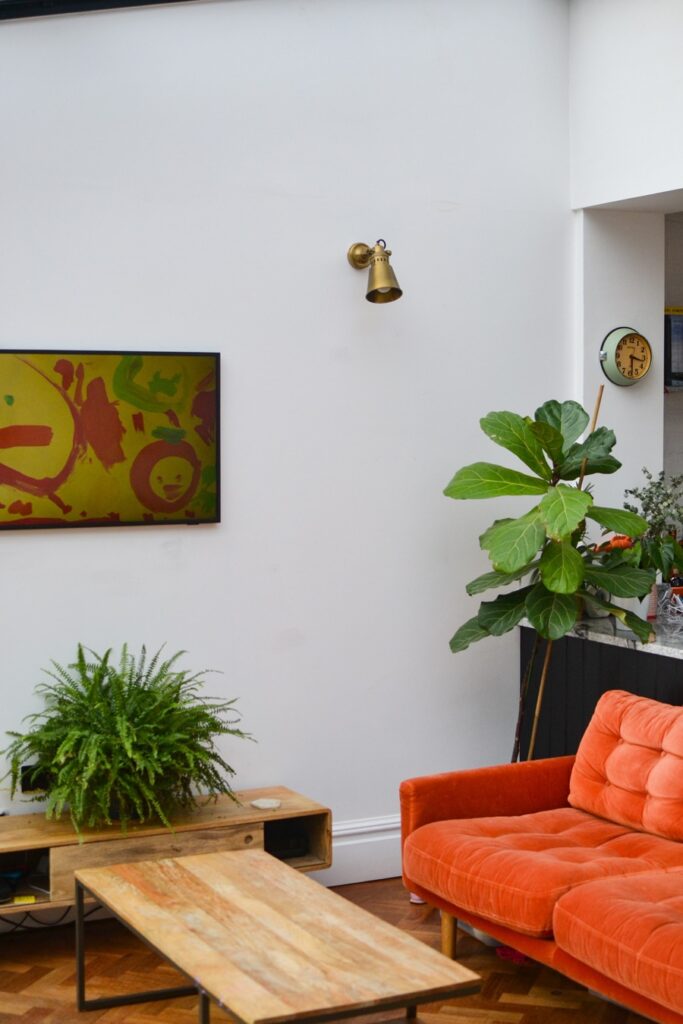 As expected, we have quite a lot of plants in the living room including a Fiddle Leaf Fig which we've had for nearly a decade, a boston fern and monstera from Patch Plants and a mango tree I grew from one of Eva's mangos!
The plant pot with the Monstera in is by a local artist Abbey Lou which we love!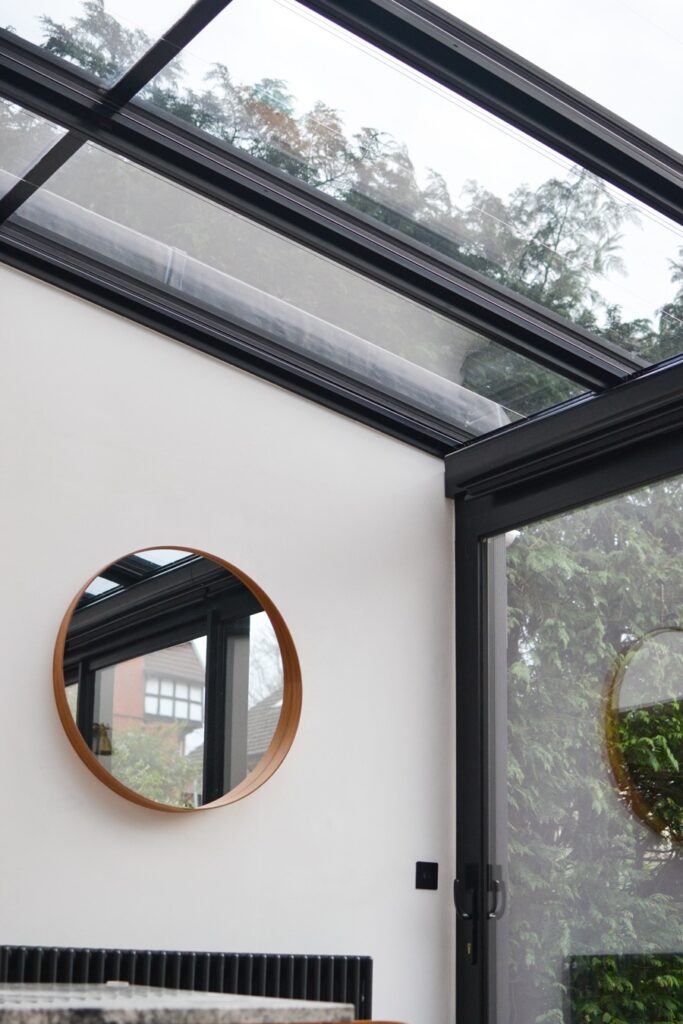 There are glass doors that open all the way up so the living room extends out into the garden, it was amazing in summer and I can't wait for the evenings to get lighter! We also have a glass ceiling which is amazing for light, there are blinds on both in case it gets too sunny. I had to work from the basement when it was really warm over summer as I was melting!
Just for a bit of balance, this is what our kitchen looks like around 90% of the time.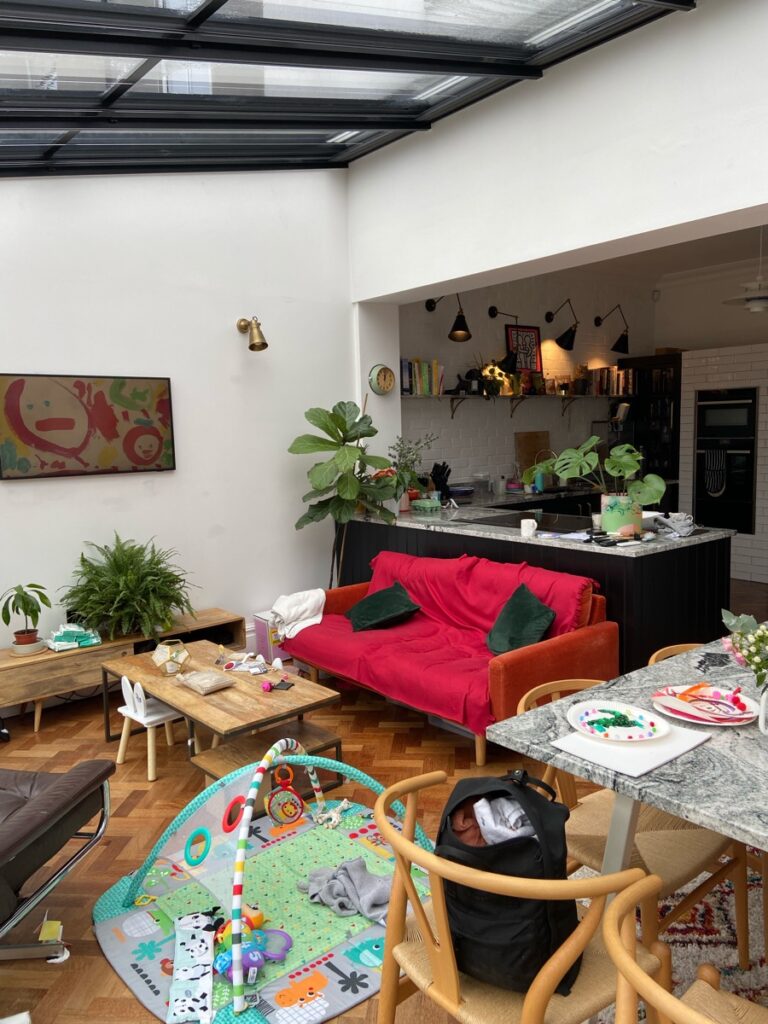 You can see our Living Room tour here if you fancy!