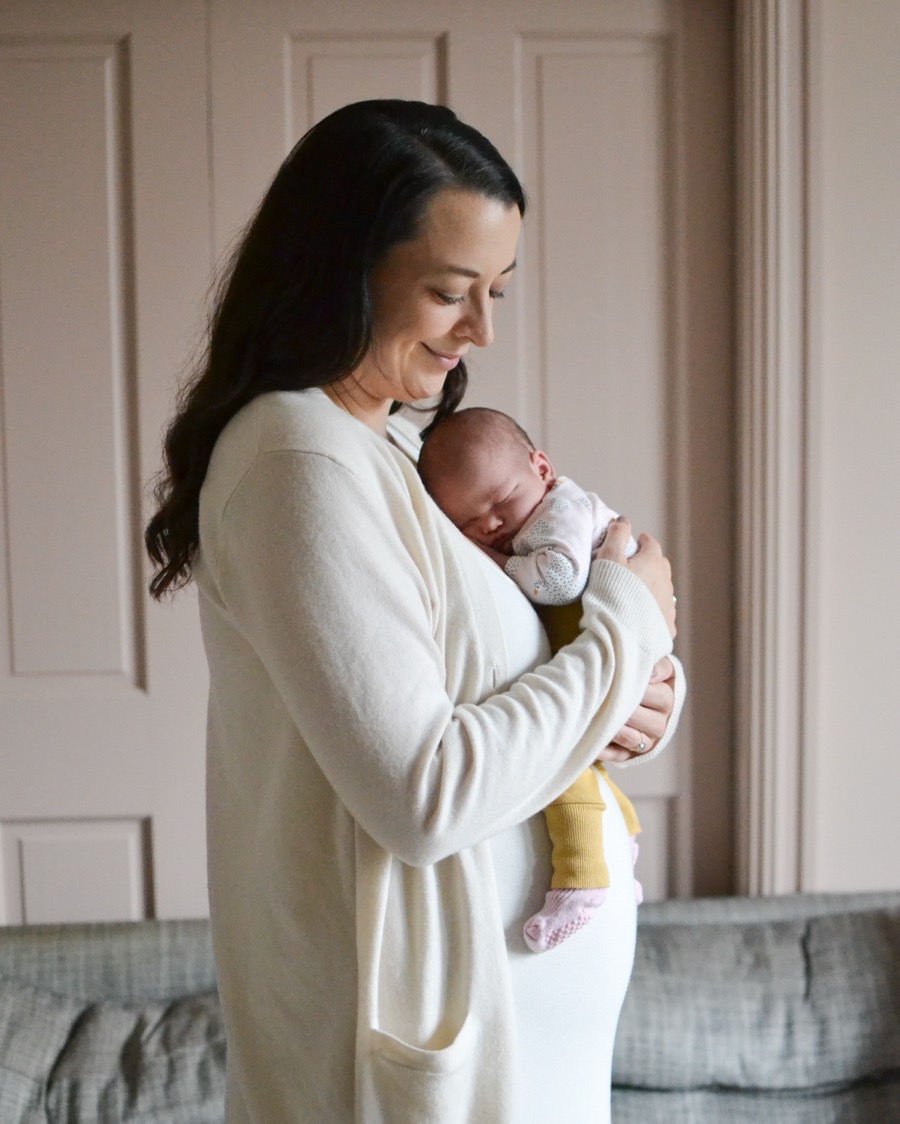 This post has been in my Notes since the week Ottie was born but I've kept it squirrelled away there until I've had time (and mental strength) to read it back and share it. I found my pregnancy with Ottie much harder than with Eva, I had very similar symptoms but they were worse with Ottie. More intense nausea, more sickness, restless legs, insomnia, lightning crotch, all the good stuff! So I was very, very ready for her to arrive by the time her due date rolled around.
It was Joe's birthday on the 20th of September and Ottie's due date was the 21st so we had a very relaxed day. We went out for Joe's birthday the weekend before just in case she came early. I was sure Ottie would be late like Eva but I got everything ready as if she would arrive on her due date just in case. I went to bed around midnight after eating a lot of birthday cheesecake!
Around 1am on the 21st of September I was woken up by back pain, I'd had a grand total of around 45 mins sleep so was knackered. I spent about 20 minutes deciding whether I was having contractions or not, by which point they had ramped up significantly and were about 2 minutes apart lasting for about 35 seconds. It was definitely go time!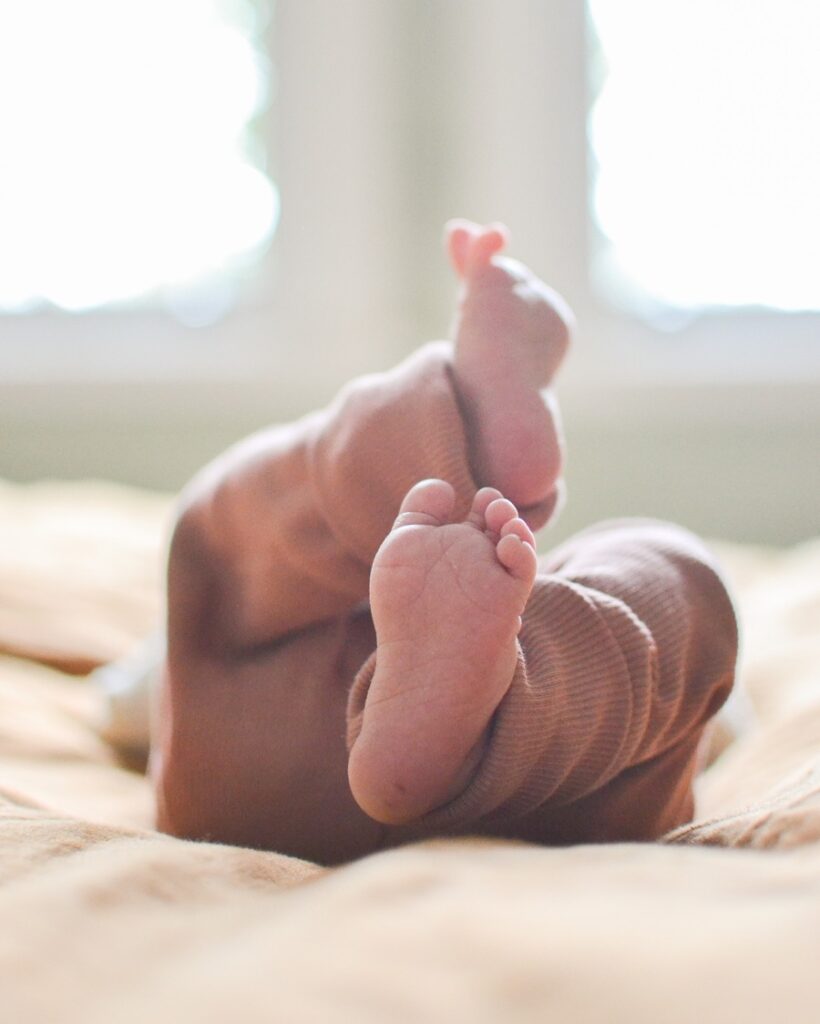 I woke up Joe, called my mum to come over to look after Eva (thankfully she got straight in the car!), started running a bath and made sure everything we needed was by the door ready to go. By this time it was about 1.45am and the Freya app told me I was now in established labour, things were moving very quickly and I was slightly worried she was going to arrive in the bath.
I'd been through the Positive Birth Company Hypnobirthing course again like I had with Eva so used some of the techniques to get through the contractions. I sat in the bath up breathing while we waited for my mum to arrive and Joe got the baby seat in the car. My contractions got very intense so I got out of the bath, got dressed and made my way downstairs. Thankfully my mum arrived a few minutes later so Joe and I headed straight for the hospital, the journey was pretty quick as it was the middle of the night but felt about 27 hours long.
When we arrived at around 3am my contractions were coming thick and fast. We were seen quite quickly by a midwife and they listened to baby's heartbeat, all was looking good thankfully and the pool was available for a water birth so they started running it. I was really hoping to have a water birth after not being able to have one last time so I was over the moon! The midwife examined me and I was 7cm dilated, she said as soon as my waters broke the baby would likely come almost immediately as it was my second birth and my contractions were so close.
A few minutes after this during a very intense contraction my waters broke rather dramatically all over the floor. Unfortunately there was a lot of meconium so the water birth was no longer an option. So close!
It was around 3.30am at this point and we were quickly moved to a delivery room which was such a calming room compared to Eva's birth (very bright lighting and doctor heavy due to blood pressure and baby's heartbeat complications) where I continued to labour with the midwives and Joe's support. I quickly got to 10cm dilated and it was time to push! The midwives guided me with every push and I felt very safe and looked after.
I pushed and my body pushed but it became quite clear she wasn't making her way down as expected. I continued to labour pushing with each contraction for a couple of hours. I was getting more and more exhausted and I was in a lot of pain with every contraction but the midwives, doctor and Joe were really encouraging. We were all focused on a natural delivery but after another half an hour and still no sign of the baby's head as well as her heart rate dipping with each contraction, we had to start talking about other options.
Around 7am we were taken into theatre with the plan of a full internal review to see what position Ottie was in that was stopping her moving down and the likelihood of a forceps or ventouse delivery in theatre. I had a ventouse delivery with Eva so I wasn't too worried about this, I just wanted Ottie out and safe at this point.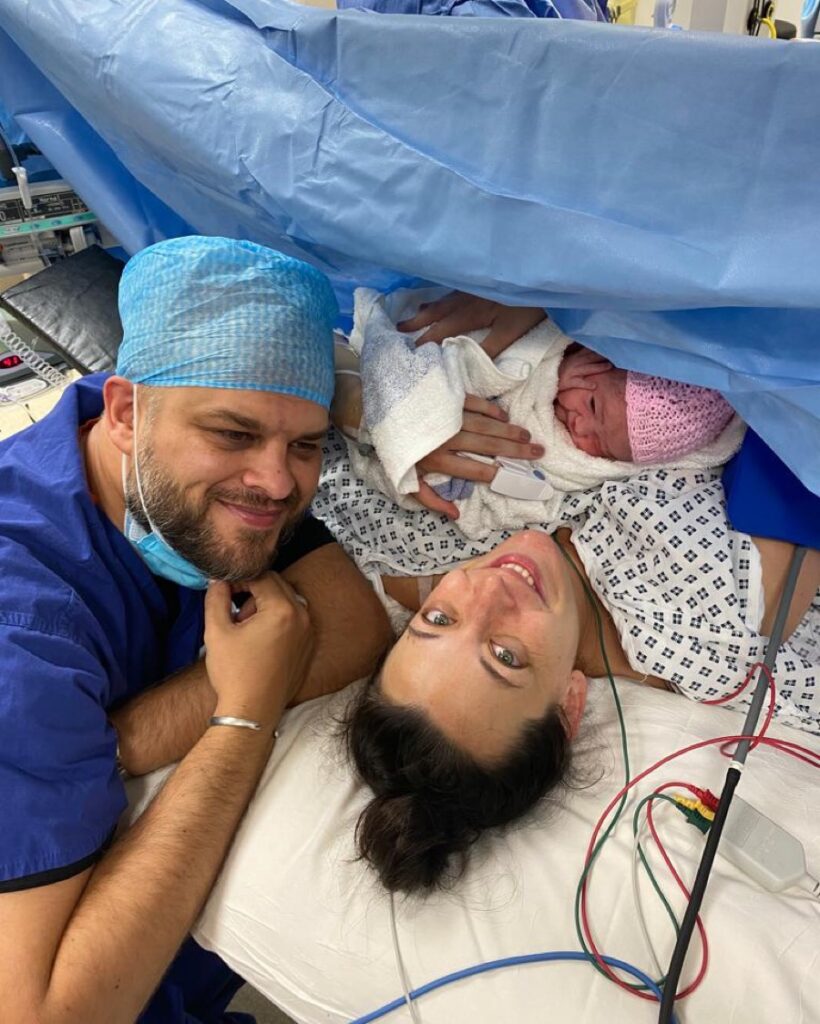 I continued to have strong contractions throughout the theatre set up process and as they put the spinal in, it was such a relief when it started to work as my body had been through so much and I'd had no other pain relief until this point, I wish I had taken all the drugs looking back!
The doctor and midwives completed an examination but there was no clear reason the baby wasn't moving down. I continued to push with the midwife's guidance but Ottie was still too high even for an instrumental delivery so an emergency C section was the only option. I was comfortable with this as I knew it was the safest for both myself and Ottie but I was upset about the recovery time meaning I wouldn't be able to pick up Eva from nursery or do little things like carry her or lift her into the bath. 
They made the first incision at 7.30am and by 7.33am Ottie was in my arms, it was just the most amazing feeling to finally meet her!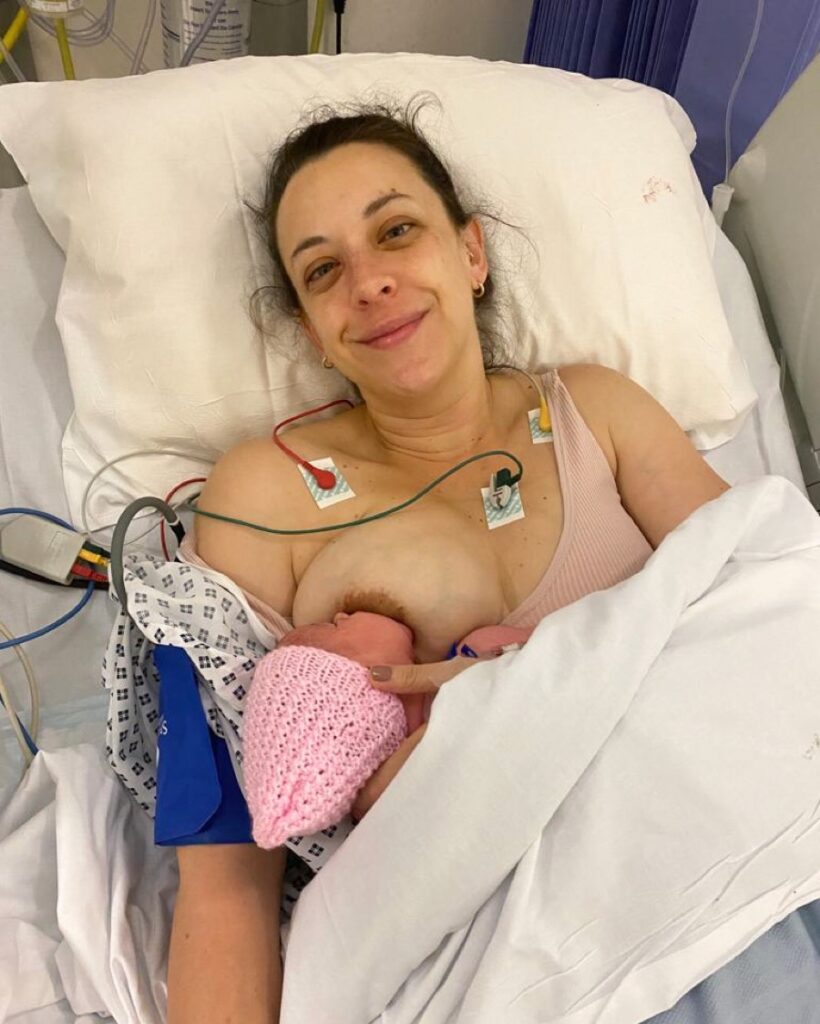 There were a few complications after she was out so it took another hour to finish the surgery, I never thought I'd hear anyone say 'we're just going to lift your womb out to stop the bleeding' but there's a first time for everything. During this time Joe cut the cord (after delayed cord clamping), Ottie was checked over and we cuddled her until they finished.
I was taken to recovery and had skin to skin before we were moved to a room where we spent hours and hours having skin to skin, started to breastfeed, ate a lot biscuits and told people the good news. Because she was born early in the morning it meant Joe was able to stay with us all day, he headed home to be with Eva in the evening. Ottie and I spent the evening cuddled up watching the Great British Bake Off, the perfect way to end the day. With Covid restrictions it meant no other visitors were allowed so we had to wait until we got home to see anyone else or to introduce Eva and Ottie properly.
We were kept in overnight and eventually were able to go home around 7pm the following day. Eva and Joe came to pick us up and Eva's role as best big sister ever started!
Looking back, I wish I had managed to have a natural delivery but there was no way it would have been safe or sensible to carry on pushing much longer. Having a C section also meant that I let my body recover fully and hibernated for 6 weeks, I soaked up the newborn bubble fully and didn't feel as much (self imposed) pressure to get back to normal as I had with Eva.
One of my only other regrets is not asking them to put on September by Earth, Wind and Fire in theatre!