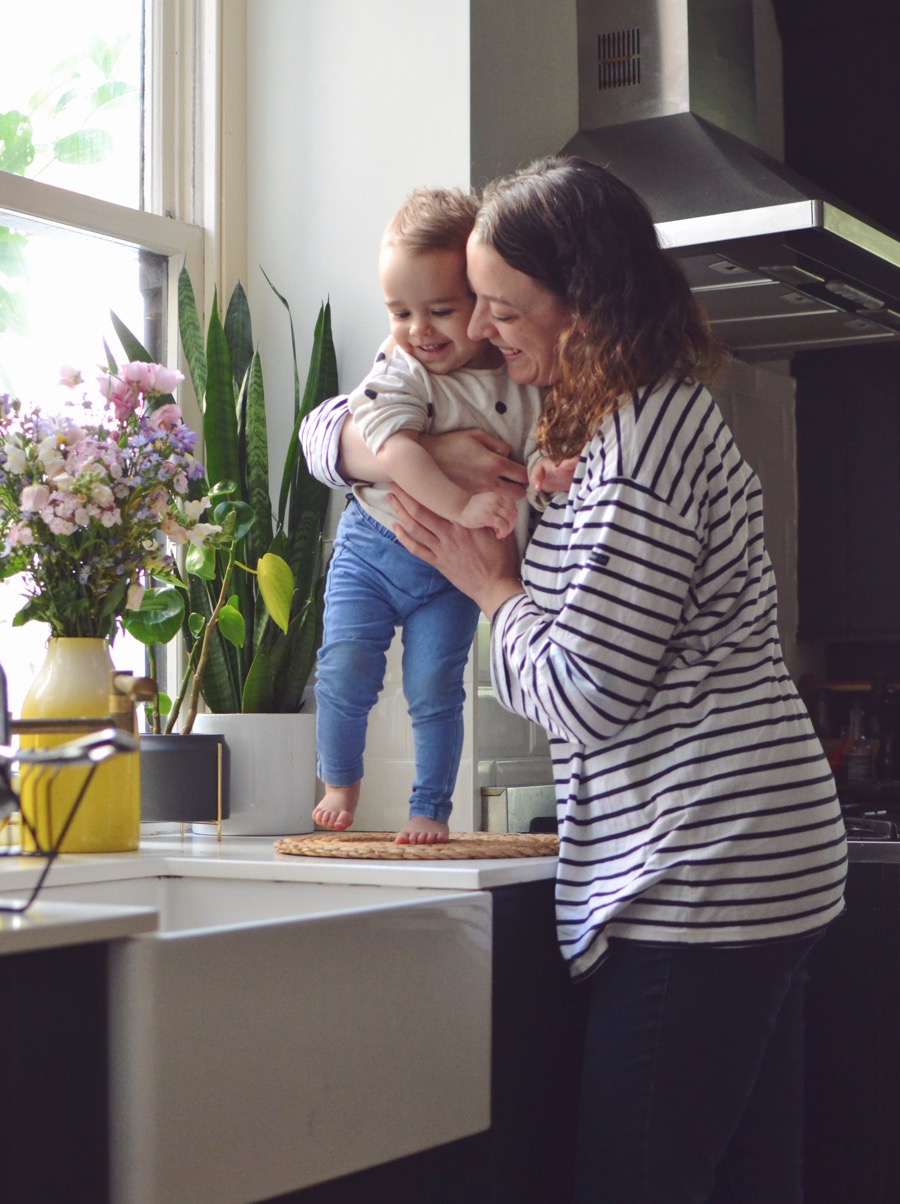 I've been meaning to do a working day and mum day in the life post for ages but, thanks to COVID-19, those two worlds have now collided! So instead, here's a day in the lockdown life. It may be the most boring post you'll ever read but I'm super nosey and love to read things like this.
We're about 5 weeks into lockdown now (39 days not that I'm counting…), we've got our routine pretty much down and most days are ok, some days we cry, some days we laugh all day!
I'm a Product Manager at THG, I usually work 4 days a week but I'm working 5 at the moment to make up my hours as I obviously can't work full days uninterrupted with a 19 month old running around. We live in Salford just near Manchester with my boyfriend (and Eva's dad) Joe.
6am – My alarm goes off and I roll out of bed. I am so happy Eva's still asleep, she's been waking up at 5.30 quite a bit recently which is not my favourite thing.
6.10am – I shower, wash my hair, get dressed and put some make up on quickly, the IT cosmetics cc cream is my saviour. I'm trying out the curly girl method at the moment, the Ethique frizz wrangler and coconut oil have been game changers with getting my curls to behave!
6.30 – I creep downstairs, tidy up living room and get some work done. We're hoping to launch a couple of sites this week so it's pretty hectic at the moment.
7.05 – Eva wakes up, I let her wake up properly and chat to herself for 10 mins while I finish off some work bits.
7.15 – Time to feed Eva, she usually greets me in the morning with a big smile then shouts 'milk, milk, milk!'. I read while I feed her, I'm reading The Female Persuasion by Meg Wolitzer, I found it really slow to get into at first but now I'm obsessed and cannot get enough of it.
7.35 – I change Eva's nappy, then we play, giggle and read in her room. We read Owl Babies about 4 times this morning.
7.45 – We head down for breakfast, we had peanut butter and sliced banana on toast. Eva had mango and a bliss ball too. I made the bliss balls with half a banana, 1 tbsp of ground almonds and 2 tbsp of dessicated coconut, then roll them around in more dessicated coconut. We watch Up together while playing, eating and I work as much as I can, I also tidy and clean the kitchen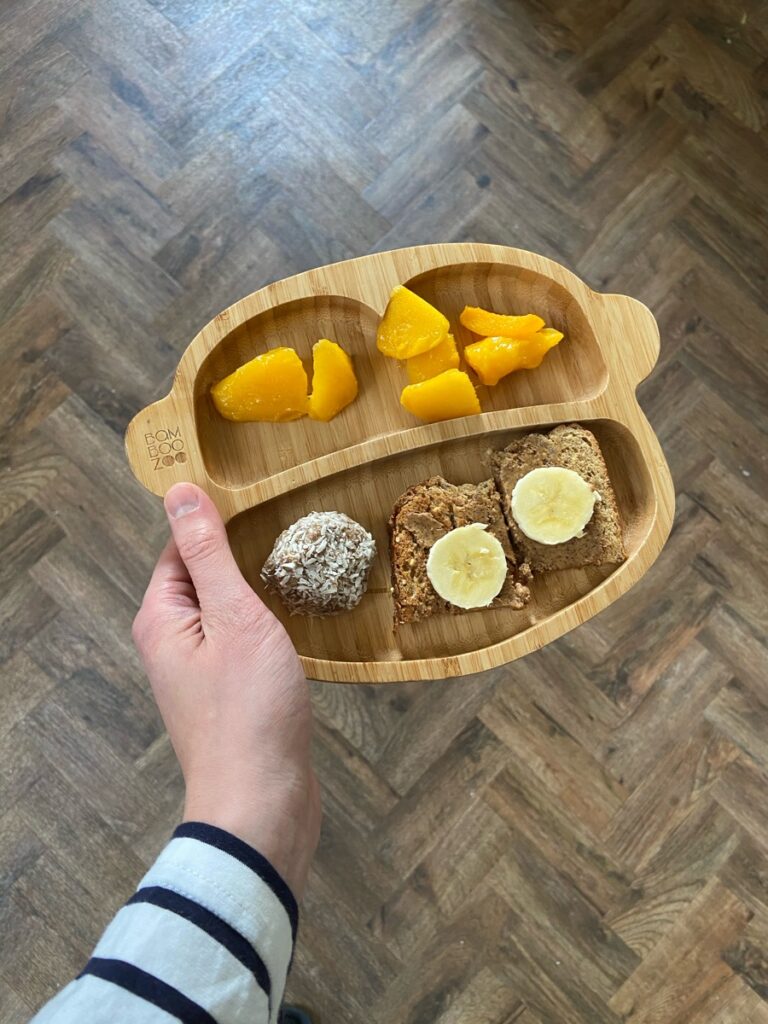 9 – I have a call every day at 9 so I do that and get some more work done, I set up some cushions in the living room for Eva as a makeshift soft play, she went wild!
9.30 – Joe gets up and takes over with Eva for an hour so I go upstairs, have another couple of work calls and get a bit more work done.
10.30 – Time to head back downstairs to Eva for play time and reading books while Joe has a call, he works at THG too. We make sausage rolls ready for later on. We also play in the garden and took the recycling out, thrilling stuff! I keep on top of emails throughout on my phone.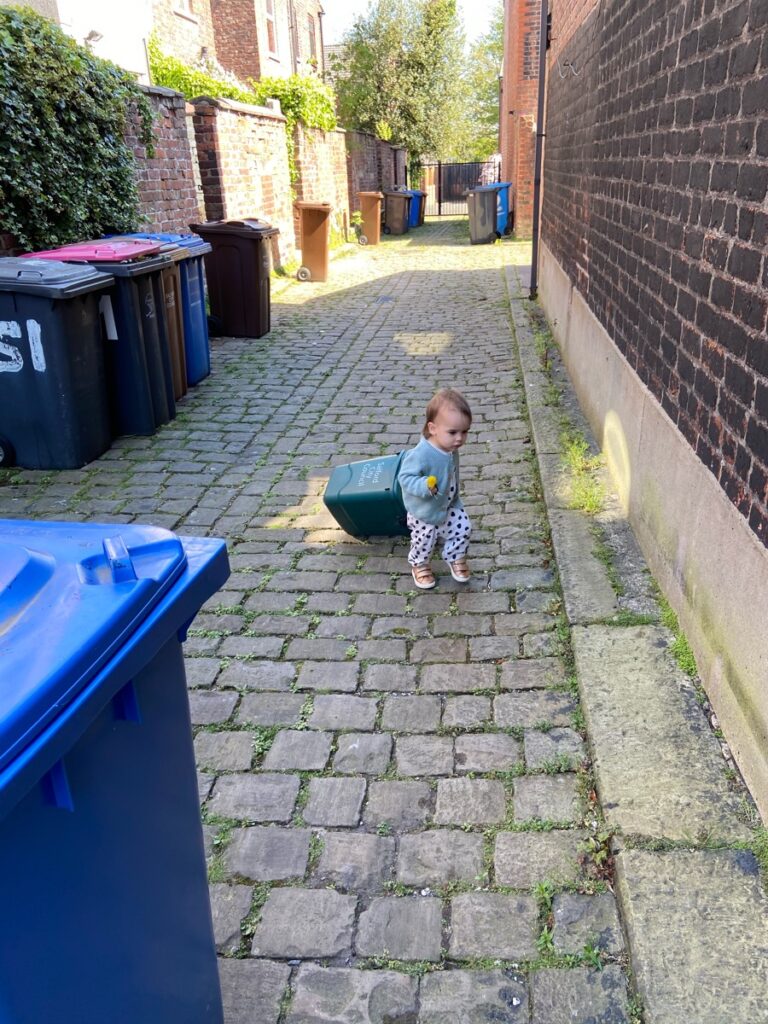 11.30 – Lunch time for Eva! I'm trying to stick to nursery timings so it's not a shock when she goes back. She has a lazy lunch of fish fingers and pesto pasta that I made yesterday. I chucked in broccoli, peas, olive oil, pine nuts, lemon and goat cheese then whizzed it up, she loves it!
12.00 – I change Eva's nappy and we head upstairs to brush her teeth, she's just learned to say teeth and do the sign for it! Eva goes down for a nap.
12.20 – My 12 o'clock call was cancelled last minute so I take advantage and head to Aldi to do the weekly shop, the queue to get in was much smaller this week thankfully so I can be pretty quick.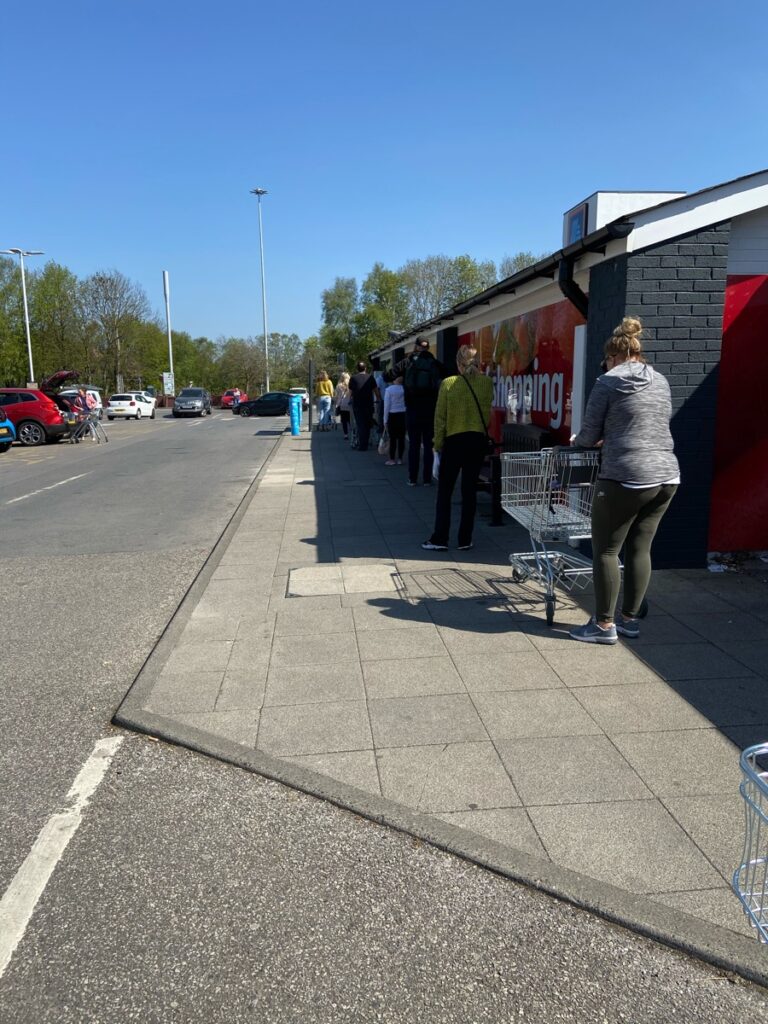 1.30 – I have a call with our dev team to make sure everything is on track for one of the projects we're delivering this week.
2 – Eva wakes up and has milk, I check and reply to emails and have a quick call while I'm feeding her.
2.20 – I change her nappy and get Eva dressed. We play in her room for a little while too having cuddles and giggles.
2.30 – Time for another call, it's a long 2 hour review call with our dev team in Utah and creative team for another project we're delivering this week. I don't need to be talking constantly and they know I have a wild toddler with me so we play in the garden and she has a snack while I'm on the call, taking notes and chipping in when I need to. She has a meltdown after tripping over a watering can after about 20 mins so we go and watch Disney+ instead. She's obsessed with Olaf's Frozen Adventure for some reason!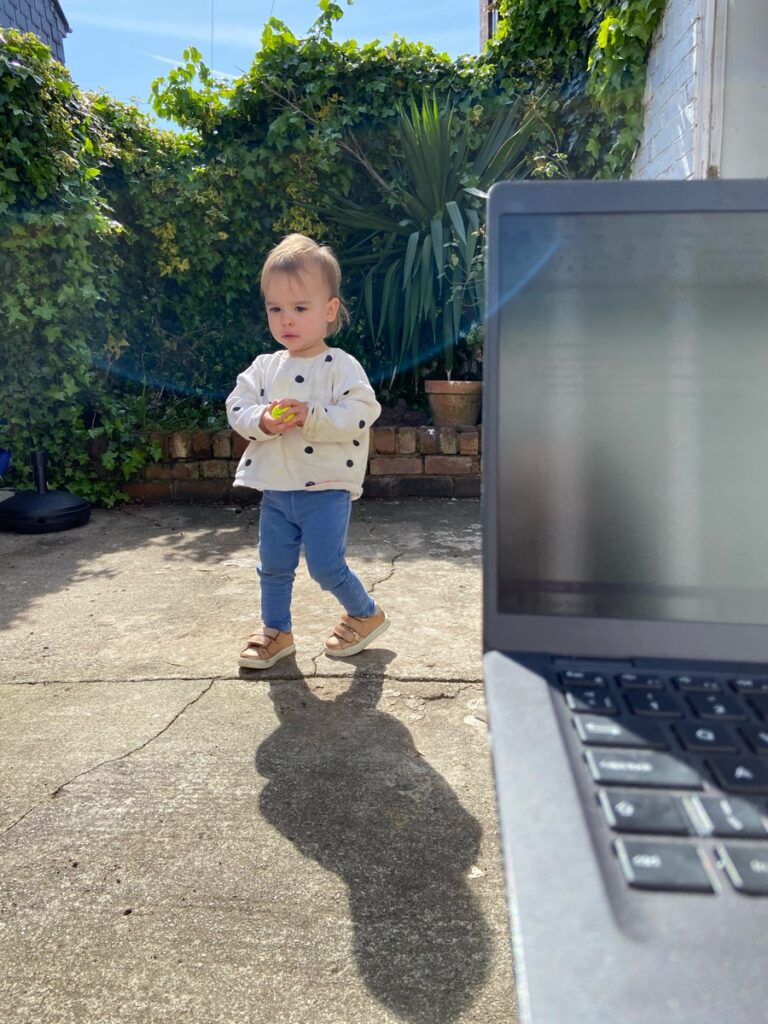 4 – Dinner time for Eva! The call ended a little bit early and we got everything done. She had sausage rolls I made earlier and veggies, she realy likes broccoli at the moment. I also had lunch (quick cheese, ham and tomato toasted pitta) because I hadn't had time earlier. Then we play, I do some work and watch Monster's University.
5 – Joe looks after Eva while I head upstairs to do some work, we have contracts that need signing and I need to review some parts with Legal.
5.30 – We have our daily family walk around the park in the sunshine, Joe and Eva set off 10 mins before me and I catch them up so I can finish off a bit more work.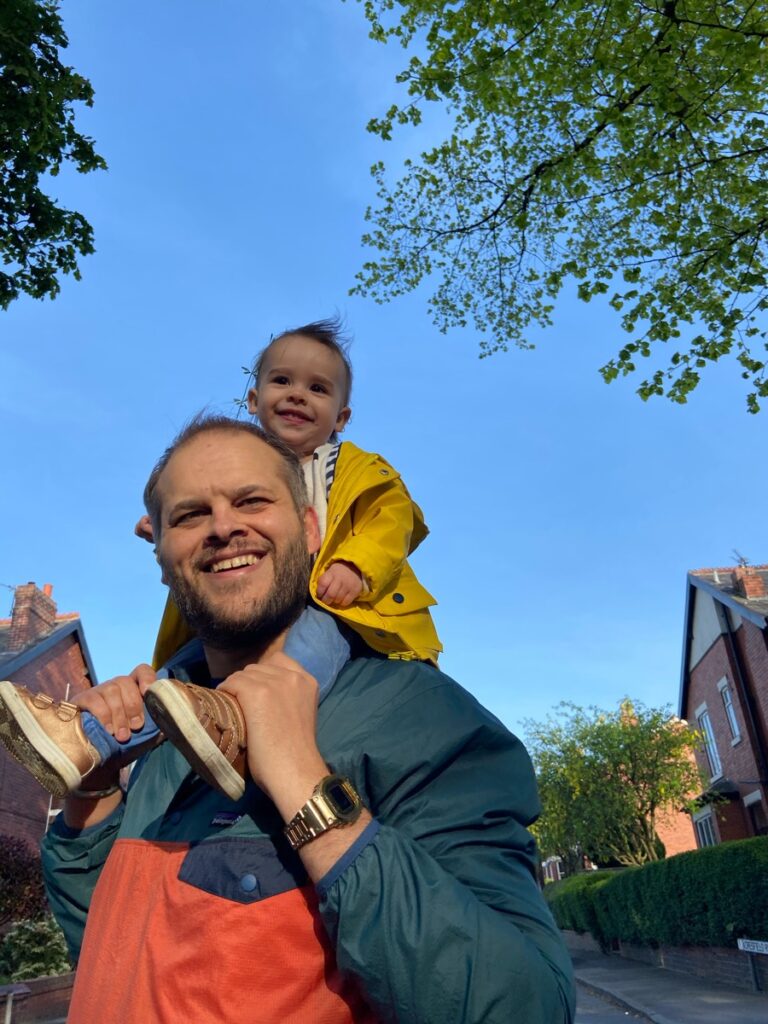 6.30 – We get home, play in the living room and all watch a bit of TV together. I sneak off about 6.45 to finish off a few more work bits and run the bath while Joe looks after Eva.
7 – Bath time! We have a good old splash around, she's obsessed with foam letters I got her from Amazon and her little watering can. I get her out, dressed and slathered in Anbesol as she has teeth coming out all over the place. We read Don't worry Little Crab (such a lovely book that was a present from Joe's parents) with Joe then we say goodnight, lots of kisses and giggles from both parties! I feed her and get her to bed, though she's obviously ridiculously tired she squeals when I put her down and is having none of it.
9.20 – Eva finally falls asleep. Little bit painful but she was mostly happy, she just refused to go to sleep despite being knackered. There's been a lot of milk, scratching, back rubbing, singing and tummy rubbing but finally she's asleep. I'm guessing teething was the culprit, she's usually asleep within about 20 mins. I am exhausted.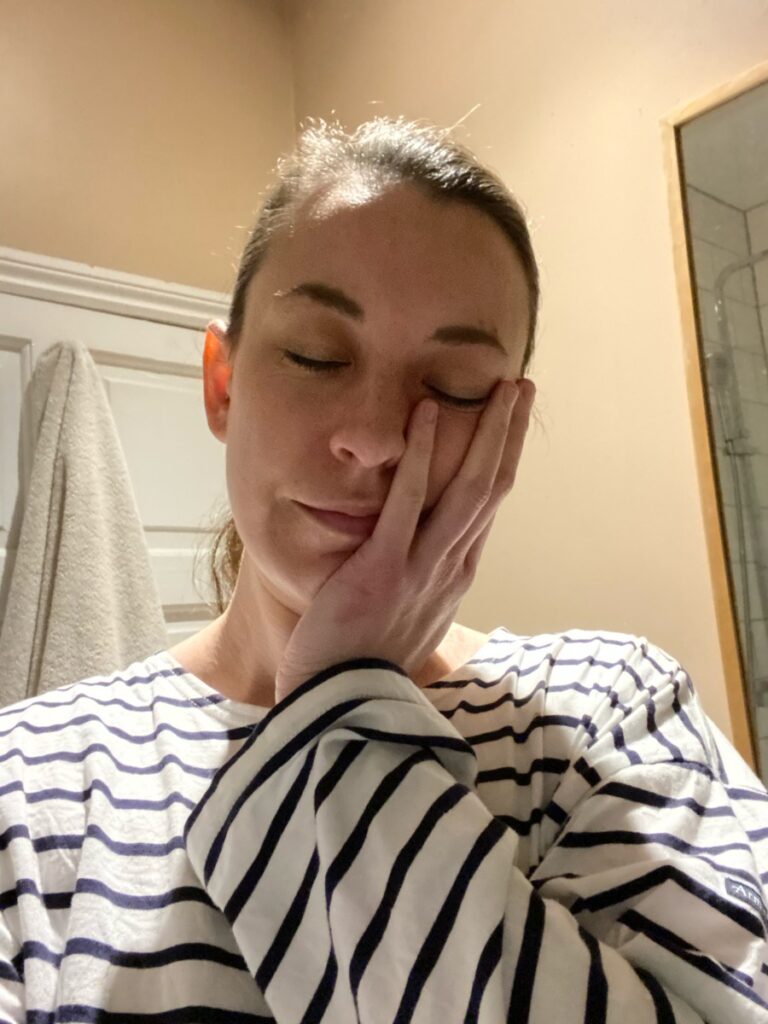 9.30 – Very late grown up dinner time finally. Joe's made dinner while I was getting Eva in bed, ee have pork chops, sweet potato wedges and spinach. I also had a little glass of wine because it was definitely required. We watch a couple of episodes of Breeders, catch up on our days and share some chocolate, we are wild. I have to do a quick bit of work too, because we work with our dev team in Utah it means dodgy time differences.
10.30 – I head up to bed, take my make up off and read, I'm determined to finish my book this week and I'm loving it at the moment so I get a bit carried away. Reading is my way to relax at the moment so it helped me wind down after a busy day.
11.30 – Sleep! Thankfully Eva didn't wake up in the night and made it through until about 6.30 the next day so I wake up human again.