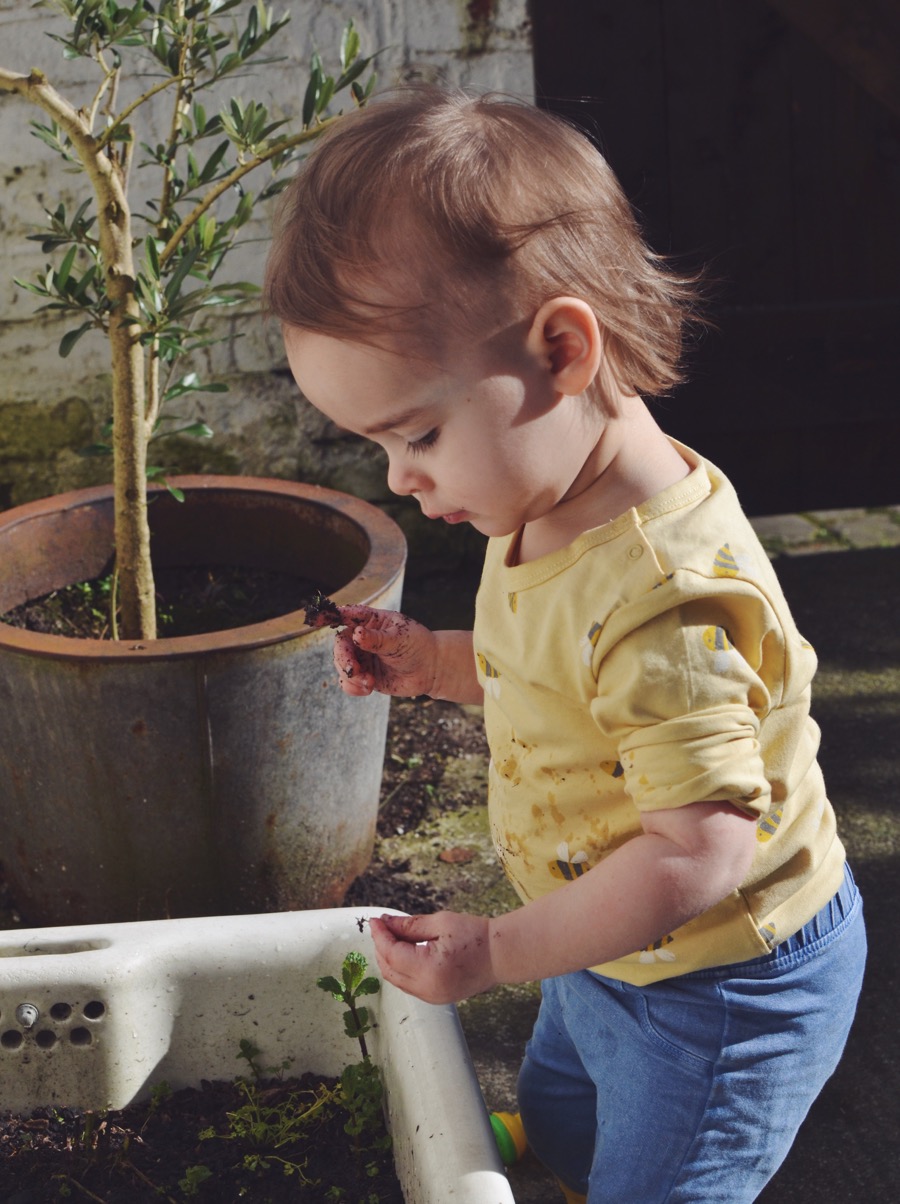 We're well and truly in lockdown mode over here. The world is a very odd place to be at the moment but we're keeping our chins up!
We're very lucky to be able to work from home, but obviously with a manic little toddler, it's pretty impossible hard to juggle everything.
The first few days of self isolation I felt like an awful mum and an awful employee, loads of fun. So then I made a proper plan for our day, made proper time to work, proper time for Eva and got my proper activities hat on.
Toddlers are HARD but wonderful, I wanted to put a big list of fun activities you can do at home to keep everyone happy and sane. But there's also no pressure to do any of them, some days we just watch films and that's fine, just keeping everyone going is the important thing!
Most of the ideas are using things from around the house or pretty affordable so should be easy peasy! I've tried to include ideas for babies and toddlers of all ages too so hopefully this will help a few people. I'd love it if you left a comment with more suggestions too, we're all in this together (but at a safe distance pls).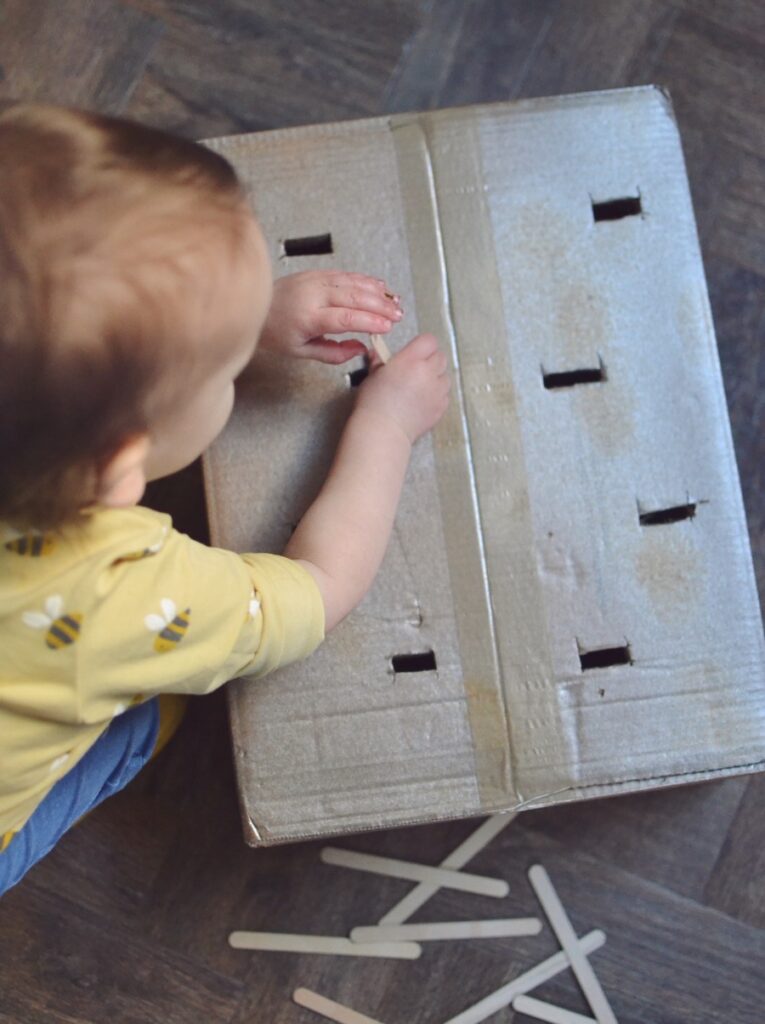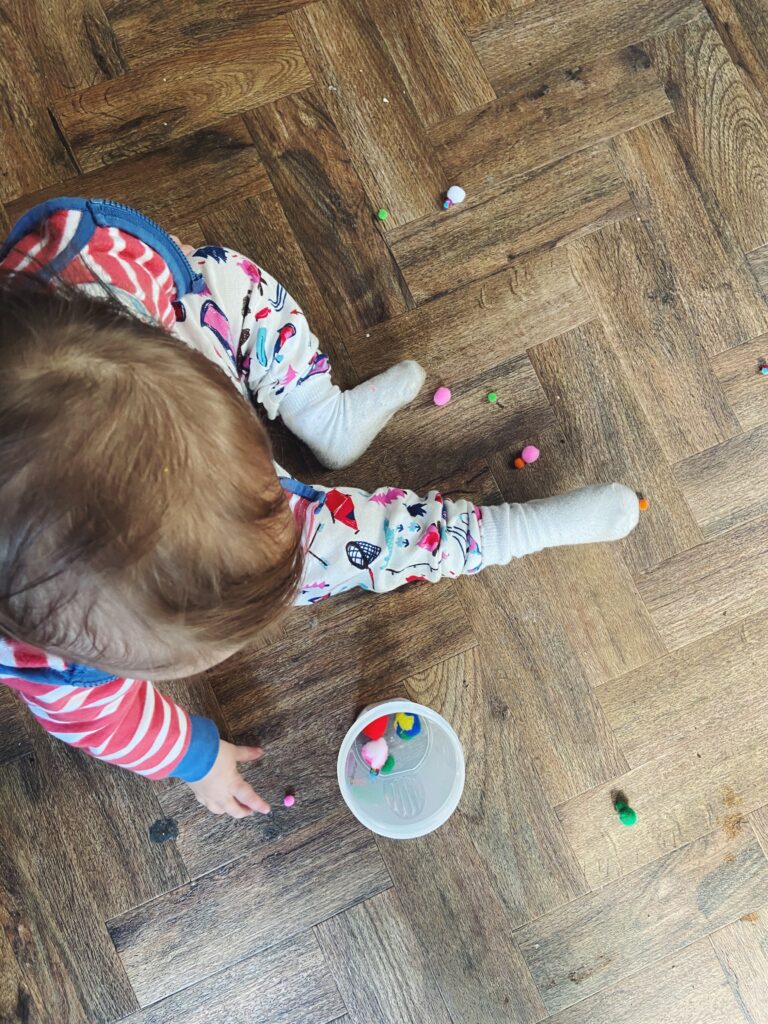 If you just need 5 minutes…
Little distractions to keep them busy while you have a wee/chuck lunch together/have a cup of tea/jug of wine.
Colander and pipe cleaners – a classic, and for a reason, they love it.
Pom poms and a cup – My go to at the moment for a few minutes peace if I need to make a work call and not be on mute the whole time. Tip pom poms out, give them a cup, they collect them, tip them out and repeat.
Makeshift postbox – I saw this one on Hannah's stories and pinched it immediately. Make holes in a cardboard box and give them lollysticks to post through, I got some from Amazon for a few pounds.
Pans and pasta – another classic 'I really need to finish making dinner' jobby, get pans, get pasta, the rest is history.
Treasure basket – We love a treasure basket! Put loads of little bits and bobs in a basket (or even better a box with a lid, toddlers LOVE a lid), let them ransack it.
5 Minute Mum is a great resource to find loads of fun, quick activities if you need more inspiration for quick ideas!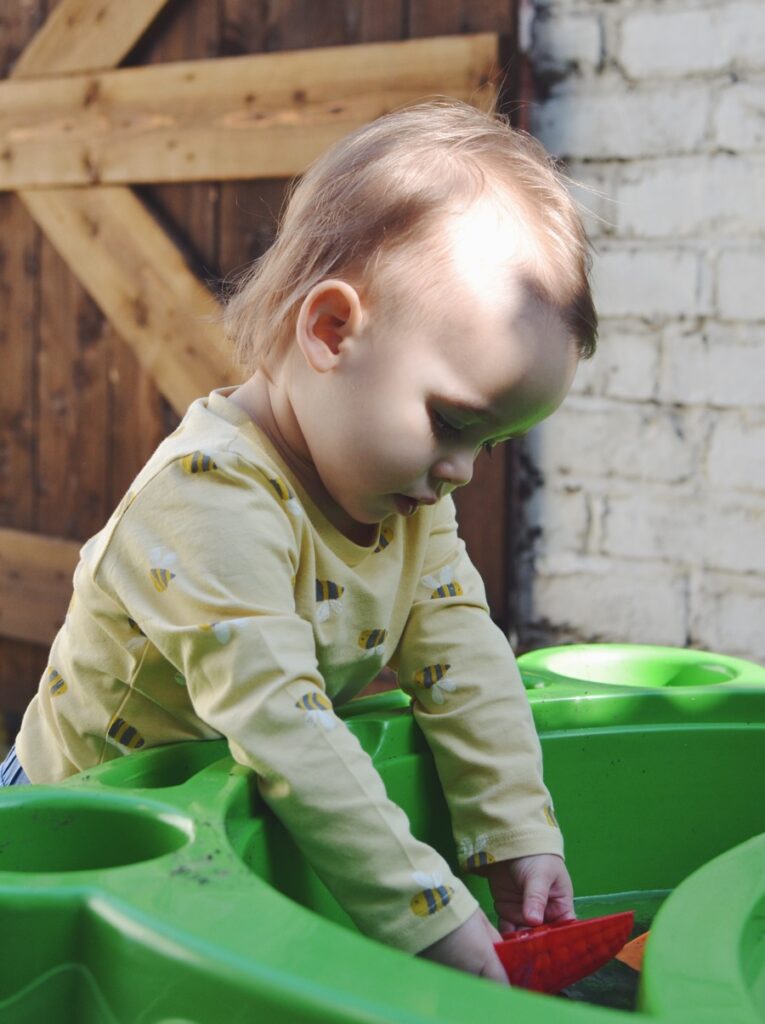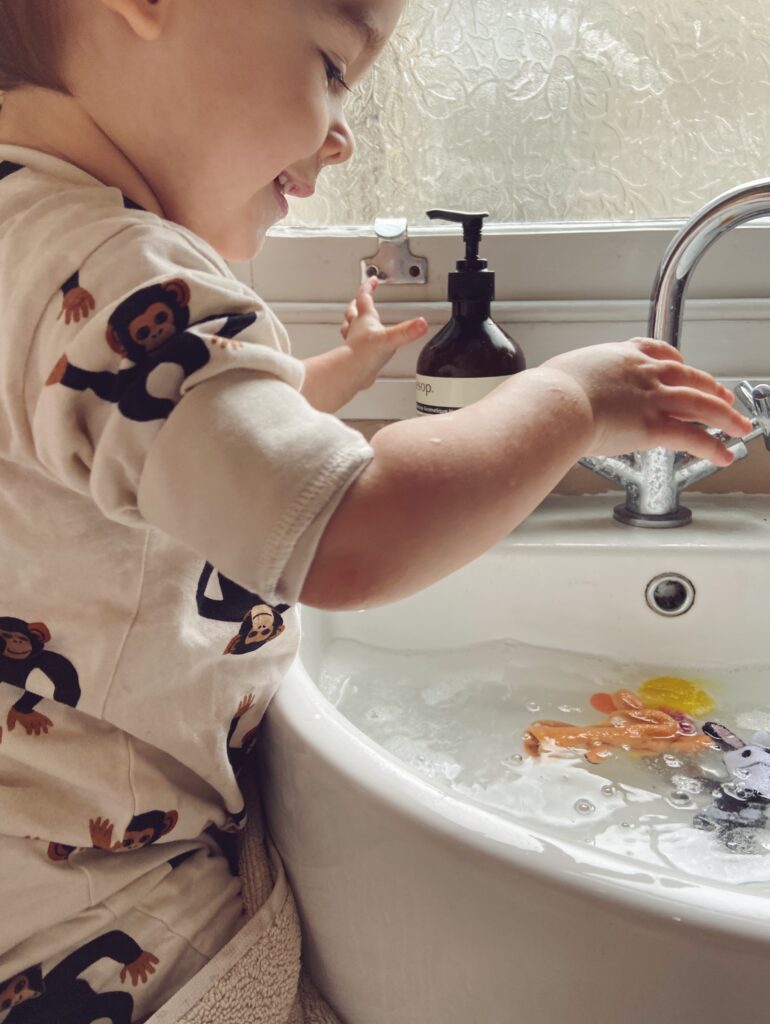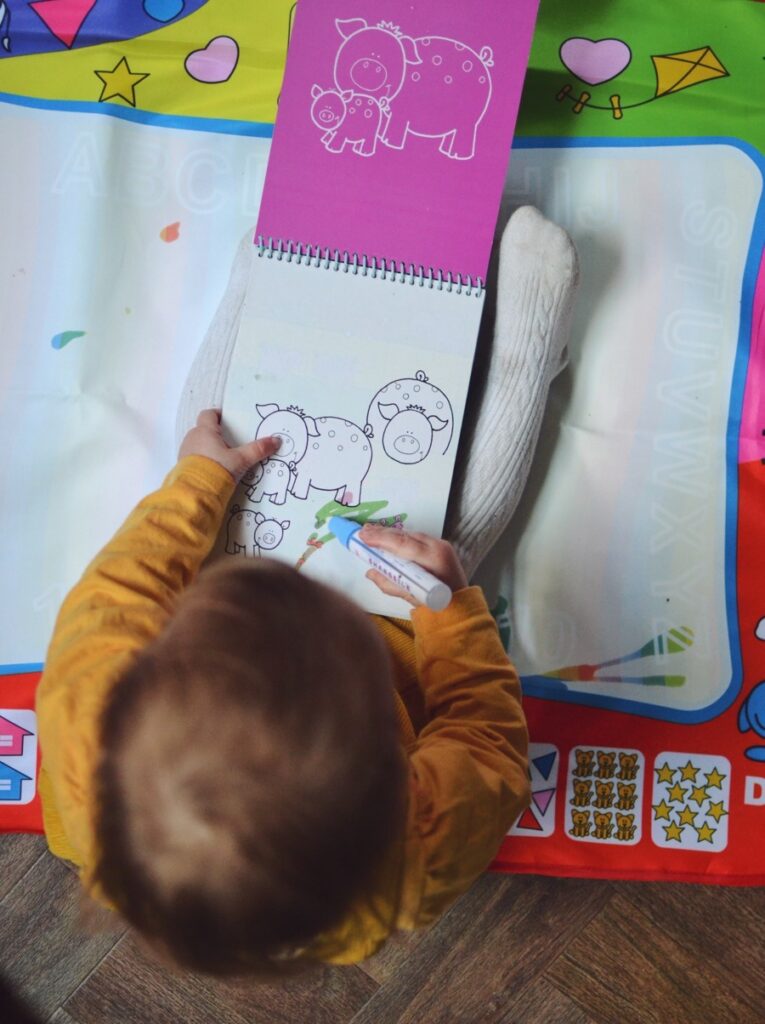 Water
Water is so easy to have fun with, Eva loves it in pretty much any form, and it's generally mess free, dream.
Playing in the sink – After brushing her teeth or washing her hands, I let her play. Add in bubbles, chuck in toys, get them cleaning the taps with old toothbrushes, anthing goes. Probably put a towel over your legs so you don't get soaked!
A water table – Eva LOVES her water table. I got it last summer and it's well worth the £20ish I spent on it. She goes back and forth tipping out water, throwing buckets around, adding handfuls of soil and generally making a massive mess.
A water mat – I saw the wonderful Jen Allison buy a water mat for her two littles (Hazel is 3 and Leo is under 1) who absolutely loved it! I found something similar on Amazon and Eva is over the moon with it.
Water colouring book – A great pratice for little people, similar to the water mat it's reusable and mess free. I got Eva a farm one because she's obsessed with animals.
Chinese water paper – This was an idea from my friend Erica, it's reusable paper so little ones can practice drawing and painting without making any mess at all! I've found some here on Wish, it's about £5.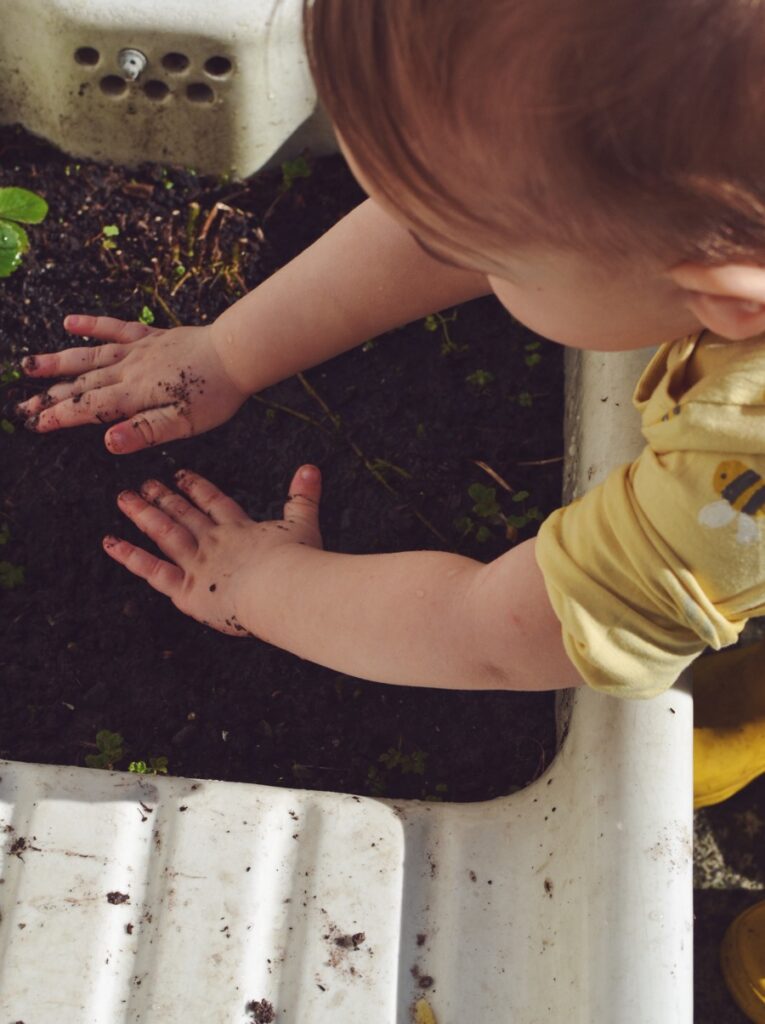 Messy Play
I got a tuff tray from B&Q for messy play but I usually just use a mixing or washing up bowl and let Eva get stuck in. Saves a full costume change and house deep clean.
Mud kitchen – Let there be mess. We have an old sink in the garden that was my herb garden and is now Eva's mud kitchen. Even a bowl full of mud will make them happy!
Spaghetti – Spaghetti and food colouring, what could go wrong? They love sliding around in it. Cook the spaghetti with the food colouring in the water so it absorbs the colour.
Bath foam – A good one for messy play if you have some to hand!
Gloop – Another easy recipe they can get messy with! Fill a bowl with it or let them slip and slide around in a tuff tray or the bath.
Cereal – A less messy but still sensory alternative that little ones love, and eat most of…
Edible paint – A great one for making, putting them in the bath/shower, letting them paint (I got cheap toothbrushes for this one), then hosing them down. Hopefully it doesn't look too much like Psycho. This is a nice easy recipe.
Flour – Let them go wild in flour! Add in cocoa powder too so they can pretend to bake, Eva does this at nursery quite a lot and loves it.
Let rip – Just let them rip! Preferably newspapers, old magazines or tissue paper rather than anything ou actually need.
In the Garden
We have a teeny little garden so try to make the most of it! If you don't have a garden, a window box, mini herb garden or houseplants would be a great alternative.
Planting – Get planting seeds! Herbs are great because they grow quickly and they can eat them. Eva's eaten loads of mint today the little animal.
Weeding – Get them on the chores!
Moving soil – A little spade, bucket and soil goes a long way. Eva's always so busy moving soil around the garden.
Splashing in puddles – Make puddles with a hose and let them splash, or live in Manchester like us and there are always puddles.
Nature hunting – Say hi to a bee, touch a worm, count the spots on a ladybird. Toddlers are fascinated with bugs, we chatted to a bee for a solid 5 minutes earlier this week and now Eva's obsessed with them.
Digging – Hide treasure in the soil and get them digging!
Cleaning their toys – Fill a bowl or water table with warm soapy water and get them cleaning.
Water painting – I saw this on Holly's stories earlier and it's a great one for when it's sunny, get a paint roller or brush, water and let them paint the floor or garden walls.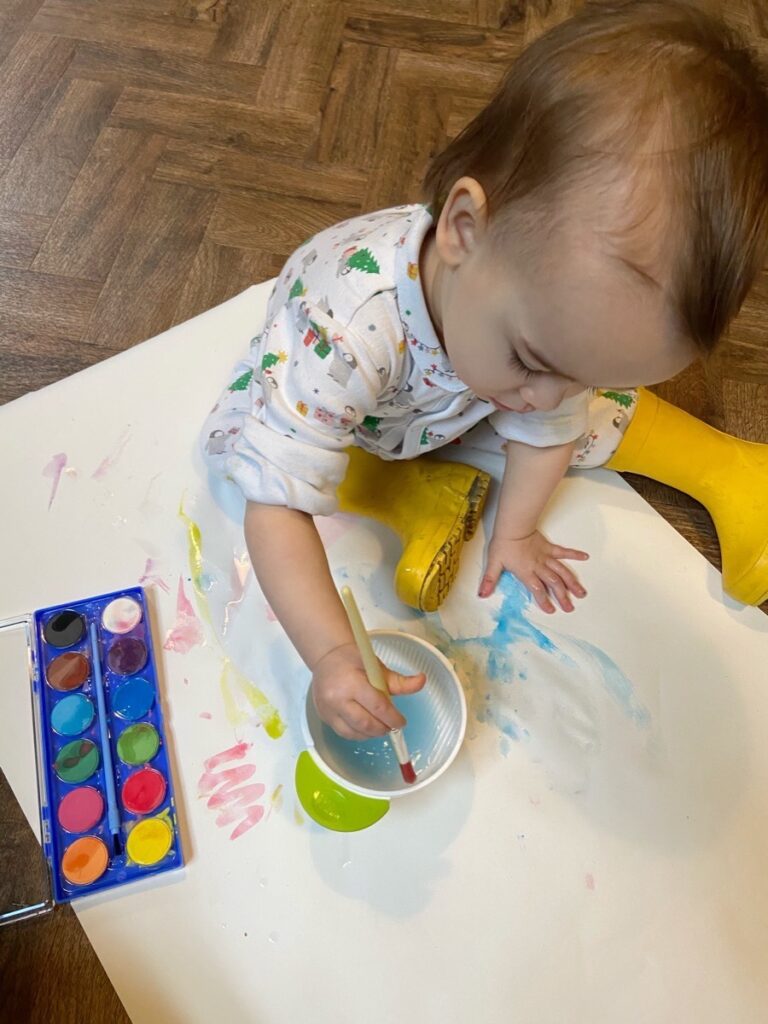 Craft
Painting – Poster paints or water colours, make a mess and nurture their inner Picasso.
Drawing – Crayons, pencils, chalk, (washable) felt tips, the lot! I got a £1 roll of liner paper from Poundland, I roll it out and let Eva scribble all over it. She kindly did the wall the other day too.
Making cards – Seeing as we're not able to see family and friends, make cards and send them to brighten up someone's day.
Stickers – Eva is just about the right age to start with stickers (18 months), I got Gruffalo ones which she's played with for days and I have this funny face sticker book ready to go when I need to get some work done.
Googly eyes – Stick them on everything, instantly hilarious. Potatoes, light switches, Daddy…
Chalk drawing – I saw this on Amy's stories earlier and chalk is such a good idea! Work on dark paper, a chalkboard, garden walls, pavements.
Potato printing – A classic! Cut potatoes in half (make fancy shapes too if you like!) and add paint, let them stamp away.
Tissue paper on the windows – We haven't tried this yet but I think she'll love it, it would be lovely to make a rainbow on the window to cheer people up as they go by.
Lids – My friend Chrissy shared this one with me and Eva would love it, get cheap felt tips and let them take the lids off, make marks and put the lids back on.
Toilet roll tubes – Make toilet roll tube tigers, use them to make paint stamps, get your little person to put them on their hands and feet (hilarious), make castles.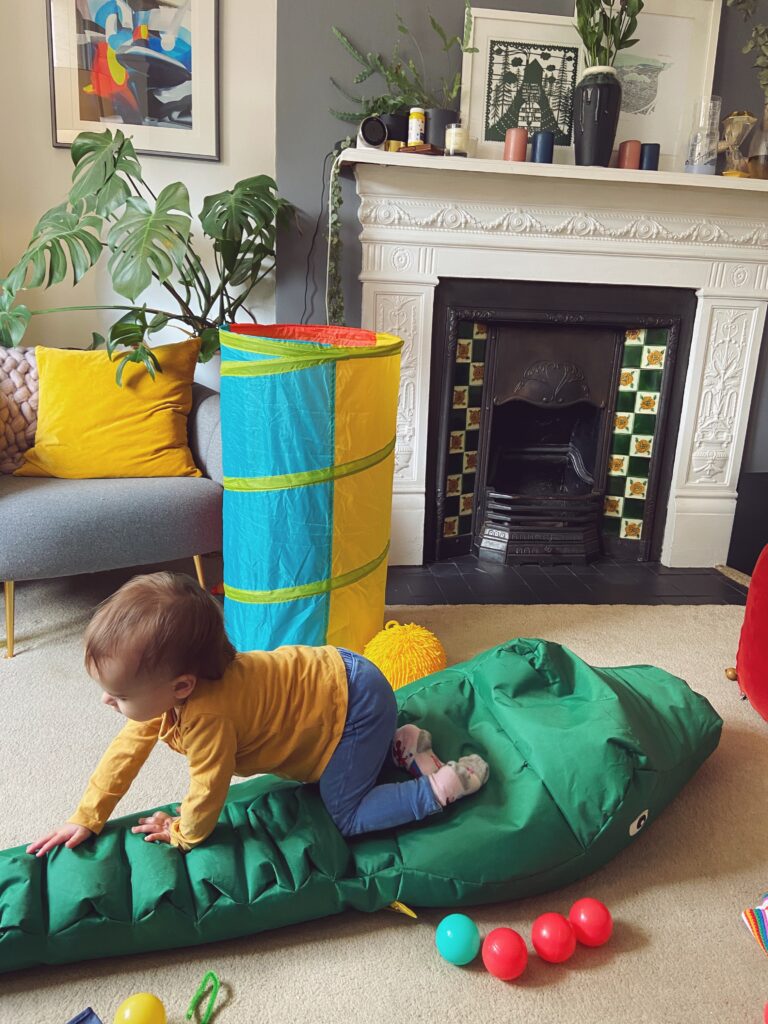 Play
Living room soft play – Bring the soft play home by making an assault course with sofa cushions, cushions, anything you have lying around.
Build tunnels – Make tunnels out of chairs, blankets, sofa cushions and crawl about! I got a little pop up tunnel from Aldi but there are loads online too.
Treasure hunt – Hide their favourite things around the room for them to find, for Eva this would be bubbles.
Kinetic sand – I made some with flour and oil, it kept Eva busy for ages. I put it in a bowl, added some shells and some of her kitchen bits, she loved it. There are a few different recipes here depending on what you have to hand.
Playdough – I made some Playdough at the start of our isolation and crack it out whenever I need half an hour, Eva loves chopping it up, making worms (or watching me make them anyway), sticking things in it. I used this recipe, but this is one without cream of tartar if you can't get hold of it.
Catch – We're trying to teach Eva to catch and throw, she's nailed throwing (of course…), she loves playing with the ball and cackles for ages.
Cleaning – Get them to join in with cleaning, Eva loves following me around with a broom while I hoover, give them a cloth to wipe up 'mess' or I saw my friend Jaclyn saying to get them doing mini washing up while you're doing the proper washing up!
Dog bingo – this one had a lot of love when I put it on my story, it's great for dog obsessed babes and helps with matching!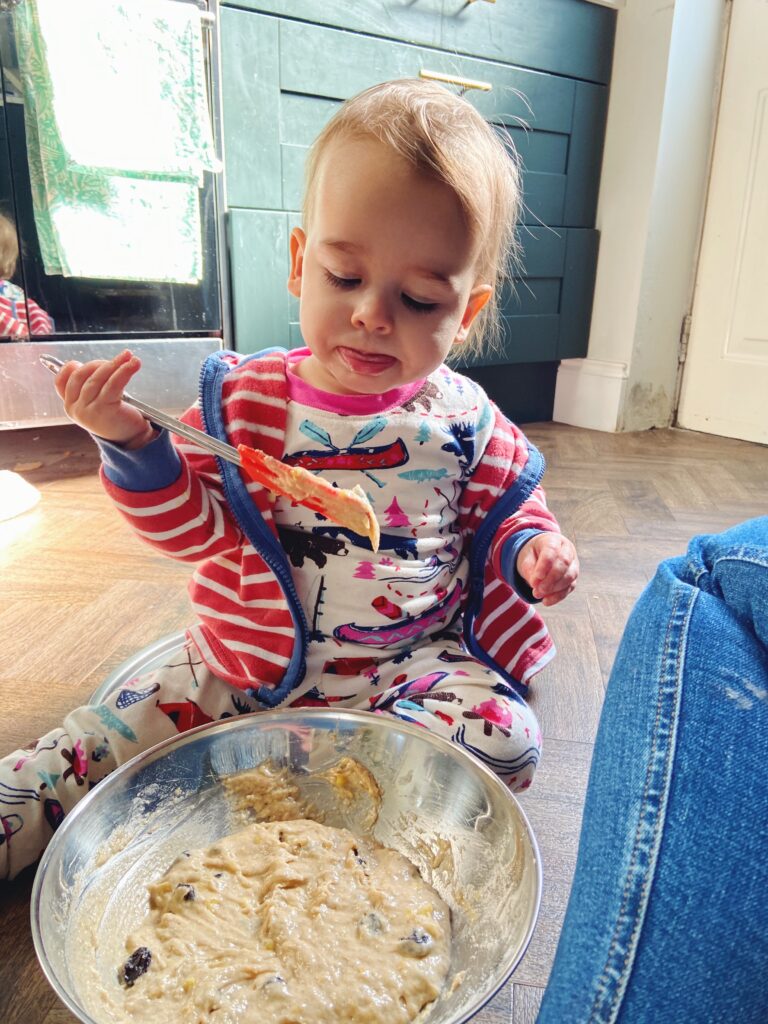 Food
Baking – This will likely turn into messy play but at least you have cake afterwards! We've made banana bread a couple of times during isolation and we've had lots of fun, Eva's eaten a lot of the mixture along the way too… We made this vegan banana bread as Eva can't have milk or eggs, plus they're very hard to come by at the moment!
Making pizzas – Let them go wild decorating pizzas for lunch or dinner.
Making smoothies – Eva did this at nursery and I loved the idea, they all got stuck in chopping up the fruit then got to drink the smoothies after.
Jelly with berries – More of a pudding but I make Eva sugar free jelly with raspberries and blueberries in, she spends ages digging all the fruit out and has fun doing it.
Teabags – I'm not sure why but Eva loves teabags, we have a few boxes that her hers, she moves them around cupboards, puts them in jugs, hides them in mugs, and all sorts. It keeps her busy for ages!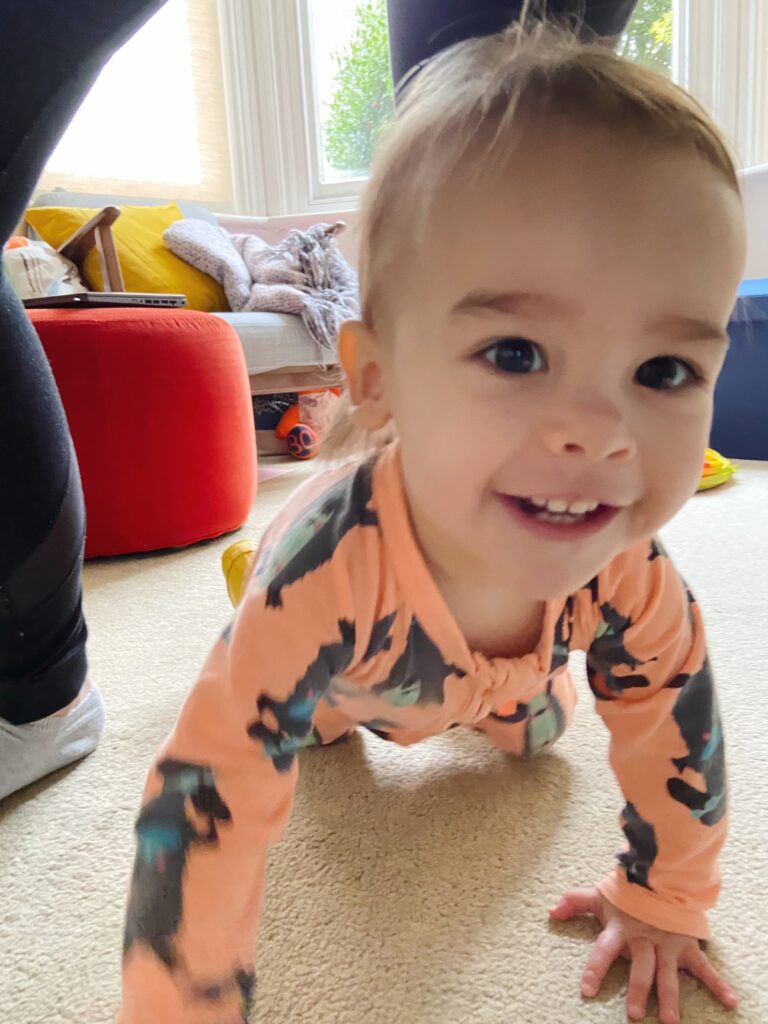 Exercise
With lockdown in full swing, I'm trying to make sure we get moving as much as possible.
Yoga – We've been doing Yoga with Adriene or Cosmic kids yoga in the morning, Eva's too young to follow it but she finds me doing it hilarious, loves the stories on Cosmic Kids and is trying to copy.
Joe Wicks PE class – Eva's too young for this really but I used her as a weight this morning and we ran together, she loved it! We were knackered.
Stair climbing (supervised of course) – Another excellent way to knacker them out, and Eva loves it.
Screen time
Screen time is sometimes just needed and there's no need to feel bad about it.
Digital classes – A lot of classes have now moved onine, we do Tiny Talk on a Friday and Eva loves it.
FaceTime with family – It still kind of baffles Eva but it's so lovely to have my mum at the park with us or my Nan at dinner time even if it is through Houseparty.
Disney + – Our new favourite! We watched Frozen for the first time ever and all thoroughly enjoyed ourselves.
Room on the Broom (and others) – All the Julia Donaldson book shorts (The Gruffalo, Stickman, The Highway Rat etc) are on iplayer, Eva loves them and they're a good length at 25 mins too.
Instagram Lives – lots of people are running lives to keep little ones amused, like David Walliams reading stories, Myleene Klass giving music lessons, Brian Cox doing science shows and Carol Vorderman doing maths. Another suggestion from my friend Chrissy!
Hopefully that's given you a few ideas if you're in the market for indoor and at home activities for babies and toddlers to get through weeks of lockdown and self isolation. Let me know of any more suggestions below too, I'd love to hear them. Good luck!