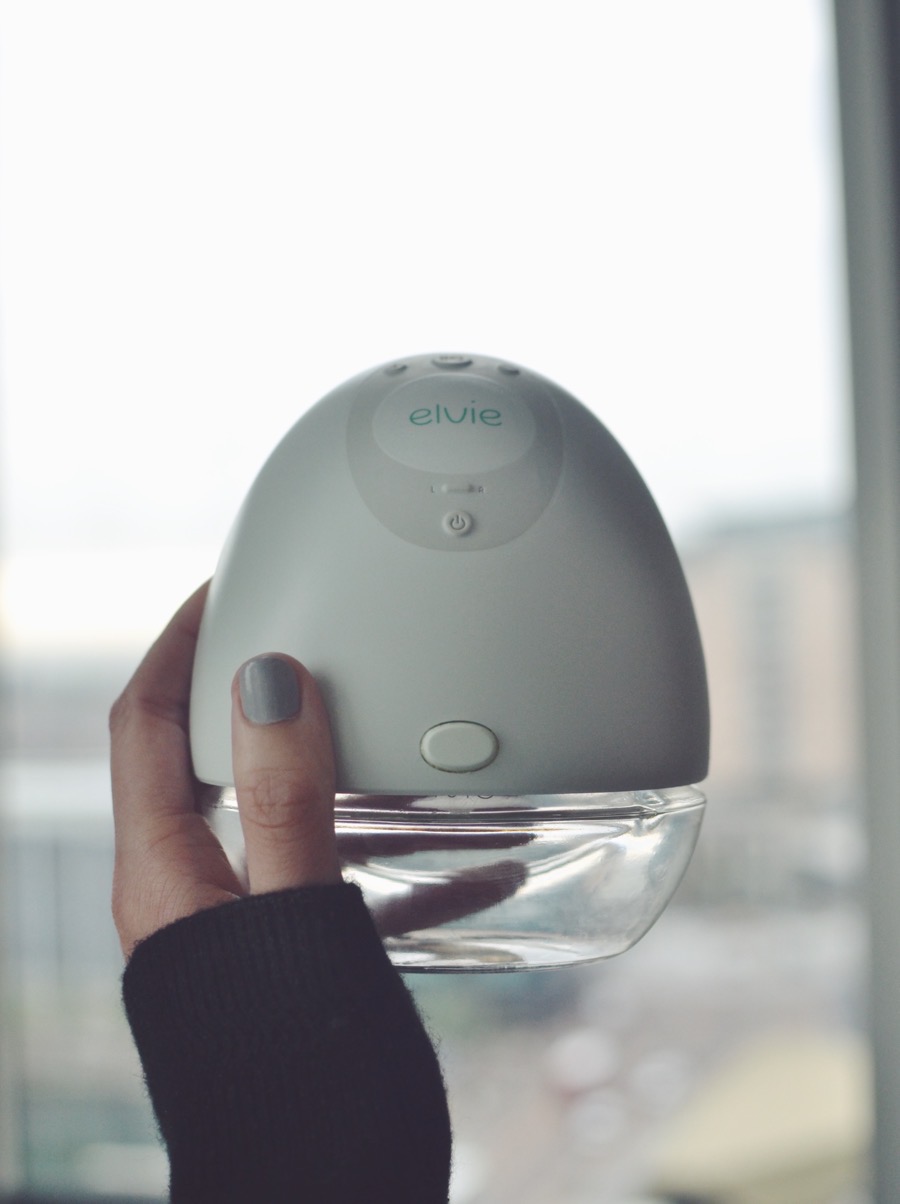 Time has flown by, we're officially 14 months into breastfeeding and 3 months into expressing with the Elvie breast pump. I feel like I've used it more than enough to give an honest review so here it goes. I read SO many reviews before I bought mine so hopefully this might help someone, do feel free to ask me any other questions too though.
For a bit of context, for the first 2 months back at work I used the Elvie pump twice a day while I was at work 3 days a week. I now express once a day and am back at work 4 days a week! I breastfeed Eva in the morning before work and before bed time on work days. When I'm at home with Eva she feeds around 3-5 times a day depending on naps and how much food she eats.
I bought a second hand Elvie breast pump just before I went back to work as our office is not set up for expressing in the slightest. All of the meeting rooms are glass handily, not ideal! I would really not recommend buying a second hand Elvie pump though, as mine broke and because it was second hand the warranty was no longer valid. My very kind auntie bought me a new one for my birthday so I've had experience of a second hand and brand new Elvie now, so hopefully this should be a pretty comprehensive review!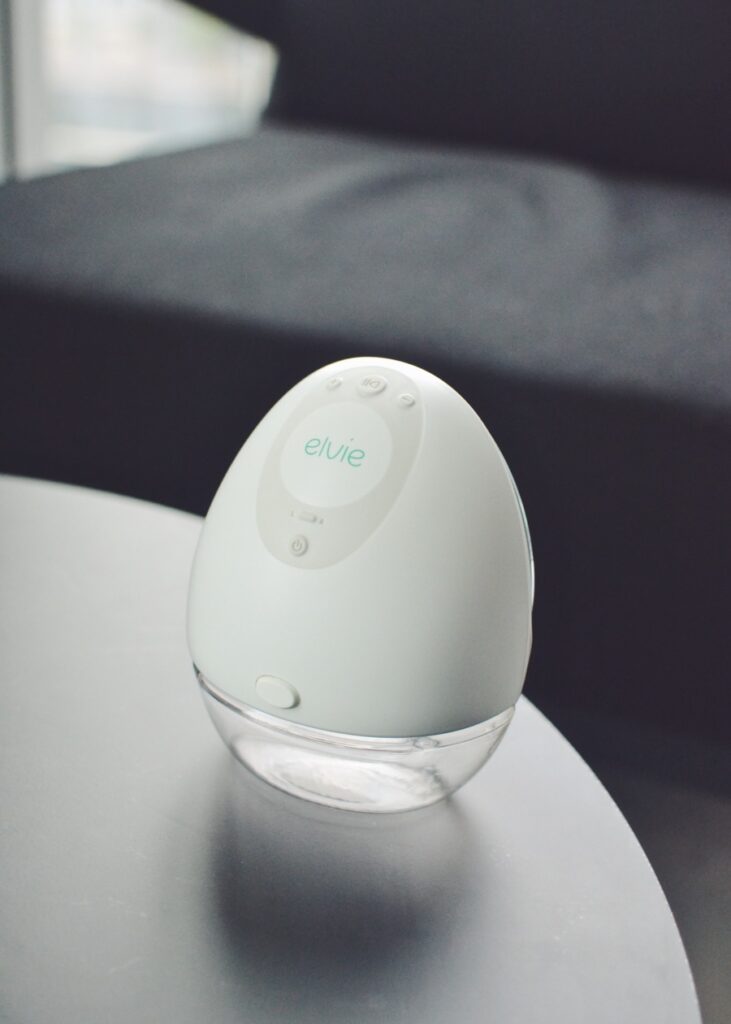 What is the Elvie breast pump?
A quick introduction to the Elvie pump! It is marketed as a silent, wearable breast pump. It's battery powered so there are no wires to tether you to the wall and it's small enough to fit inside your bra. It means you can carry on with your normal life while you pump!
It comes with…
1 Hub
2 Bottles (5oz/150ml, BPA free)
1 Breast Shield (24mm)
1 Breast Shield (28mm)
2 Valves and 2 Spouts
2 Bra Adjusters
1 USB Charging Cable
2 Seals and 2 Storage Lids
1 Carry Bag
Instructions for Use
It's also very clever and links up to an app which tracks your pumping sesh and lets you know how much is in the bottle as your expressing, magic.
SO, those are the details, but here's my honest review of the Elvie breast pump. Spilled milk, broken bits, expressing in meetings and all.
Is it easy to use?
The Elvie breast pump is so, so easy to use. It arrives assembled and charged so it's ready to use from the moment it arrives. It's packaged beautifully, kind of like the unboxing experience of a new iPhone. Fancy.
You just turn it on, pop it in your bra, press play and you're expressing. You can track everything through the app. Just connect through bluetooth which you can do at any point while you're using it and it will still track the full session.
The Elvie pump automatically stops when the bottle is full so you don't have to worry about it spilling over while you're expressing.
Quite a few people have recommended using the Haakaa pump on the other side whilst pumping to collect every drop. The Haakaa pump is way at the other end of the price scale at just £12.99. But this set up probably isn't practical at work unless you have a private space to express in.
Is the Elvie pump really silent?
No, it's not completely silent but it is very quiet. I can just about hear it in our office but it's not loud enough for anyone else to hear.
You'd be able to hear it if you were in a silent room but who with a baby is ever in a silent room?
Is the Elvie Pump easy to clean?
Hmm, an interesting one. Yes and no! It's only 5 parts to clean which is great and the parts that come out are easy to clean, you hand wash them then sterilise (I leave them in boiling water for minimum 5 mins) and they're good to go.
But the hub is really tricky to clean, I keep a pack of wipes with me in my little expressing kit I carry around with me at work to clean it after every time I use it but it's really hard to make sure it's completely clean as you can't wash it properly because of the battery.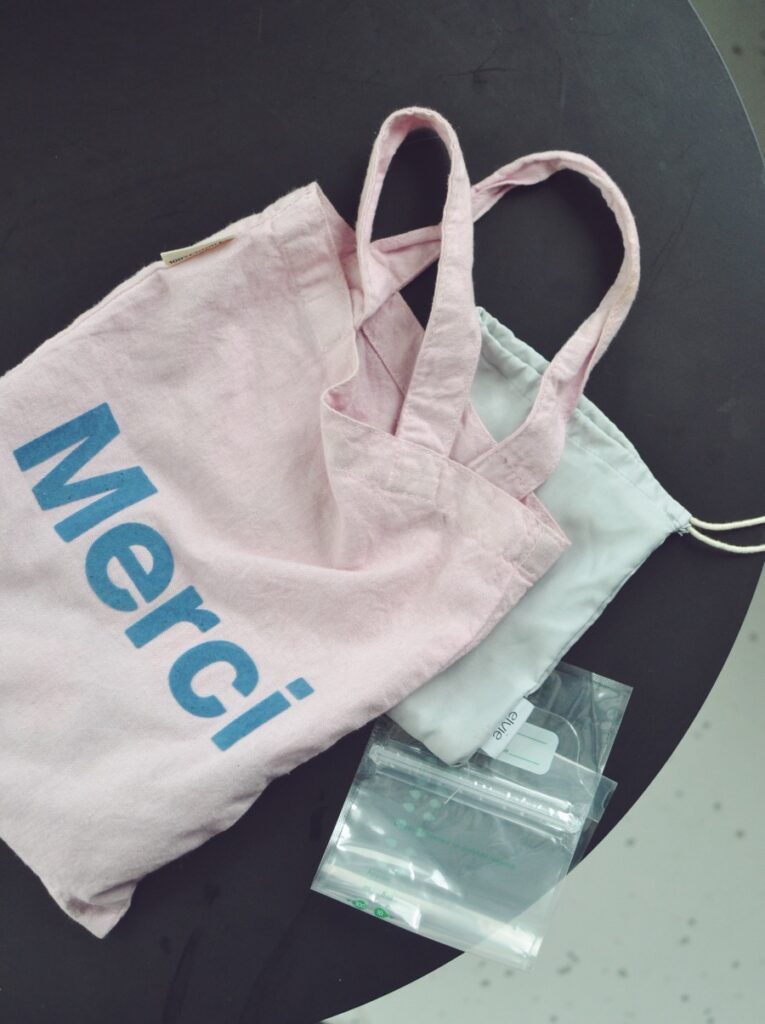 Does it spill?
Yessssss. I've ended up with milk all down my front at work before which is really not pleasant! It's never ever spilled when I've been sat still, it's only ever when I walk to the loo to swap bottles over. So I have to walk really slowly which I'm sure looks mad to everyone around me.
I did find that when I changed to a new bottle and seal, it did reduce the amount that spilled so I'd recommend trying that if you have any issues. There still can be a bit of spillage but nothing too bad. Plus I've mastered my slow walking now!
It's also a really awkward shape so when you pour the milk out into a storage bag or bottle, it's quite easy to spill (yes I have cried over spilled milk, don't judge) and it's hard to get every last drop out of it too.
How does it work with the app?
You connect the Elvie pump to the app via bluetooth, it tracks how long your pumping session is and how much milk it's collected.
I don't think it's very accurate mid pump and I have to adjust the amount every time I pump but it does always stop when it's full which is handy.
What happens if your Elvie breaks?
The Elvie warranty is 2 years for the hub and 90 days for the accessories, this is only valid when you buy a brand new one though. It's a single user product so if more than one person uses it, it voids the warranty.
If your Elvie breast pump does break you can call their customer care here, you can either use the contact form or give them a call. They were really lovely on the phone and helpful through Instagram messages too when my first pump broke but obviously because it was second hand, they sadly weren't able to help.
How much does the Elvie pump cost?
A single Elvie pump is £249 (yes, it really is that expensive) and the double pump is £449. It's basically an iPhone of the breast pump world.
You can buy them in a lot of different places online but they do in and out of stock regularly, especially the single pumps. You can get both the single and double Elvie pumps from lookfantastic, Mamas and Papas and Boots.
Is the Elvie breast pump worth the money?
In a word, yes. The Elvie breast pump is worth the money 100% for me, it might not be for everyone but for our situation, it is pretty much life changing. It meant I have been able to carry on breastfeeding since going back to work and that Eva is able to have milk at nursery.
Where I work is really not set up for expressing so having the Elvie means I can discreetly express at my desk while carrying on with my work.
Eva is allergic to cow's milk so most formulas are off the menu, the dairy free formulas are crazy expensive (around £20 a tub that would last a week) so I would have spent the same on formula than I did on the Elvie after being back at work for a few months.
Can I buy a second hand Elvie breast pump?
I bought a second hand Elvie and I would really not recommend it. Although I saved quite a bit of money buying second hand, I didn't realise it voided the warranty.
My Elvie completely died after I'd used it for 2 months (the woman who had it before had it for a year, barely used it and it was in amazing condition). I was obviously very disappointed as it was just as I was about to express for the first time that day so my boobs were pretty much square by the end of the day! I've had a lot of messages from people saying their Elvie has broken regularly which is obviously not great seeing as they cost so much.
The verdict…
Though the Elvie breast pump does have its faults, I am really happy with mine. It's meant that I've been able to express and continue breastfeeding after going back to work which I just don't think I'd have been able to do otherwise.
It's also meant I've been able to pump on the few occasions I've been away from Eva, including in the middle of a field and in the car when I went away on my friend's hen do. It's given me freedom without having to give up breastfeeding. It's a pretty empowering bit of kit really.
It is very expensive but it's been worth every penny for me. I'm not sure how long I'll keep expressing because Eva is getting better with eating and not drinking much milk at nursery anymore but I'll keep going as long as she needs me to. Though I will be very happy to not have to sit on the floor in the loo at work to put the pump in and out, it's a bit bleak!
Let me know if you have any questions or if there's anything I've missed, I'm always happy to chat about boobs!