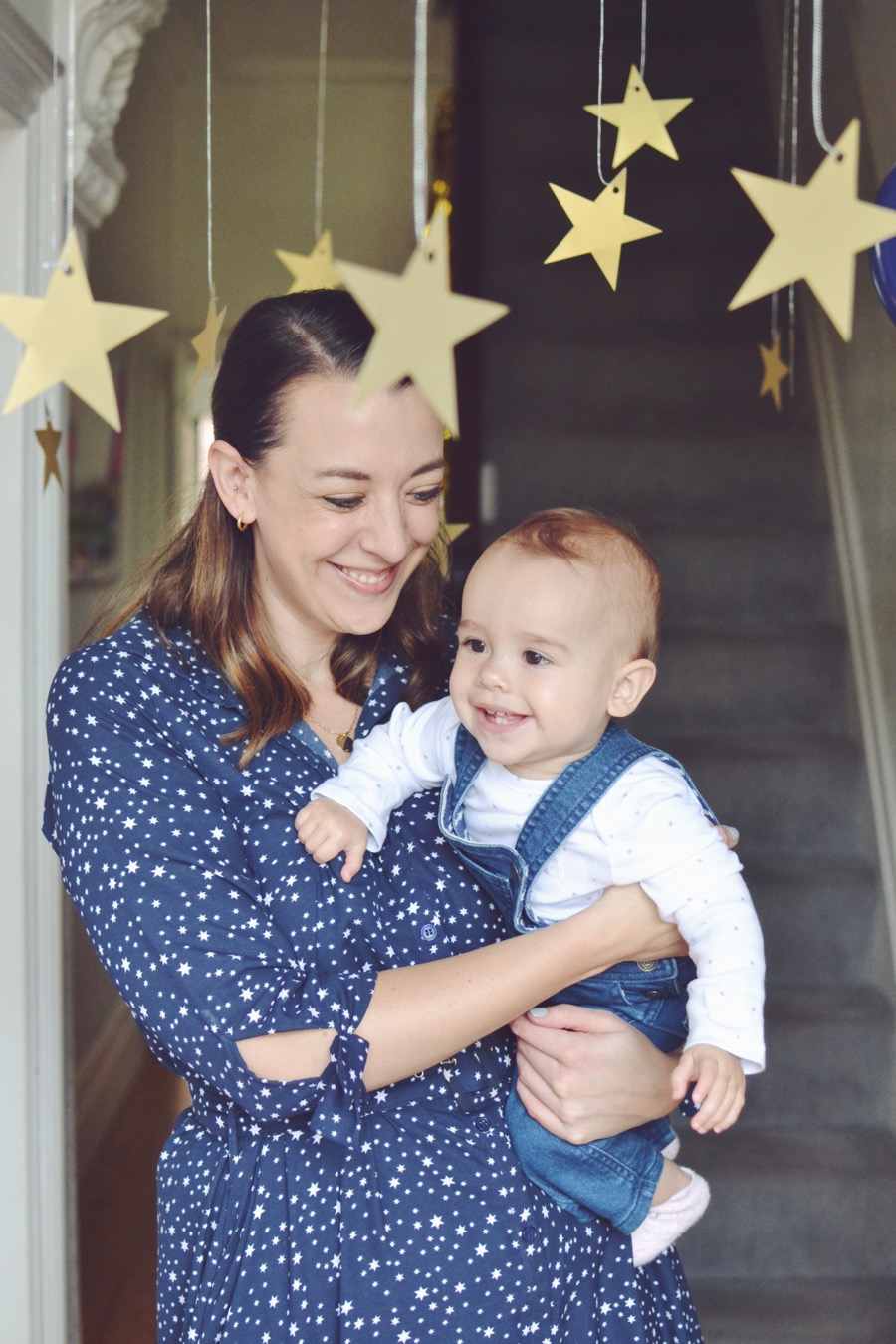 This weekend we celebrated Eva's very first birthday! We were surrounded by friends and family, cake and wine and the birthday girl had the best time despite having a cold (which we now all have of course).
I wanted to put together a little blog post with a few photos from her party before everyone arrived, mostly as a bit of a diary entry for me to be honest to remember the day. I got far too distracted to take photos after everyone arrived and just spent the day celebrating, playing, chatting, eating, drinking and being merry late into the night.
The (very loose) theme for Eva's 1st birthday party was celebrating her first trip around the sun so we had a bit of a space theme! My lovely friend Emma handily runs Hopscotch Parties so helped with a few pieces and handmade some amazing decorations, Joe and I handmade the rest so I'm pretty happy with how it looked in the end!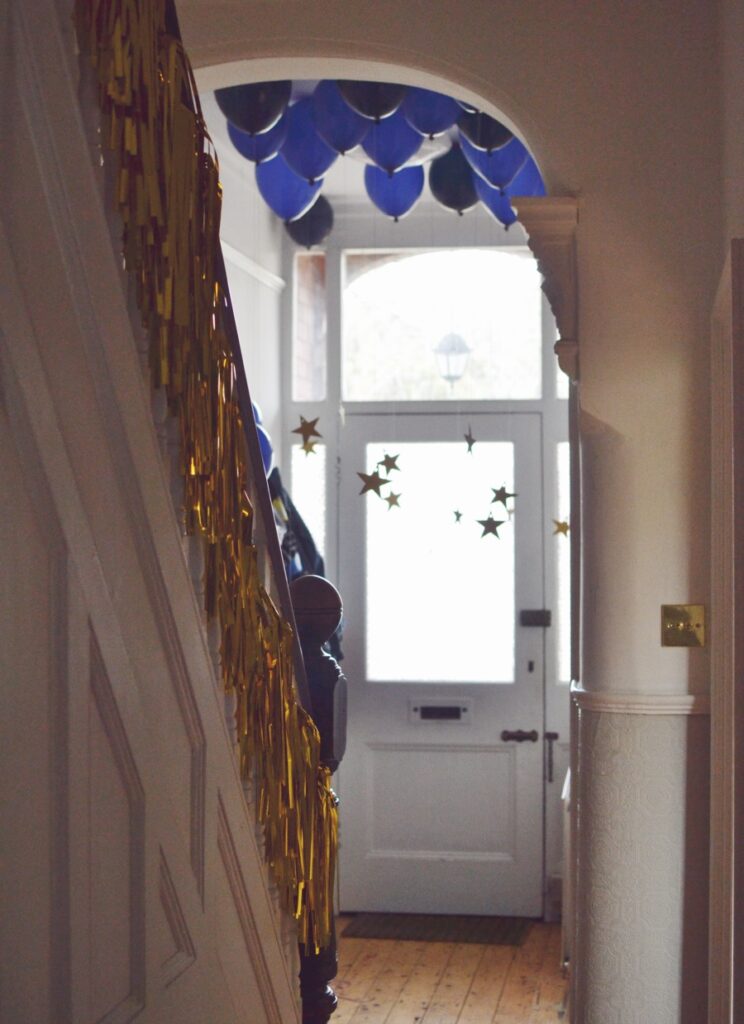 I had an idea in my head that people *needed* to walk through stars to get into the house and the easiest thing I could think of was to tie them to helium balloons! Joe and I cut out gold stars from card and tied them to navy blue balloons (both from Amazon) and using a helium canister from Smyth's toy shop to create a bit of a night sky. I was really happy with the effect in the end and might just do it every weekend for my own amusement! The gold bunting was from Hopscotch Parties, I put it together and tied it up the stairs, again, that's staying up for a while!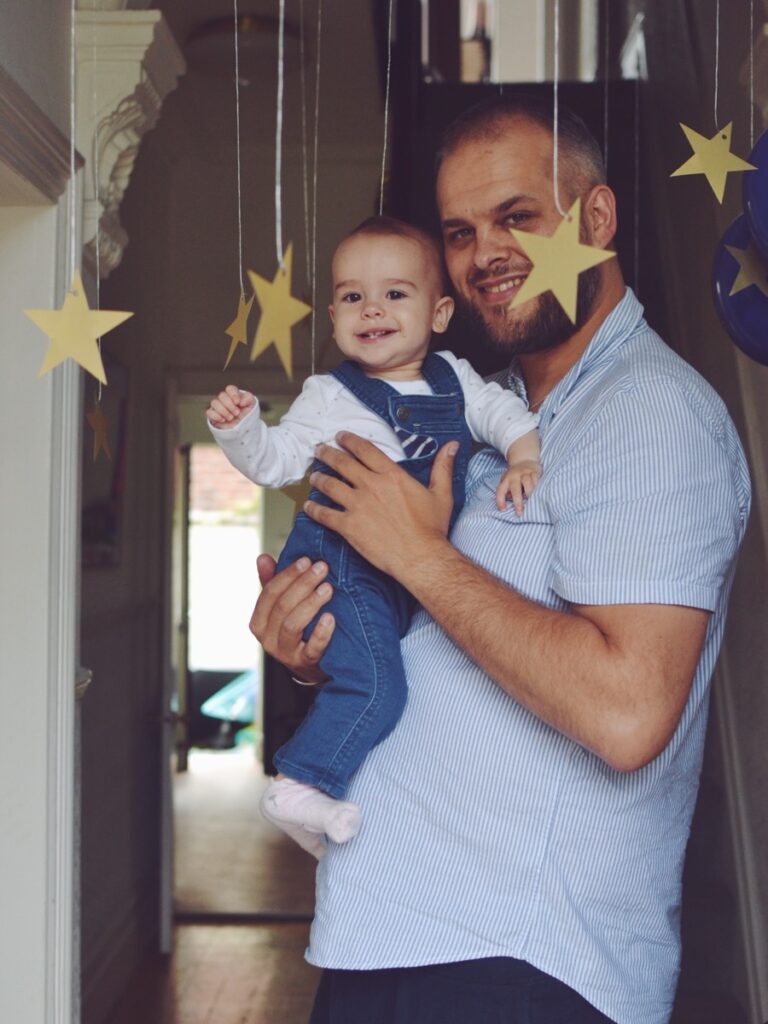 Joe and Eva in our space hallway!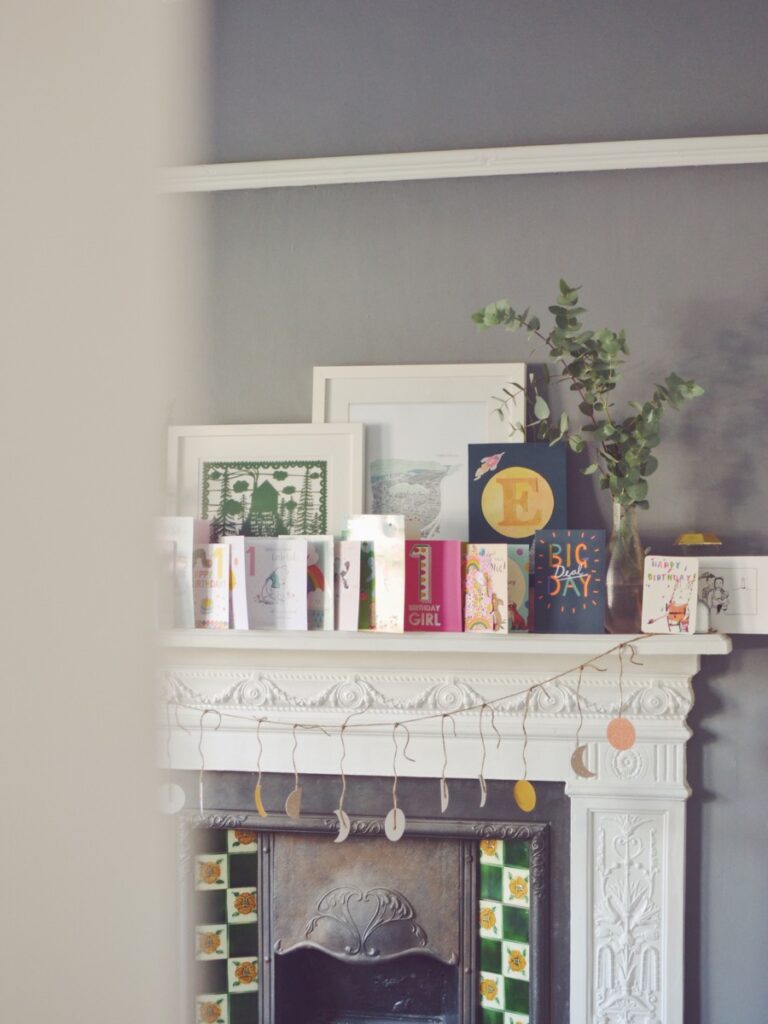 The living room decoration was pretty subtle, my friend Emma handmade lovely space themed bunting to hang and the birthday cards looked lovely! We also had navy, gold and gold confetti balloons on the floor which Eva was (and still is) obsessed with.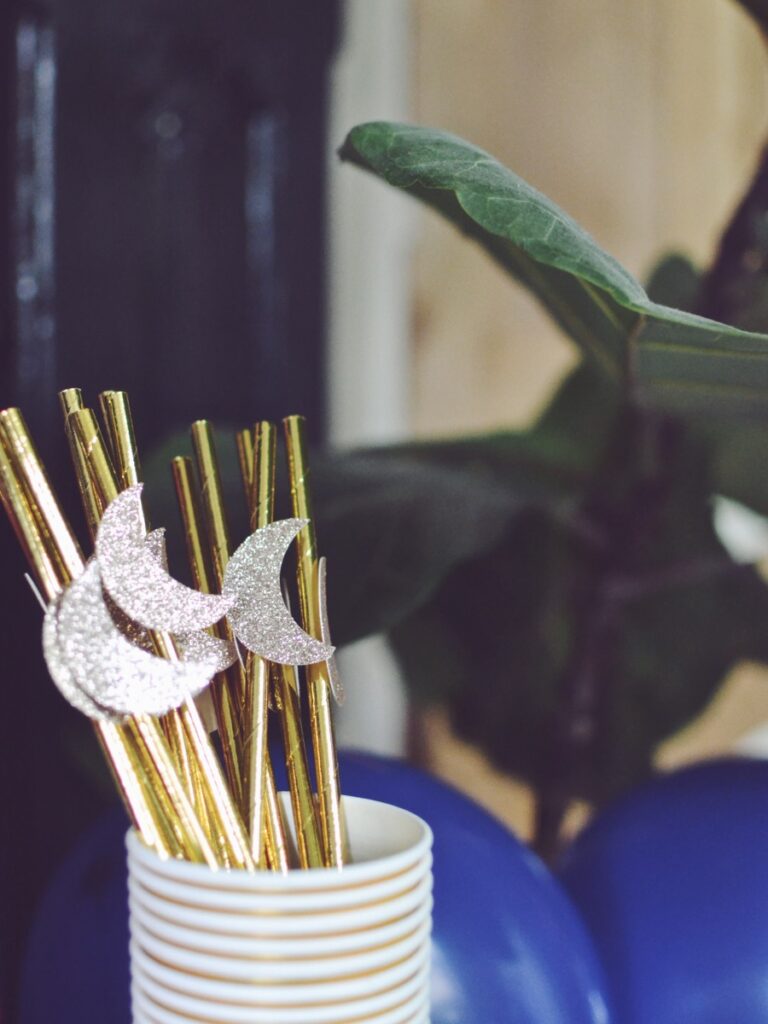 Another handmade Emma special! She made these super cute moon straws for us. I got gold and white paper cups from Sostrene Grene and pretty much matching plates and napkins from Amazon.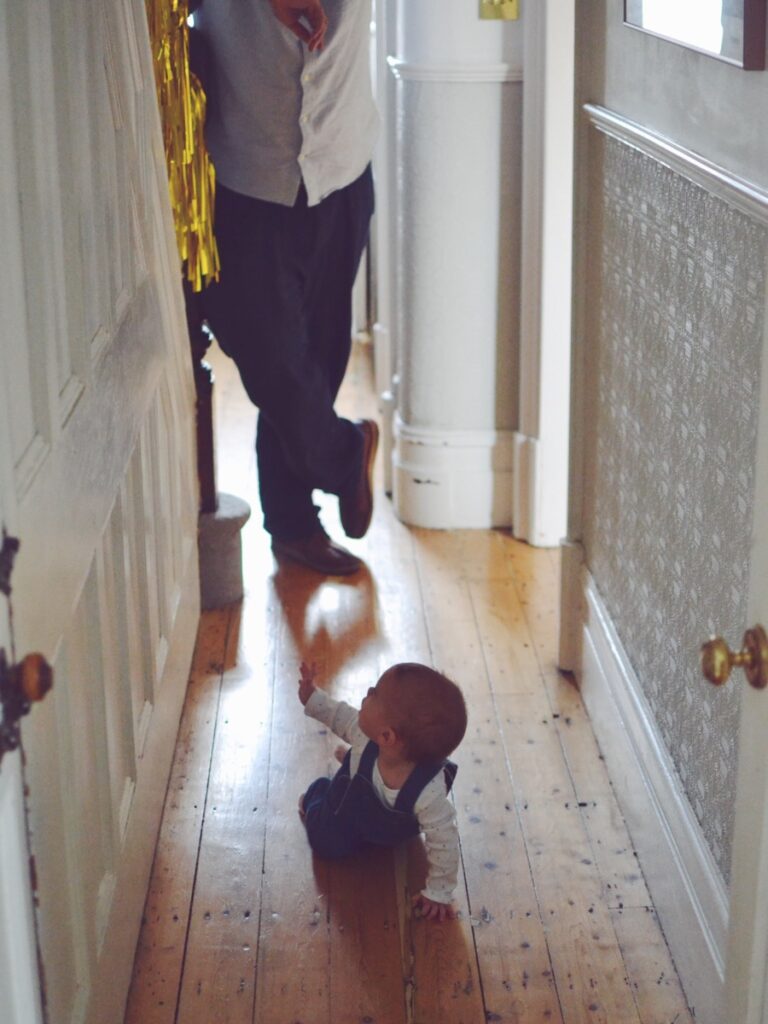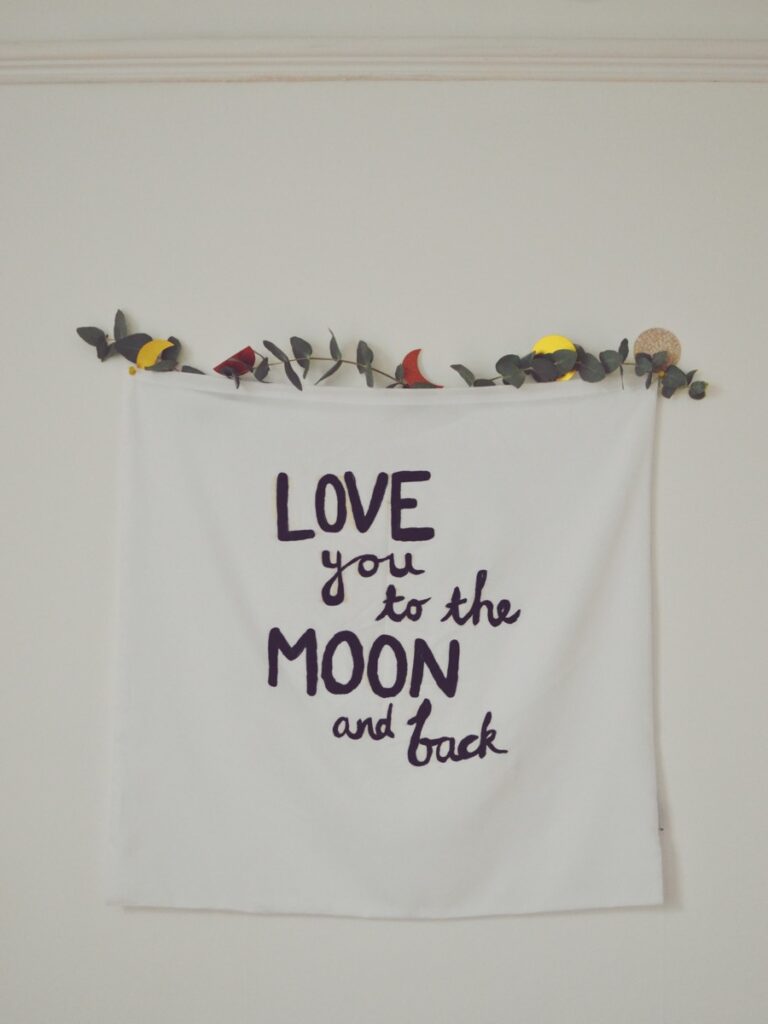 I used an old cotton bag (I think it was a storage bag for our velvet bed throw!) and painted 'Love you to the moon and back' from one of Eva's favourite bed time stories to hang above the food table. I just used acrylic paint to make it easy peasy and stuck some eucalyptus on it to cover up the push pins I used to hang it up.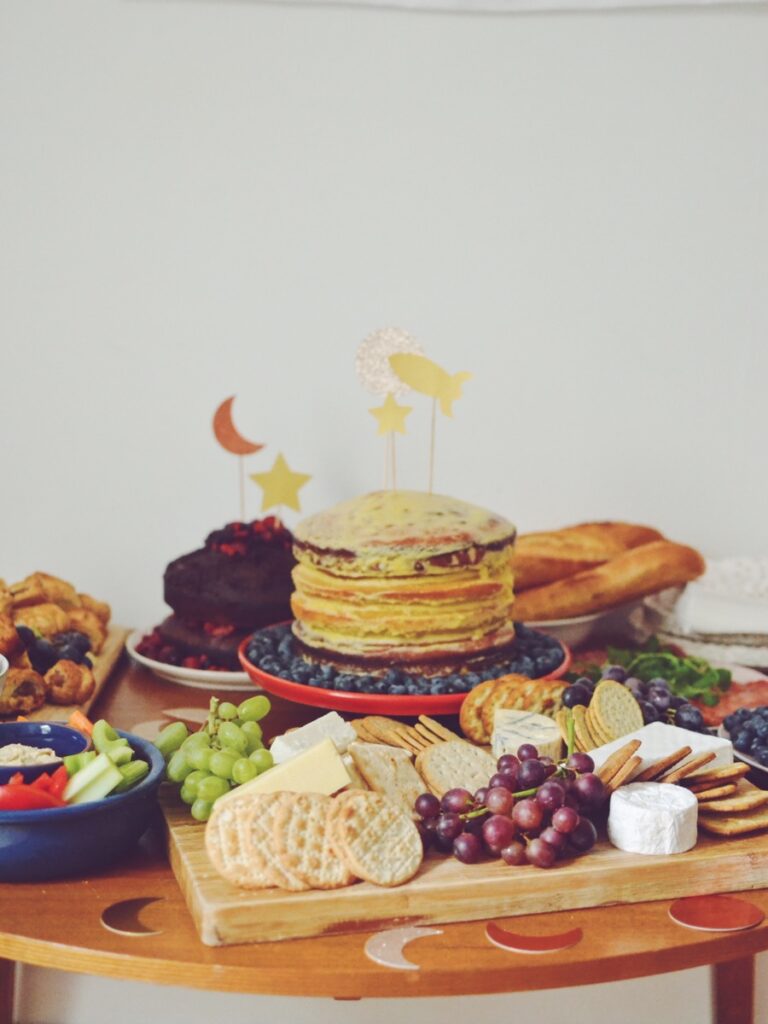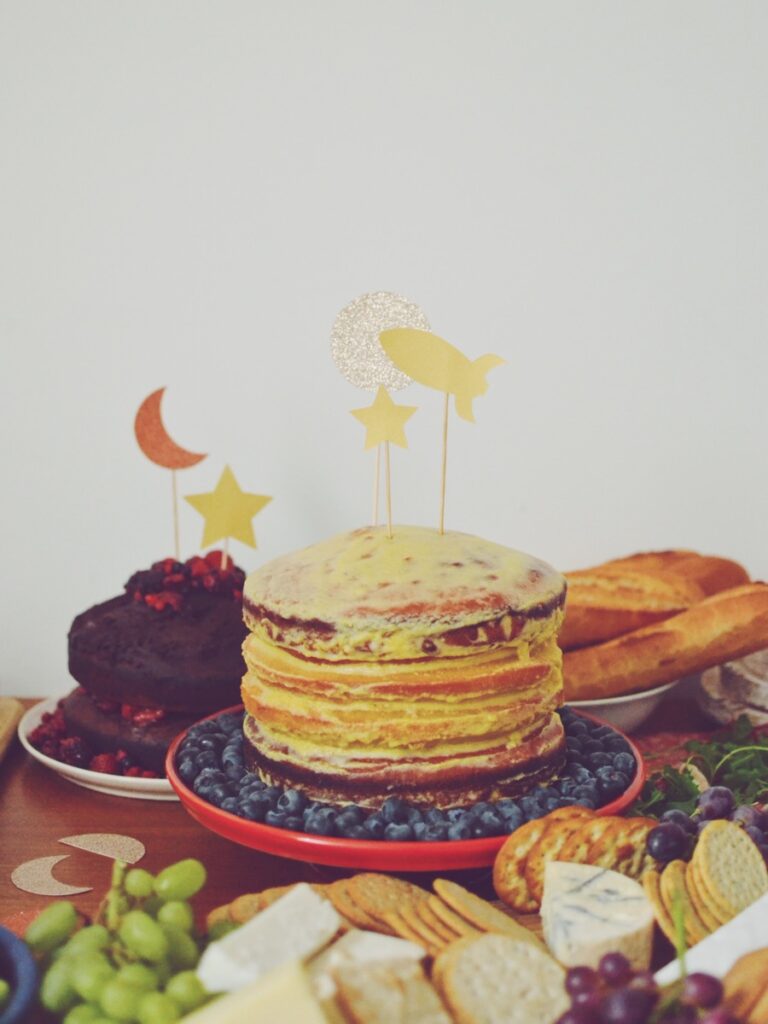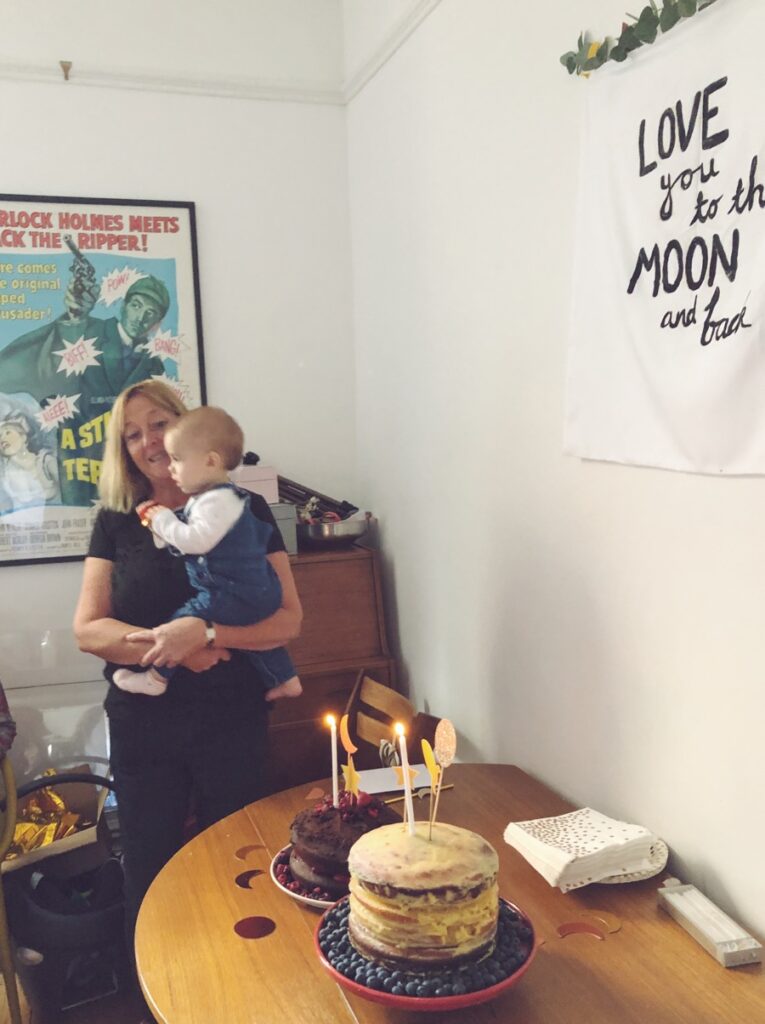 Onto the food! It's my mum's birthday the day after Eva's so I made them a cake each. Eva had a four tier vanilla 'naked' buttercream cake with hidden blueberries in the centre and my mum had a chocolate and forest fruits cake. Both were dairy free so Eva could try them so the buttercream didn't look as good as I'd like but I think I just about salvaged it. My friend Emma made the cute cake toppers and the candles are also from Hopscotch Parties. Eva liked being the centre of attention for most of us singing happy birthday to her and my mum but did end up having a slight meltdown at the end, not too bad for a tired, ill girly though!
For the food I did a big spread of cheese and biscuits, homemade sausage rolls, meat, crisps, veg and hummus and fruit. Laura and Rebecca brought a massive M&S sandwich platter which was amazing! My friend Rachel baked some fab muffins and sausage rolls too, and my mum made cocktail sausages (my faves) and a tart. Joe's parents brought plenty of wine too, for the grown ups of course!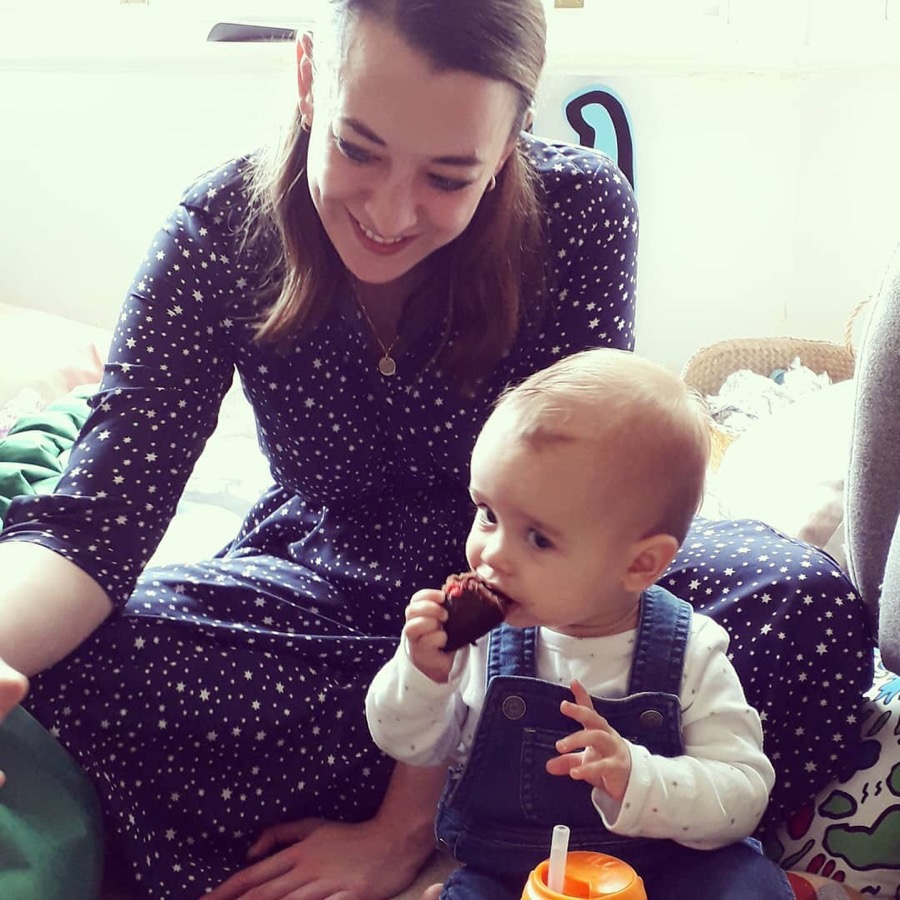 My mum captured Eva's first taste of cake! She went to town on the chocolate cake and ate most of my slice, rude.
I'm wearing a star print dress from Dancing Leopard and Eva's wearing a star print Gap body and Boden dungarees (gifted) which she has had SO much wear out of.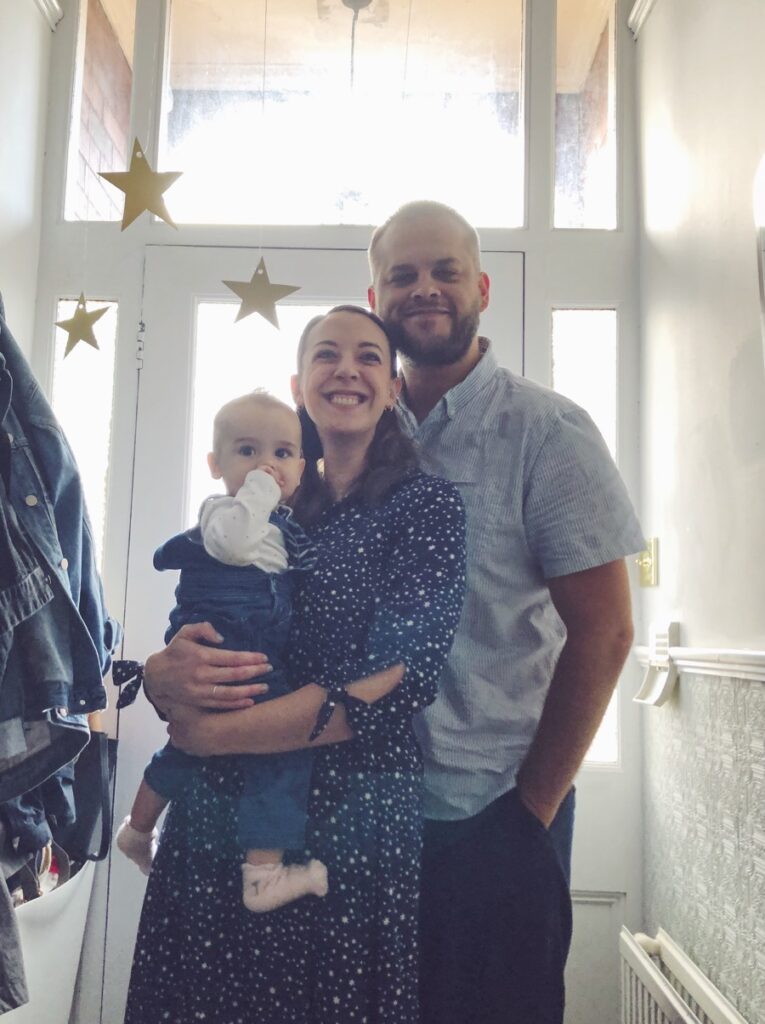 Of course we needed an obligatory family photo! This was taken by my lovely 9 year old niece Ruby, thank you Ruby! So many people helped out to make it a lovely day, our friends and family are just the best.
We all had a lovely weekend, Eva was spoiled rotten and had the best time playing with her favourite people. Joe and I are knackered so it's definitely a night for eating leftovers and popping a bottle of leftover prosecco.