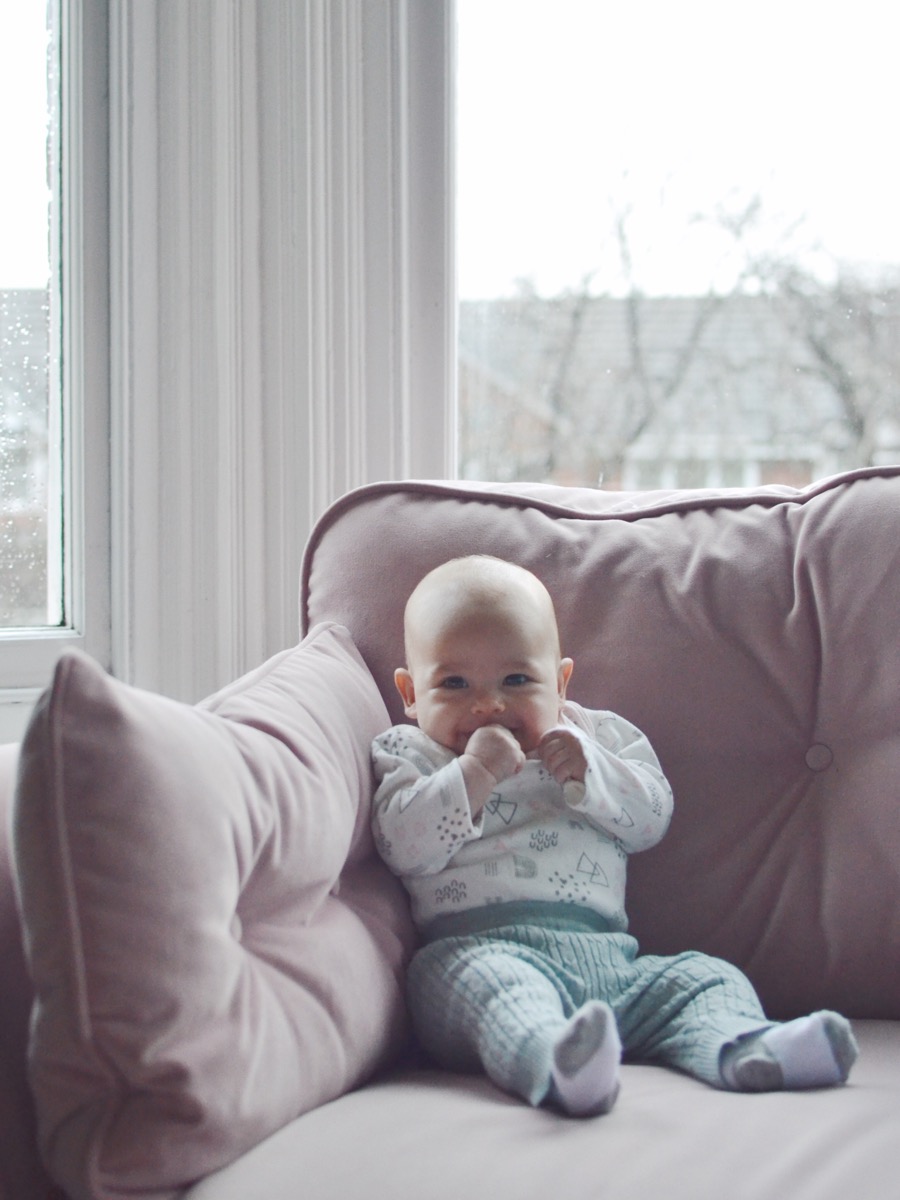 I was planning a baby clothes shopping post but I thought I'd do it a little differently and share a week of Eva's outfits, as well as letting you know where everything is from. It's basically a collection of cute photos of Eva and an excuse for me to take even more photos of her than I usually do! There's a good mixture of different places which are pretty affordable (because babies wear things for about 3 minutes before they grow out of them!) and lots of gender neutral options in there too.
I may also start a petition to get most of these outfits made in adult sizes as she always looks better than I do and they all look ridiculously comfy! Ooh, in the outfit above she's wearing a Chick and Pea bodysuit (which isn't online!) my friend Clare bought us and knitted leggings from Primark which my mum got for her which I love.
Thursday
Today was mostly a home day with a couple of trips out for food, petrol and to drop something off with a friend so Eva needed to be comfy. She wore a striped bodysuit from George at Asda (part of a top and dungaree set for £12, which is technically boys) and very cute leggings (£10 for a set of two) that I want in grown up sizes from Boots. Boots has a baby event on at the moment so it's buy one get one half price on baby clothes at the moment! I might have to get her the matching dungarees too…
She did however treat me to a poo explosion in the late afternoon so we had a bit of a costume change into a grow with dinosaurs on it for the her last nap!
Friday
We ventured into the office for a friend's leaving lunch so we needed something comfy but of course super cute. We went for knitted dungarees from the George set and a La Redoute bodysuit (currently 60% off in the sale, only £7.60 for a set of three, steal!) which I love so much I've bought them in all sizes from birth to 6 months, don't judge!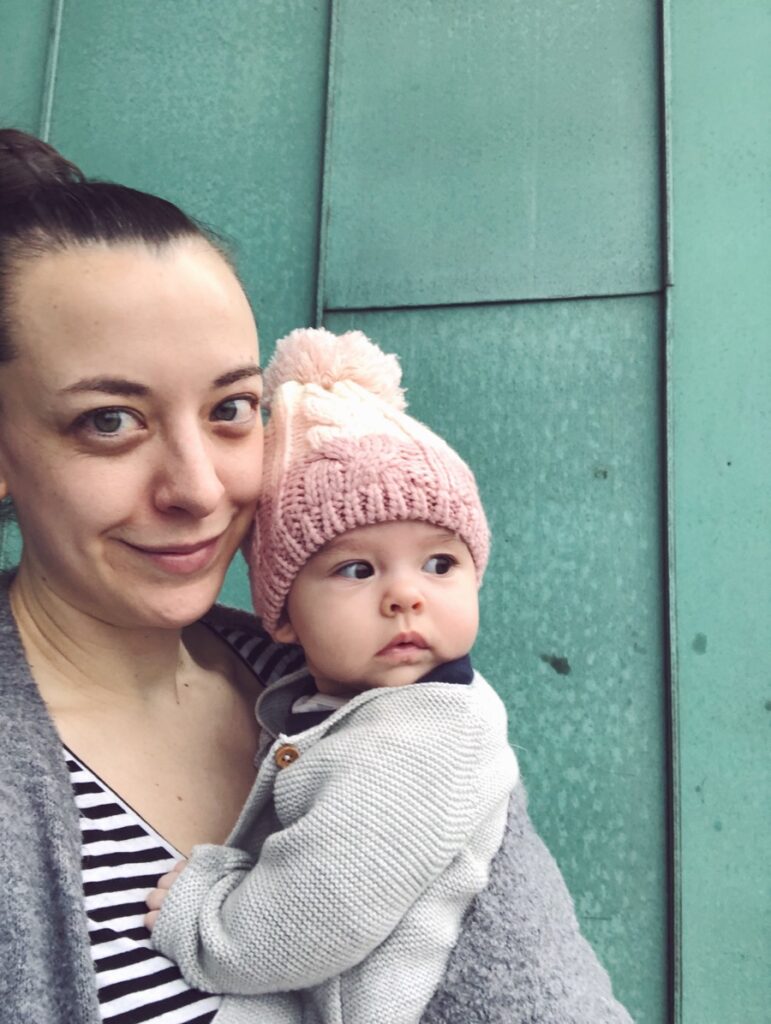 Saturday
We went swimming on the Saturday (hence me being make up free, soz) so had to be all cosy afterwards! She wore her bobble hat which was a steal at 49p from Aldi! Aldi do some amazing baby clothes and she can usually be found in an Aldi vest, they have some really cute swan ones in at the moment for £2.99 as well as matching grows and different colours, well worth grabbing some if you're in the market for some vests.
She also has a little cardigan from Zara which our friend Michelle gave to us, it was her little girls' so isn't available anymore but Zara do some lovely baby clothes.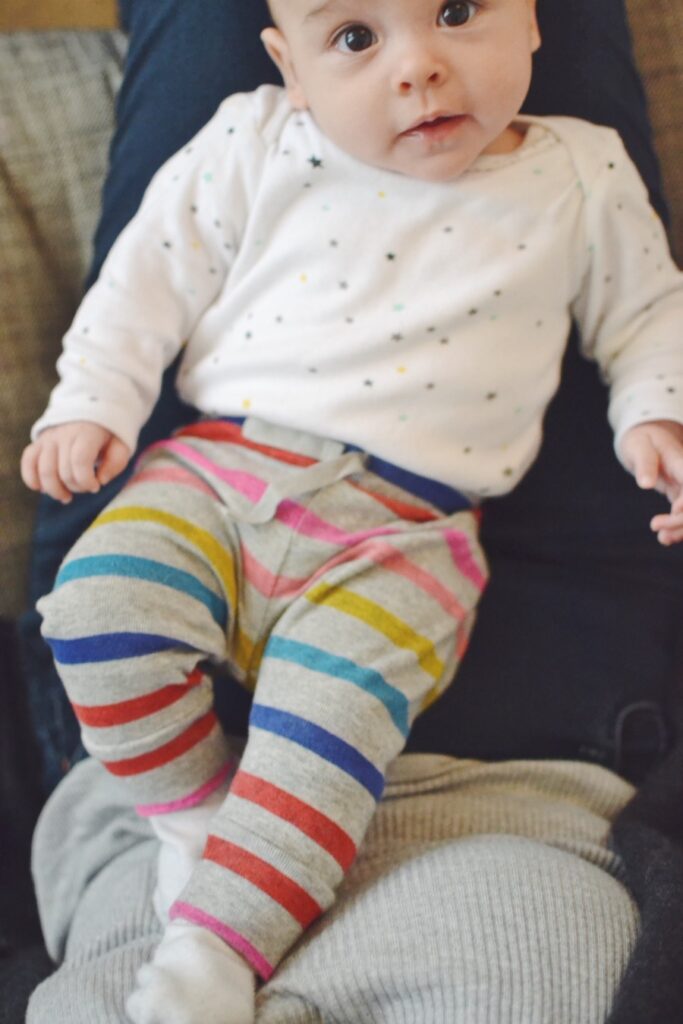 Sunday
We just had a day at home on Sunday doing bits and bobs around the house so being comfy was the most important thing. She wore a pair of rainbow striped leggings from Gap (which are annoyingly out of stock but Gap have the best baby clothes!) and a star print bodysuit from Next which someone bought us as part of a set when she was born. There are some really cute things on Next so well worth having a look!
She also has over the knee socks my mum got us from Wish which are SO good because they don't fall off and they keep her toasty and are only £1, what's not to like?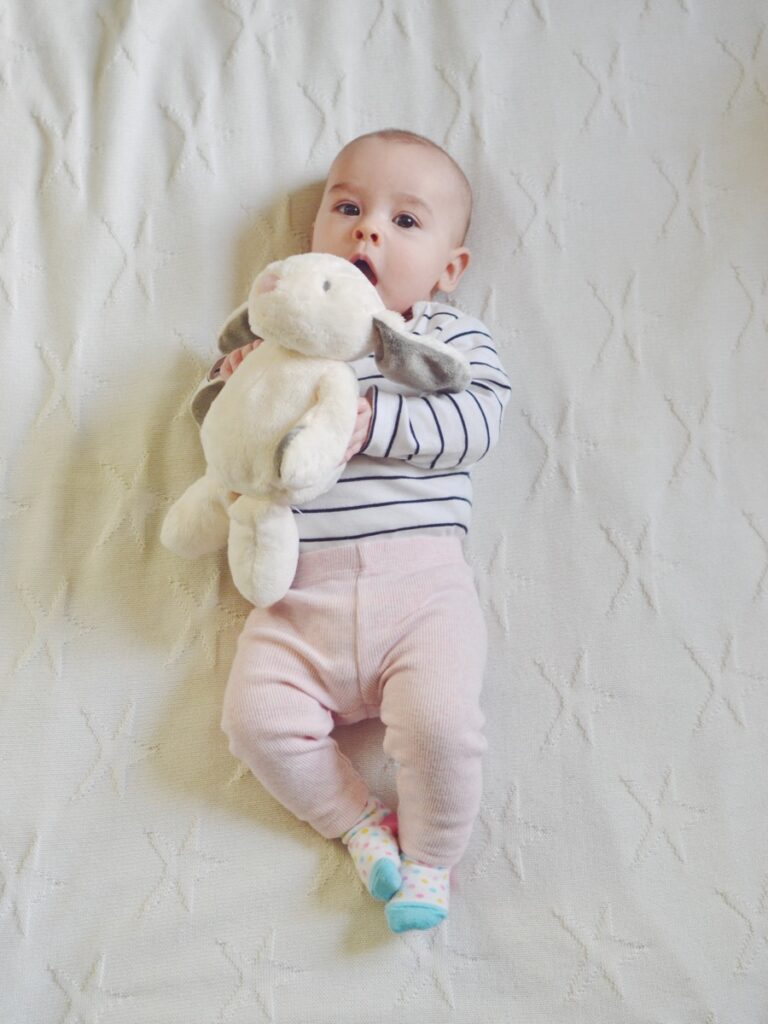 Monday
We started a new parent and baby group today so needed something easy to change her on the go and that she'd be comfy in the sling in, it's quite a long session so she needed to nap while we were there. She's wearing an H&M striped bodysuit (£8.99 for two in a range of colours) and leggings from Sainsbury's (they don't have the exact same ones but these are v similar and are £6 for two) which my auntie bought her. She also has socks on (that don't fall off!) which Joe's work colleagues gave to us so I have no idea where they're from I'm afraid!
I love H&M for baby clothes as they do inbetweeny sizes like 2-4m whereas most places only do 0-3, 3-6 etc, it's really handy.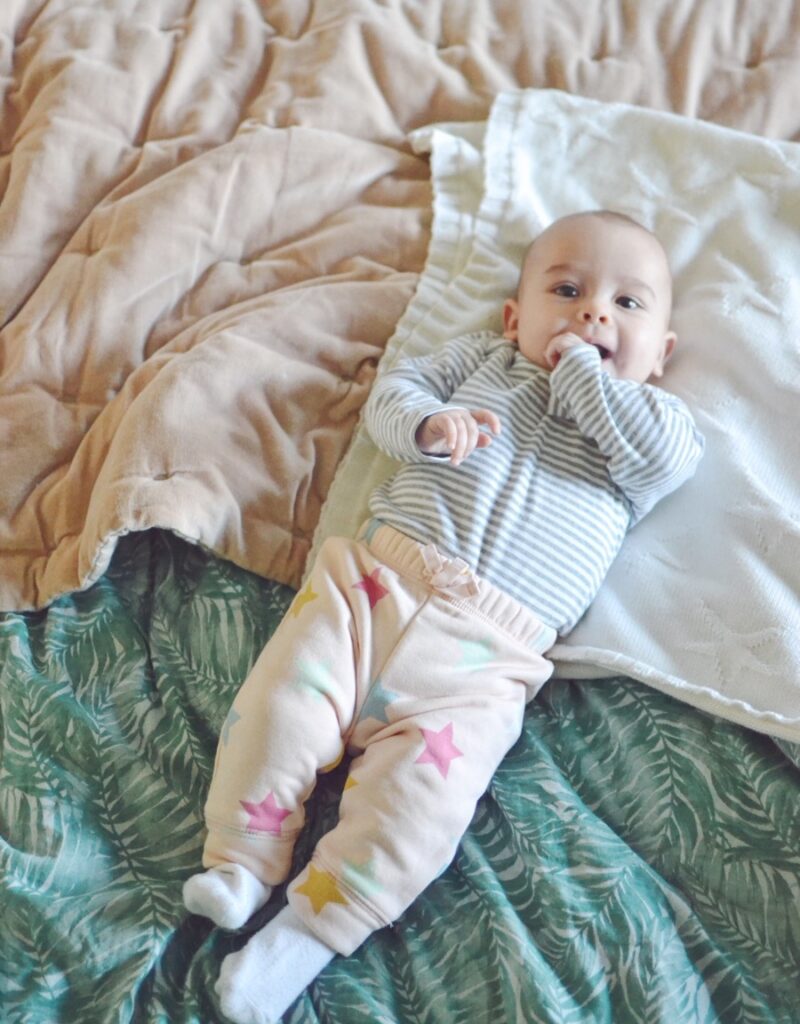 Tuesday
Tuesday is our cinema day so again, comfort is key! Basically being comfy is always the most important thing for both of us, leggings forever. Eva was head to toe in Gap, I love her little star print joggers (they were £2.99 in the sale so aren't online but may be in store) and striped bodysuit (£16.95 for a pack of three but there's always a sale or code to be had at Gap so worth hunting around). She also has another pair of Wish knee socks on because they're the best, Gap socks are also worth a mention as they stay on pretty well too.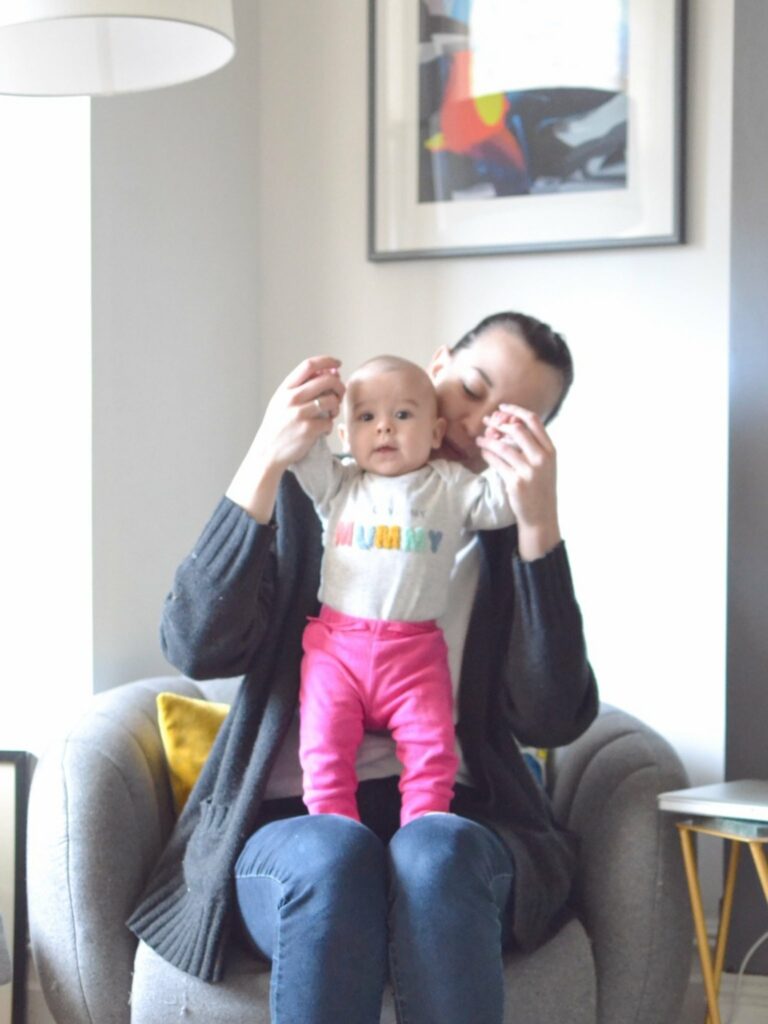 Wednesday
On Wednesday my friend Lydia (thank you for taking the photo!) came round so we did lots of playing, pottering around and a bit of shopping. Eva wore a pair of bright pink leggings from Gap (they were part of a set with the striped ones she wore earlier in the week) and an 'I love my Mummy' bodysuit from M&S (I don't like to presume but she seems to like me!) which my friends at work got us. M&S is great for baby clothes but I find the sizing a little odd, this bodysuit is 1-3m and it's just right for her (she's 4 and a half months old now) and she has some 3-6m dungarees which are too small, so be careful of sizing.
So that's a week in Eva's outfits! I've linked our favourite places to buy baby clothes below for quick and easy reference so have a nosey if you fancy, if I had to pick I'd choose La Redoute and Gap as my favourite places to shop but I am open to new suggestions!
Our favourite places are Gap, La Redoute, Boots, George at Asda, Next, M&S and H&M.
I'm planning a few more baby related posts (because lol what else do I do), so if you have any burnin topics you'd like me to chat about or even if you are interested to see what I wear in a week of looking after Eva (all breastfeeding friendly of course), let me know in the comments below and I'll see what I can do!