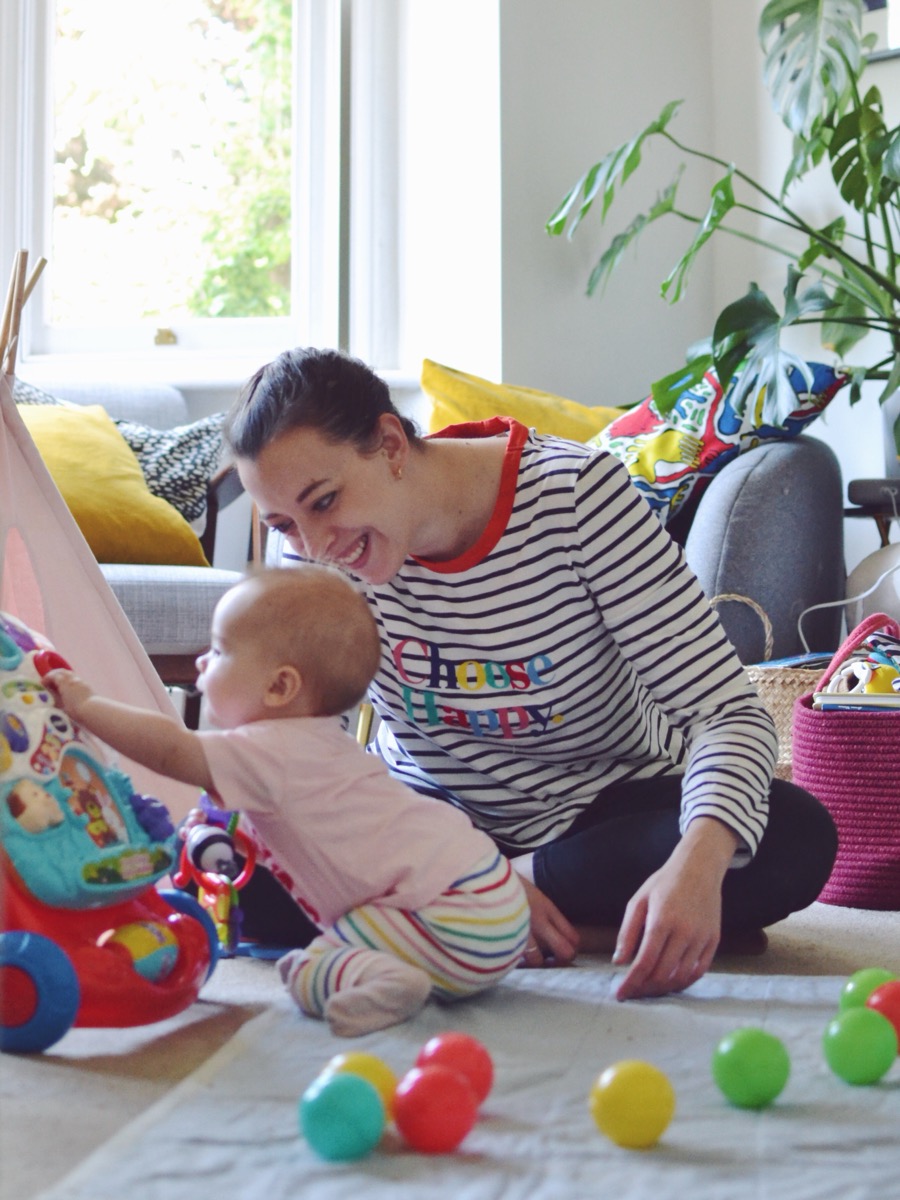 Babies are odd little creatures, especially after they hit 6 months. They start developing a proper little personality and deciding what they like and what they don't like. They have favourite toys, toys they dismiss and toys they go back to every day. When I was pregnant I had no idea what babies would want to play with so now I have a little bit more of an idea (still figuring it out too!), I thought I'd share a few of Eva's favourites and our best baby toys for babies 6 months plus. I just took my camera while we played all afternoon and took a few snaps as we went! We had friends round that morning so all of the toys were out so she had her pick of everything.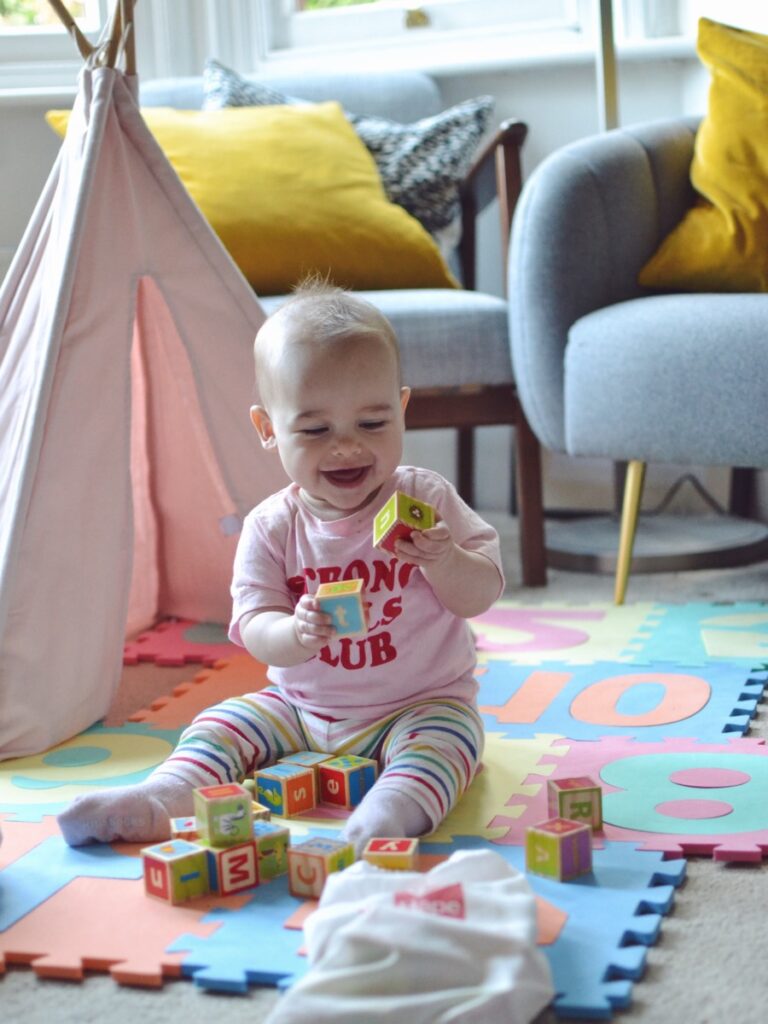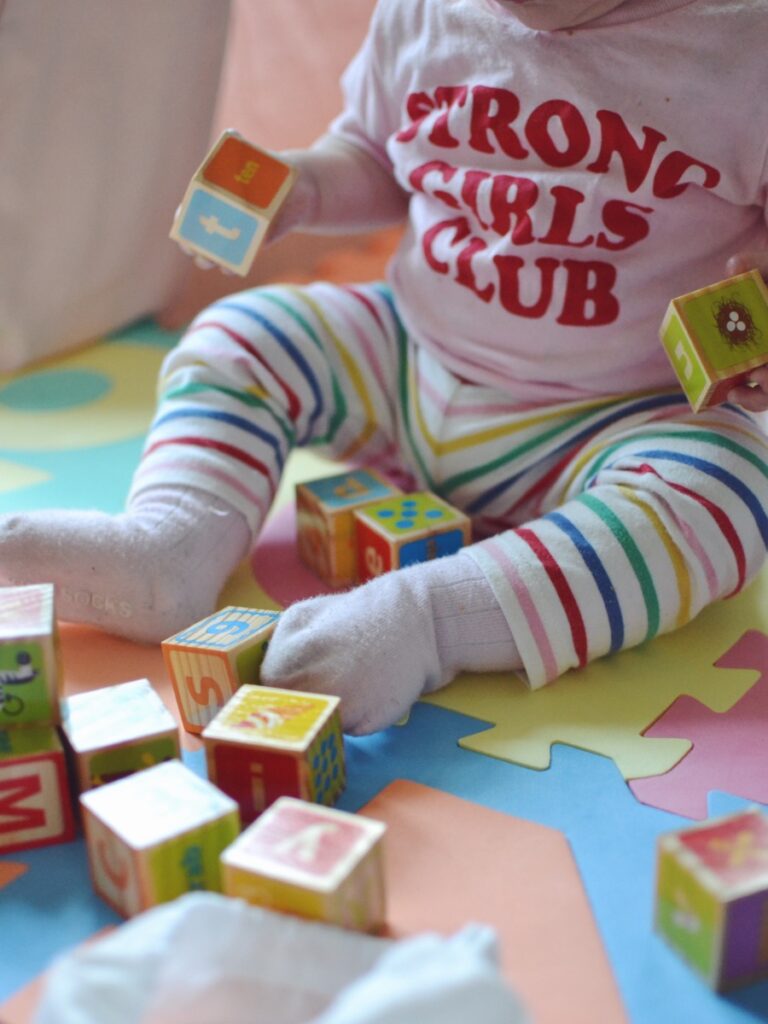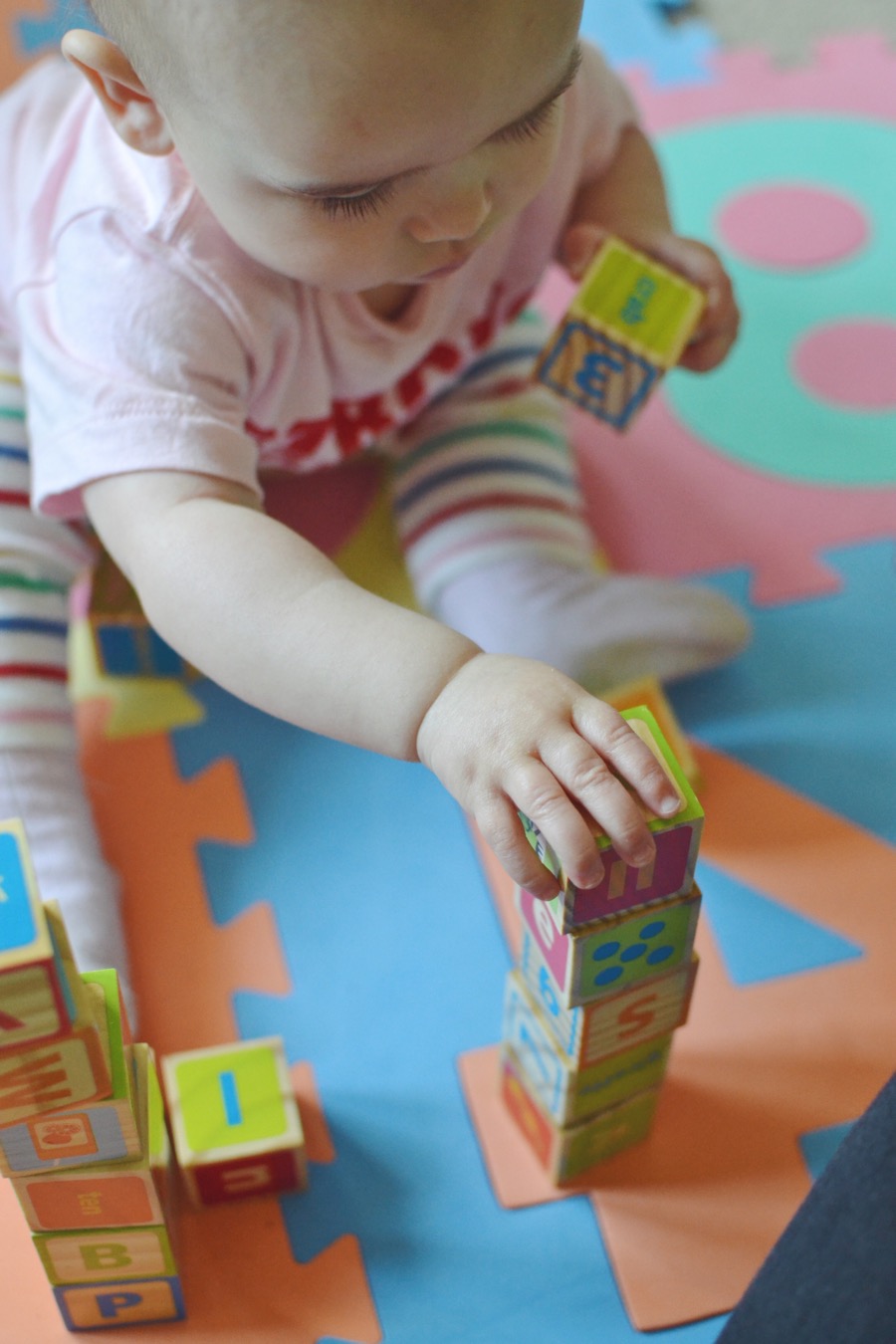 ABC Blocks and Play Mats
Eva is just coming out of Leap 6 which is The World of Categories, I use the Wonder Weeks app to see where her development is likely to be and to get tips on what kind of play she'll like and would be useful to her development. One of the things that babies like during and after this leap is 'things that go down' so we've spent a lot of time building and knocking down towers! We use these lovely Hape wooden ABC blocks* which Eva loves playing with, banging together and (mostly) eating.
The blocks will be great as Eva gets older, the have letters, numbers, pictures, symbols and words on each one so we'll be able to practice the alphabet, make stories and practice maths too. Eva really likes the little bag the blocks come in too, she loves tipping them all out! The wooden blocks were very kindly gifted from Hape but I'll definitely be buying more from the brand.
Along the same lines of the ABC blocks, she also loves her stacking cups, I got them from IKEA but you can get the from so many places! The IKEA building beakers are fab because they make a funny face, only £2.95, they're colourful and match most of the colours in her IKEA fruit basket so we can match up fruit to the colour cups. I think my mum was the one who started this! She also loves her fruit basket (especially the watermelon and banana) plus it has a wonderfully massive label that is also good for this leap. She's obsessed with labels, buttons and remotes at the moment! We also have a remote control with the batteries taken out that she lives. Simple pleasures.
I also got her foam play mat (which is actually hopscotch) from Home Bargains for only £5.99, it's been so useful! Joe got her a Kids Concept Mini Tipi from The Hut (which was super cheap in our work sample sale!), but the grey one is in the sale at the moment.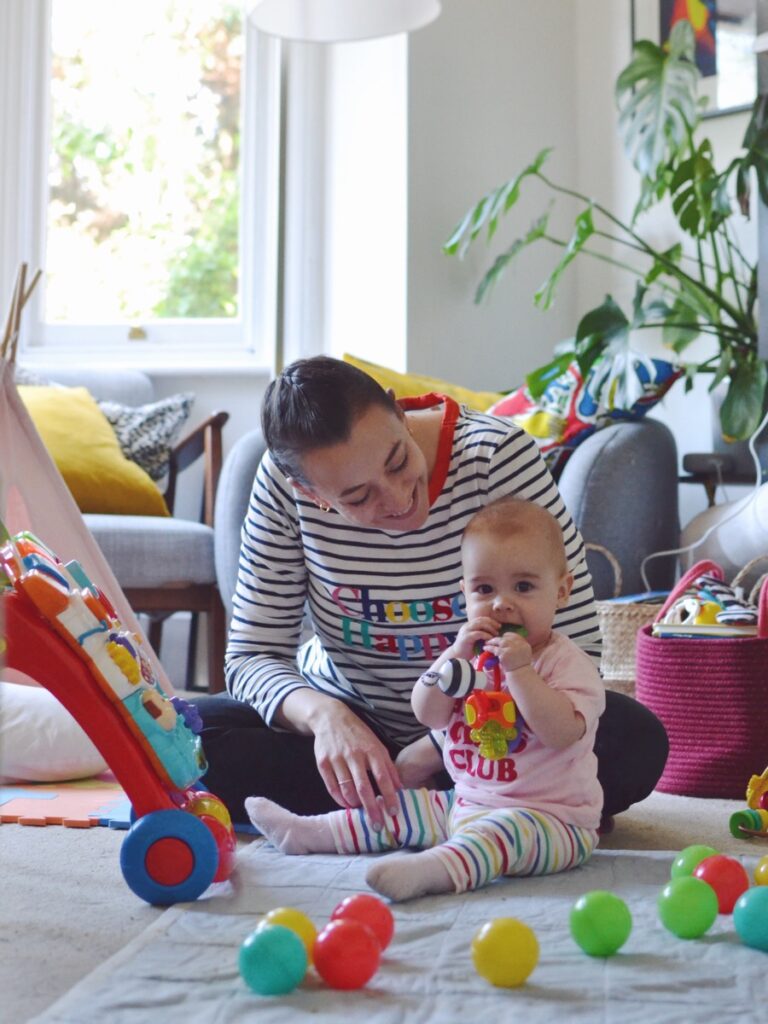 Teethers and Treasure Baskets
Eva has quite a lot of teething toys for obvious bitey reasons, these Nuby Ice Bite Keys are one of her new favourites. You can pop them in the fridge and the gel inside them stays cool for ages for soothing little toothy pegs. I got these from Aldi but they're only £3.69 on Amazon at the moment.
She also loves her Blossom and Bear Beehive Rattle that I got for her from Kidly. It has silicone teething beads and polish wood rattle bits so keeps her happy.
Her red treasure basket in the background has been fab too! It's from Sostrene Grene and I've basically filled it up with little bits and bobs from silicone vegetable brushes, empty baby wipes packets and little cups. There is also a Sostrene Grene opening in Manchester City Centre soon too, hoorah!
I'm wearing the Boden Choose Happy Make a Statement breton top if you're interested, it's currently in the sale for £21!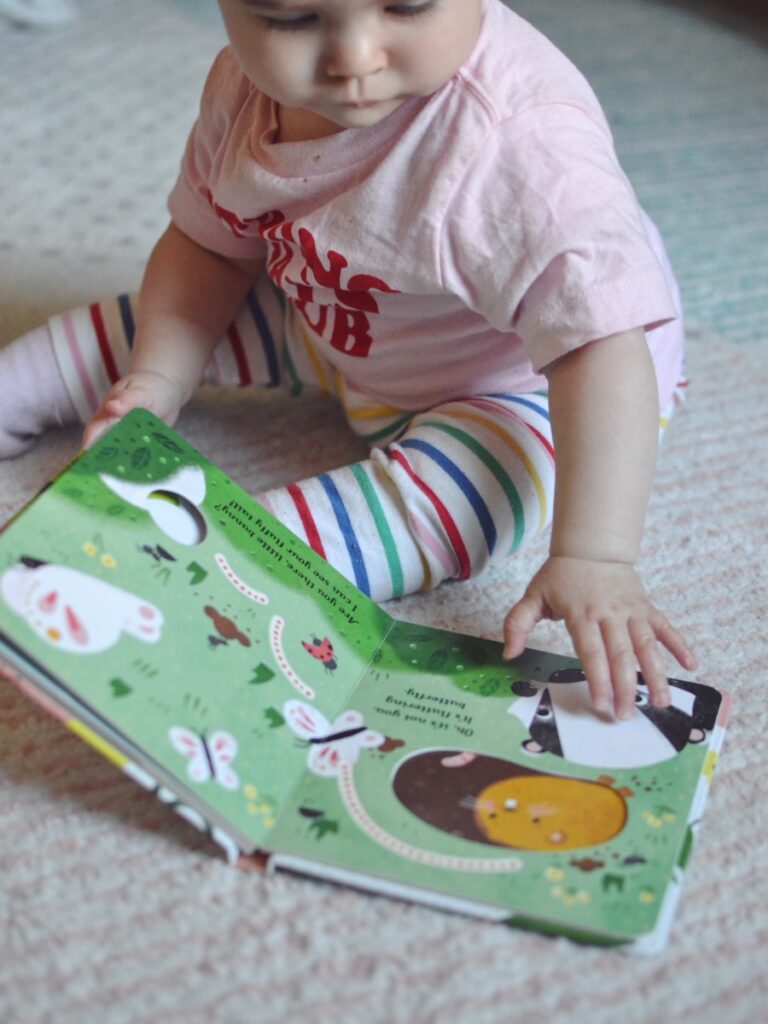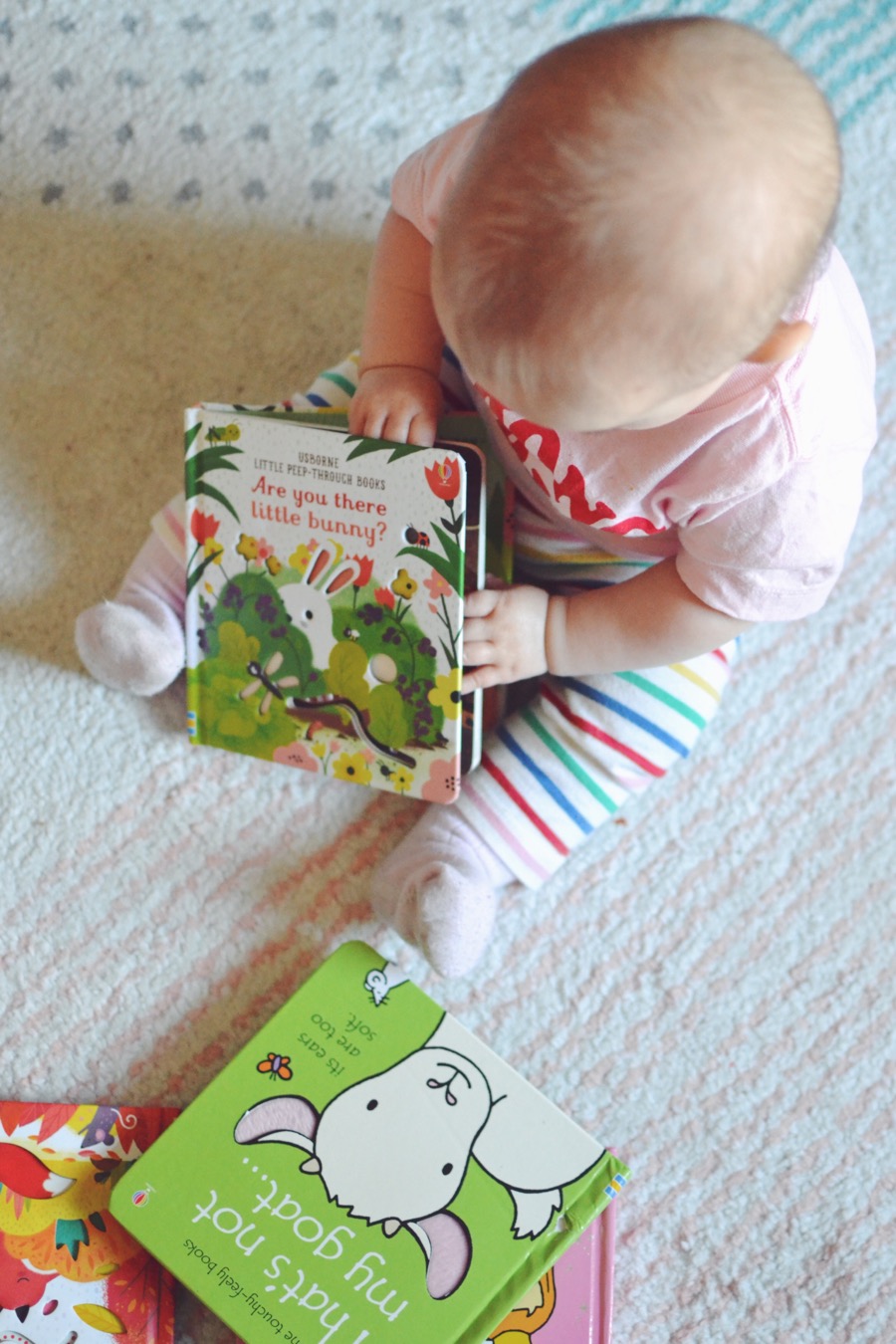 Books
One of Eva's favourite things to play with are books which I'm very happy with! We have a big stack in her room that she can pull out and play with, we let her play with them independently to explore and read them to her so hopefully her love of books will continue.
Her favourite ones are That's Not My… books, they're basically board books with lots of touchy feely bits so they're very tactile. They're £4.99 on The Book People but I also got a bundle of 5 on Facebook Marketplace for £10 so there and Ebay are worth looking at for things like that! We also really like Dear Zoo!
She also loves the Are You There… books too, she has the little bunny and little fox ones and loves peeping through them to find the bunny or fox. We read these quite a lot! They're really lovely books with lots of tactile bits, peep throughs and they can withstand quite a bit of chewing.
I got her quite a few books from The Book People including Dear Zoo, Guess How Much I Love You, some ABC books and some bedtime stories for only £16 so they're well worth a look!
At bedtime we usually read her the Little People, Big Dreams books because they're the right length for her to happily sit and listen before getting annoyed. They're also a bit more interesting for us selfishly! I'm sure she'll get much more out of these when she's older too. I actually cried reading her Emmeline Pankhurst last night!
Play Gym and Ball Pit
This play gym has been one of our best buys, I bought it when she was about 2 or 3 months old when she couldn't even reach the dangling toys and now she can destroy it!
It's the Bright Starts 5 in 1 Activity Play Gym which I got for £59.99 from John Lewis, it's a fab play gym that comes with loads of toys and a tummy time pillow for when they're smaller and when they're bigger you can turn it into a ball pit. It comes with 35 balls but you can obviously buy more.
We have this in the living room at the moment with the sides up so I can pop her in it and know she's safe having fun with the balls if I need a few minutes to put a wash load on or something else equally as fun. Though she can escape now… It's also a jumbo play mat, we usually take this away with us as it folds down quite small. It's kept her entertained from 3 months to now and should still be useful for a while yet!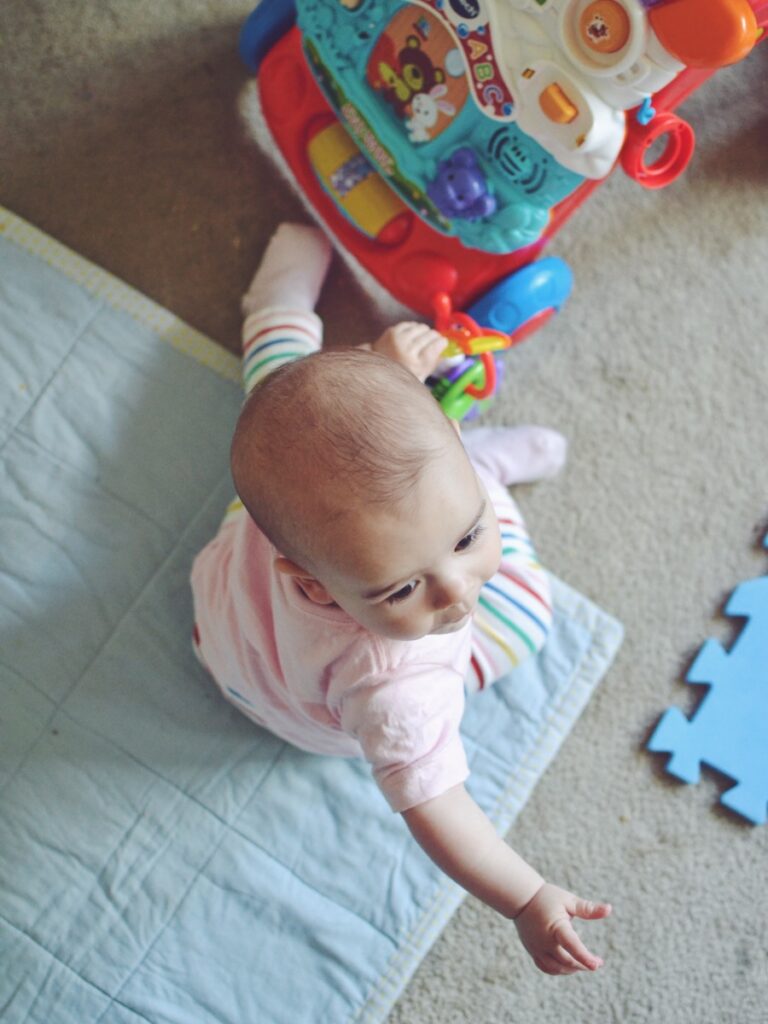 Baby Walker and Activity Centre
Eva LOVES her Vtech First Steps walker, as soon as we turn it on and it starts singing to her, she gets so excited she squeals! It's an activity centre on the front and then is a walker for when she's ready to start walking.
I am genuinely really impressed with this toy, it has SO many different songs, noises and buttons to press and discover. It's £21.49 on Amazon at the moment. It also has a pretend mobile phone which Eva loves but I think we left in the Lake District, devastated! So now it is my mission to find a replacement on, sorry Eva!
Cheap and Easy DIY Baby Toy Ideas
And then there's lots of little bits and bobs she adores that are really cheap and easy to sort. However much you spend on toys babies seem to want the cheap bits and bobs around the house so you may as well roll with it! Eva's favourite things are this little travel bottle filled with water (she also has one with rice and one with lentils in) which she loves shaking, empty wipes packets, an old remote (with no batteries in) and silicone cooking things.
I also asked my mum gang to see what their baby's favourite toys are so we could see if there's anything else I've missed! Their babies are aged between 6 and 9 months so around the same as Eva. Thanks to Ellie, Catherine, Emily and Becky for joining in with this post!
The list included a wooden spoon, baby wipes (obv a firm favourite), a pretend phone which makes noises, books, bubbles, soft toys, feathers, squirt bath toys, stacking cups, jumperoo, Sophie the giraffe and Hide and Squeak Eggs (which I keep meaning to buy!). So basically our babies like so many different things but nothing crazy expensive so there's no need to spend loads of money to keep them happy. The basically just want baby wipes after all!
And there we have it, our best baby toys for babies aged 6 months and beyond! Let me know in the comments below if you have any more must buys for babies who are 6 months and over, I'd love to hear them!
Also if you want to hear about Eva's development and what's going on in our life at the moment, take a look at my latest life update post.