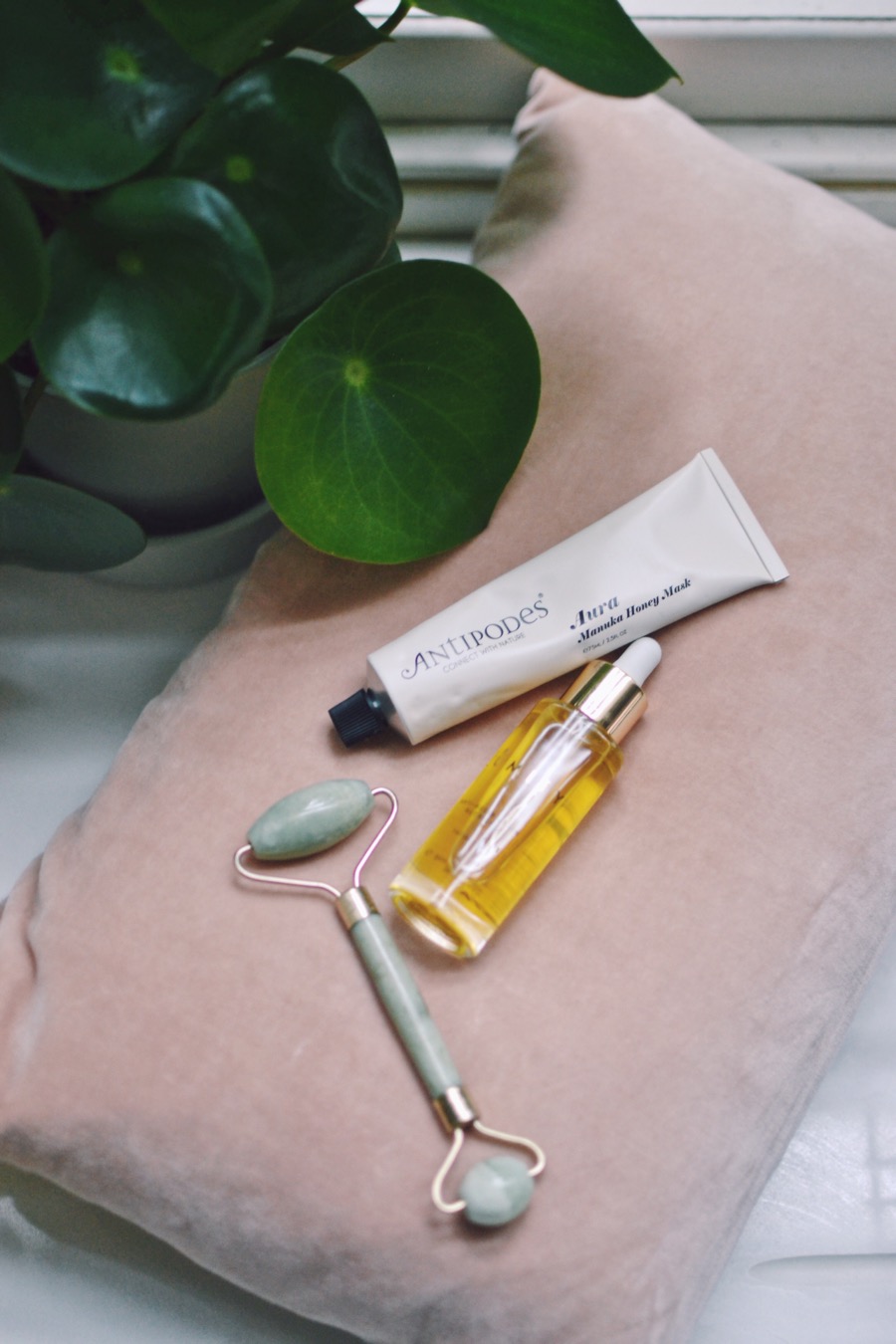 Now that I'm the ripe old age of 30 (still not used to saying that, dear lord) and have a touch of sleep deprivation to battle with thanks to our delicious baby, my skincare routine was in need of a shake up for winter.
I never really notice how bad my wrinkles and eye bags are until I see a photo of myself laughing and then I have a mini panic while frantically googling 'Botox near me'. I'm not doing anything quite that drastic just yet but I have added a few new products into my skincare routine which have quickly become my holy grail products.
Thankfully Eva has started to sleep much better recently so by the time she's in bed, I actually have a little bit of energy left rather than needing to go to bed when she does about 8pm after a quick micellar water and moisturiser. After I have done my girlfriend duty of asking how Joe's day in the outside world was, eaten dinner and watched something on TV with Joe, I take myself off to bed at around 10 and treat myself to at least 10 minutes of indulging in skincare.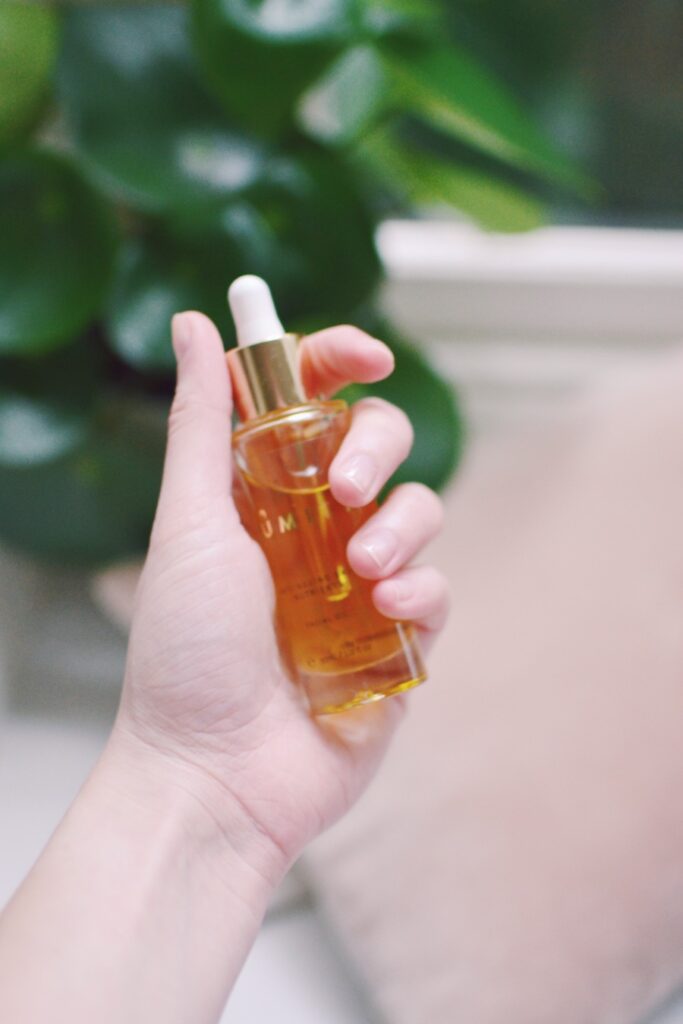 My current routine only has products that I love and need in it which are Garnier micellar water, La Roche Posay eye cream, Lumity natural anti-ageing facial oil* and La Roche Posay cream, then a few minutes with a jade roller.
I've had the Lumity anti ageing facial oil in my morning and evening routines for about 4 weeks now and it is 100% the best facial oil I've ever used, even better than the Kiehl's midnight recovery face oil which was previously one of my holy grail product. The Lumity oil is made up of 32 botanical oils and extracts, each with their own special properties that work together to create a super oil. After 4 weeks I can definitely see an improvement in my fine lines and skin elasticity, a little goes a long way too, it barely looks like I've used it!
I also started using a jade roller around 4 weeks ago, I just got a cheapo one from Amazon (this one!), and I absolutely love it. It is supposed to reduce puffiness and improve circulation but I also find that it really helps to make sure the oil is fully absorbed into my skin. With the two combined, I've found my skin looks plumper, brighter and has less lines, especially around my eyes which is definitely where I need it at the moment!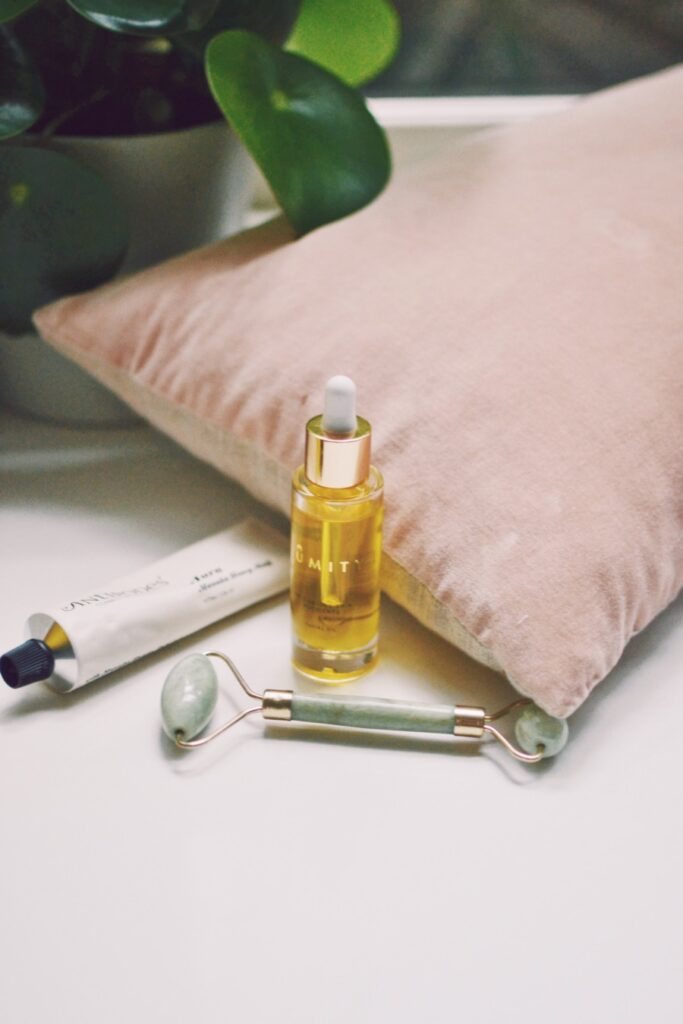 I've also been using the Antipodes Manuka honey face mask once a week which I've found works so well. I used to use a more intense mask but this is really gentle and leaves my skin bright, smooth and clear.
Water is also an essential for me, because I'm breastfeeding I am essentially a milk factory and all of my resources go into that, I get dehydrated very easily so need to drink about 10 pints of water a day. It's really helping to keep my skin clear and hydrated too. Water and sleep are the best things for your skin, one of them isn't really an option for me at the moment so water it is!
To find out more about my holy grail skincare product the Lumity Natural anti-ageing facial oil visit the Lumity Life site here.
What is your skincare holy grail product at the moment?
*The Lumity facial oil was a gift and this post was sponsored but as always, thoughts and opinions are my own.