We've done quite a bit of travelling with a baby within the UK but last week Eva and I went on a bit of an adventure to Paris! I quickly had to learn how to manage a baby while being on a plane, exploring a new city and travelling with a baby in general. So I thought I'd put together a few handy tips and tricks for other people embarking on an overseas adventure with your babe. I travelled alone with Eva so it's a handy post for anyone tackling the same thing!
I am wearing a Boden shirt* and sunglasses*. Click here for 20% off Boden thanks to my ongoing partnership with them. Both these items were kindly gifted. The baby wrap I'm wearing is from Amazon and is an absolute bargain!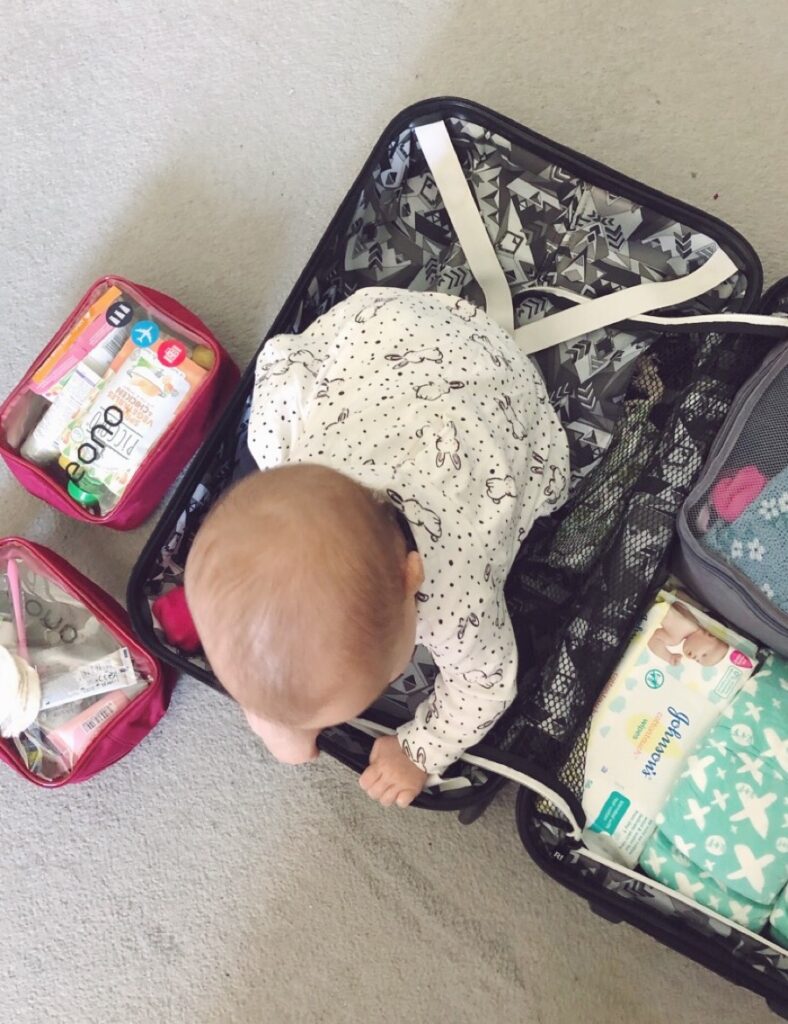 1. You get extra liquids allowance
Hoorah! You don't have to cram every single little thing into a tiny plastic bag for your hand luggage. It differs from airline to airline but when you're travelling with a baby you can take milk (but not frozen), bottled water, food pouches/jars, nappy cream, hand sanitiser, water, teethers with liquid in them and nail clippers (not liquid but handy to know!). I got these toiletry bags from Amazon, one for me and one for baby things. They're the right size for airlines so it made it easy to pack and repack at the bag check. I only took hand luggage as it was only a short trip so this was a really handy one to be aware of!
2. Click and collect larger items
This is one my friend Jane recommended for longer trips, she's ordered nappies and collected them from the Boots in the airport. This means they don't count towards your luggage allowance but you can have the comfort of your usual nappies while you're away. Because we were only away for a couple of nights, I popped our usual Rascal + Friends nappies in our suitcase.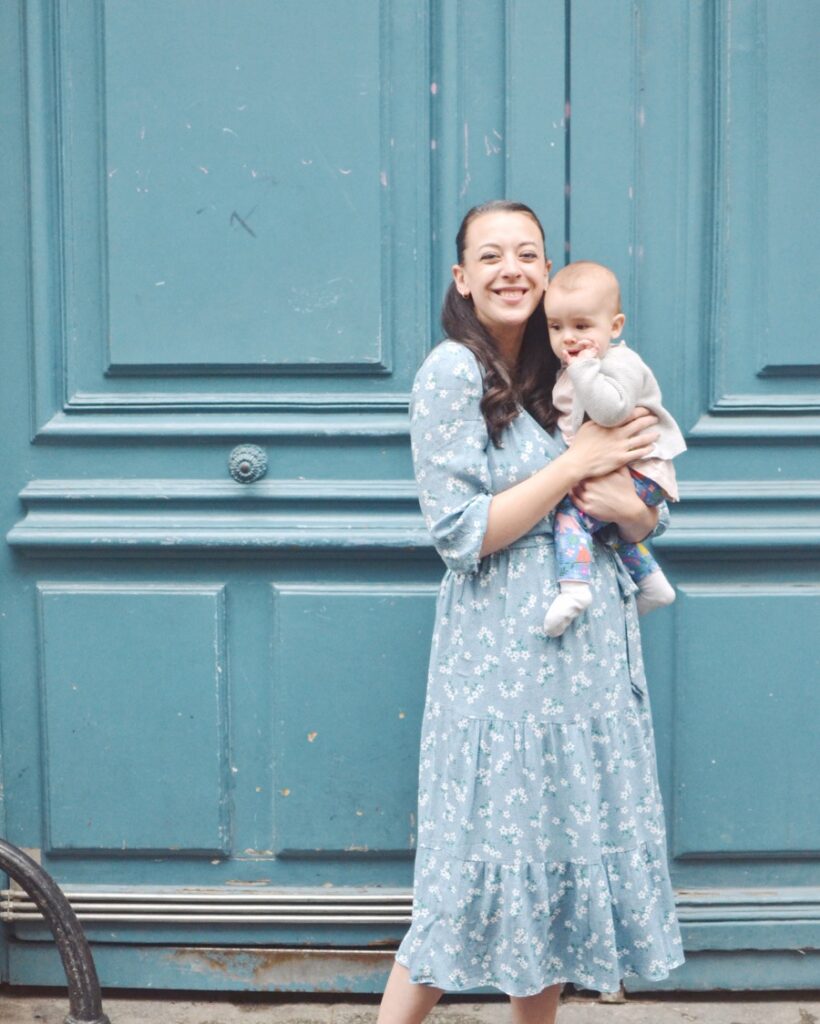 3. Take their birth certificate
This one is only for when you have a different name to your baby and you're travelling without your partner. It only occurred to me it might be a problem the day before we flew and asked on Instagram stories about people's previous experience. Everyone was very helpful and recommended that I take her birth certificate and some even said to take a letter of consent from my boyfriend as Eva has his surname because we're not married and it's nicer than mine! I didn't get asked at all on the way out but did have to show her birth certificate on the way through passport control on the way home.
In the photo above I'm wearing the Boden Aurora Midi Wrap dress* and it is SO lovely. It's also 60% off in the sale at the moment too.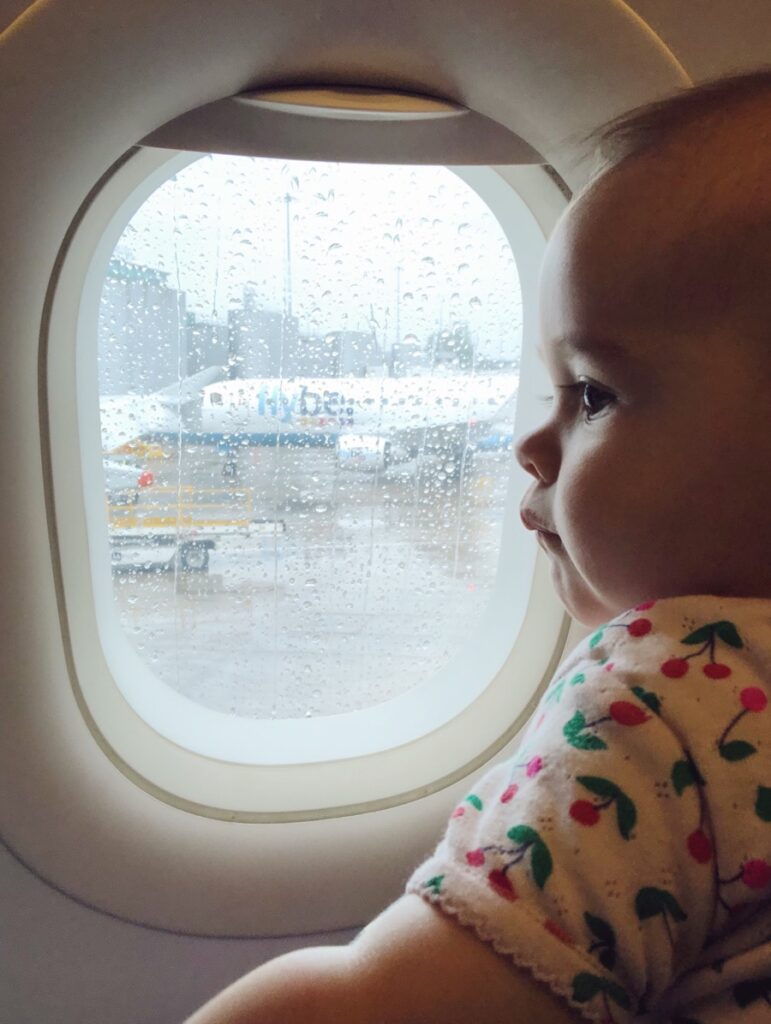 4. You can skip the queues
You don't really have to queue at all with a baby at the airport, hoorah! We got whisked through the fast track section of the baggage check and you're able to board the plane before everyone else to make sure you have time to get settled. I'd also recommend sitting in a window seat if you can as it's a bit more comfortable. But it is tricky to get out of if you need to change or rock your baby.
5. Take a travel high chair and changing mat
Not a single place we went to in Paris had a high chair or a baby change so make sure you're prepared if you're going somewhere. Obviously if it's a family friendly place it'll be different but it's nice to be prepared! I bought one of these JoJo Maman Bebe pocket travel high chairs when we got home so we're prepared next time.
6. Use a baby carrier
I use a wrap to carry Eva most of the time anyway but it was particularly useful while we were away. There are A LOT of cobbles in Paris! It's much easier to get around, on public transport and around busy streets. But if your baby is too big for a carrier, you can rent lightweight pushchairs or take your own of course. A lot of people recommended the Babyzen YoYo and pretty much everyone with a baby had one in Paris! That would be my dream pushchair but alas my other half is too much of a giant to push it.
7. Take new toys for the plane
One of my friends Rosie recommended taking new toys she'd never seen before on the plane to keep her entertained and it worked a treat! I took a little drawstring bag with a couple of her favourite small toys, a couple of older ones she'd forgotten about and a new book. She spent most of the flight out playing with her book and the rest of it playing with the cup holder! And some of it screaming of course.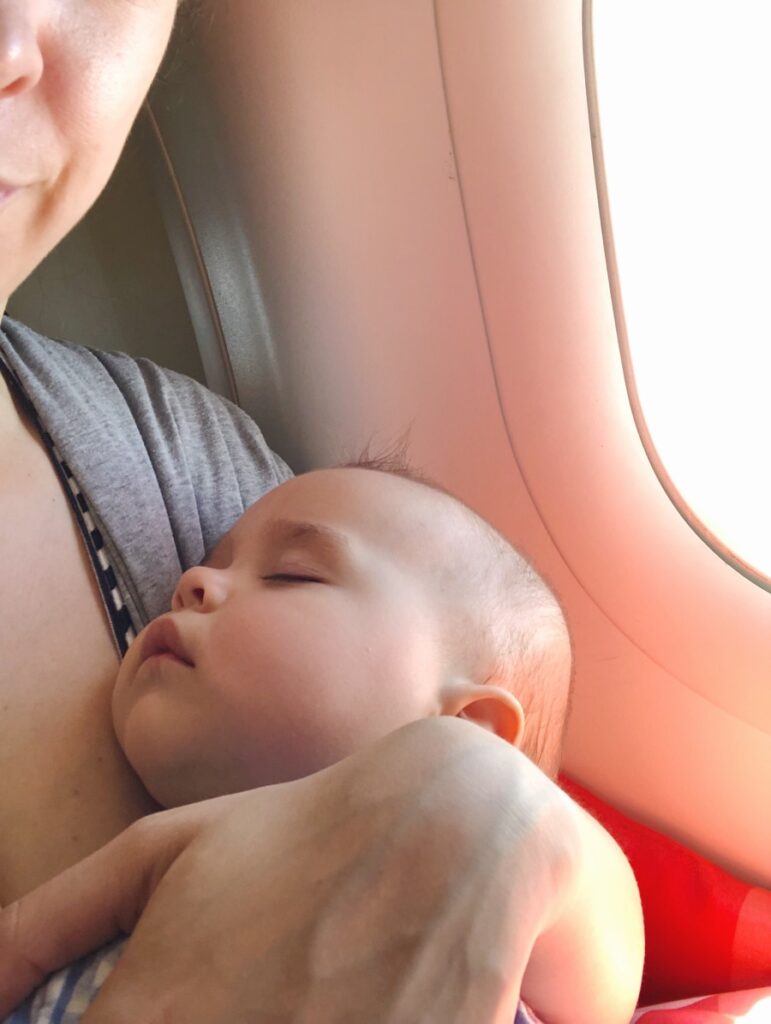 8. Breastfeed/feed on take off and landing
Babies can't equalise the pressure themselves so they can't pop their ears after take off. Breastfeeding solves this problem thankfully and Eva went from screaming to sleeping in a few minutes thankfully! I'm sure this would be the same with a bottle.
9. Take Calpol sachets
We're in the middle of teething fun at the moment and I spotted Calpol sachets in The Mrs Project's recent travel post, so I swiftly got myself to Boots and bought some. They were SO handy! And really good for fitting into the liquid allowance.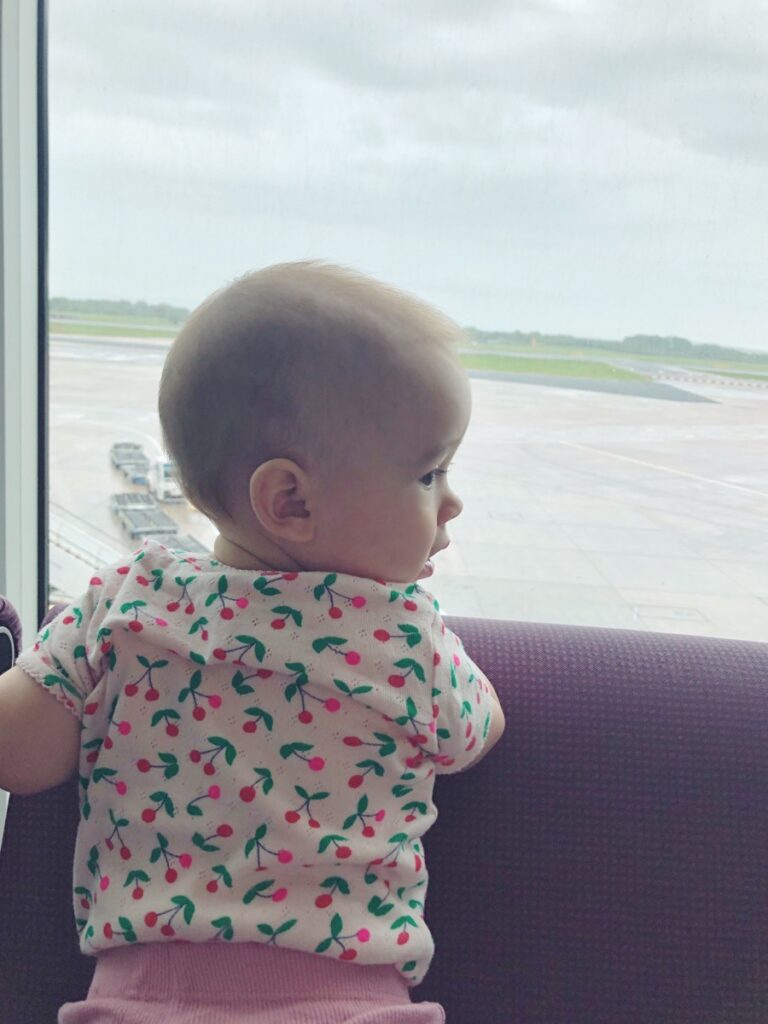 10. Take ALL of the photos
Take them ALL! Sat in a seat on the plane? Photo! First time in the sunshine? Photo! First meal on holiday? Photo! Capture all of the moments and make sure you get in them too. Another The Mrs Project endeavour with her #getintheframemama hashtag.
This accidentally seems to have turned into a Boden post! Eva is wearing their cherry pointelle body* for travelling in, it's so soft I want one.
11. Take things from home
To keep the hotel as familiar as possible, take sleeping things from home. I took a sleeping bag, sheet and her Sleepyhead stuffing to recreate her cot at home. It was a VERY tight squeeze getting it into my suitcase but it was worth the struggle! Towels aren't really necessary as hotel ones are usually lovely and soft!
12. Car seats and taxis
Taxis (like black cabs) are exempt and a car seat isn't required but Ubers are a bit of a grey area so it's at your own risk really. I got really lucky and had an Uber with a baby seat in it on the way from and back to the airport so Eva managed to have a nap as well, the dream. Otherwise we would have got the train. But if you book a through your hotel or ask for recommendations, you should be able to request one with a car seat. Or most people take their own car seat or rent one at the airport, then you know you're safe!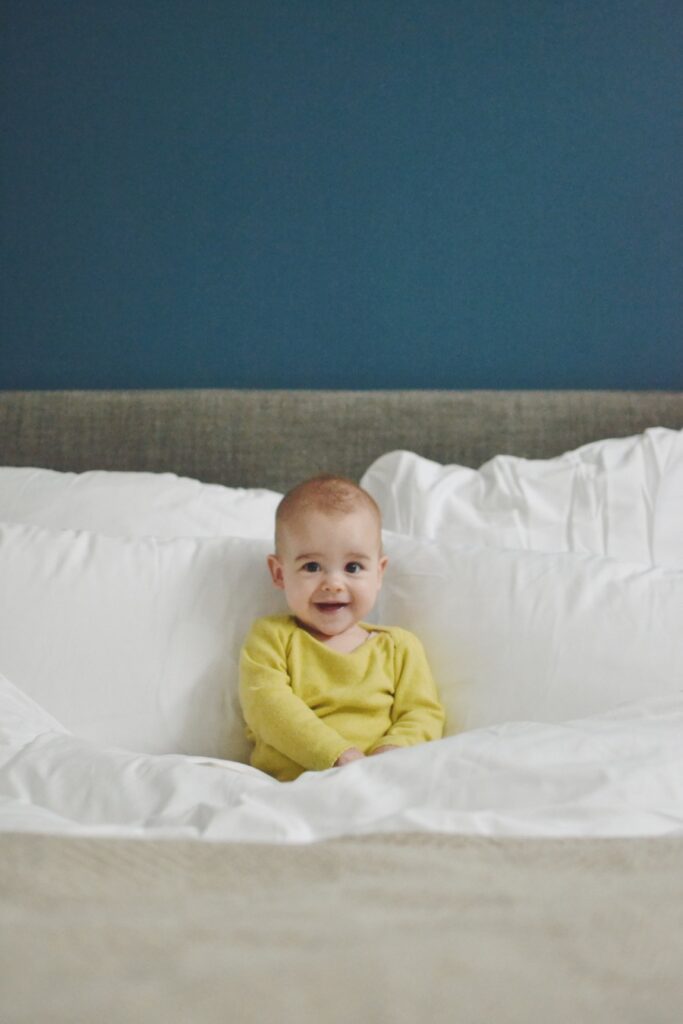 13. Everyone is SO lovely
Everyone just wants to help when you have a baby. Obviously there are those who roll their eyes when they see a baby on a plane but that's fine, just rise above it! Most people, especially airport and airline staff, are really happy to help make your journey as easy as possible. You can also call ahead to make sure you have support if you'e travelling alone with children. Everyone in the city we came into contact with was lovely and welcoming too, the hotel even upgraded us to a suite so we had more space and a bath for bath time!
Please leave any more of your tips and tricks below for others (and me!) to use in the future. Everyone who has travelled with a baby has their own tricks to make the journey easier! Just know that when you're travelling with a baby they probably will kick off at some point but you've totally got it. The flight, car journey or train journey is only a finite amount of time and you can do it!